As I continue on with my long term maternity leave, I find that teaching is constantly still on my brain. Upon my return to teaching, I will be tackling the common core standards. While I know it has been a gradual transition, I need to have my act together and be prepared to jump in head first.
In preparation, I continue to spend some time each week writing, working on lessons, and following favorite blogs in order to keep my mind from turning to "mommy mush!" My latest writing is another Reader's Theater that I know all middle grade students will love!
As teachers, we are often inspired by our students. This piece was definitely inspired by a scenario that took place last school year. I learn a tremendous amount from my students…mostly good, but sometimes my findings can be frustrating. All names have been changed, but milk was stolen from our cafeteria and students were faced with varying consequences.
The Cafeteria Catastrophe is about a student who is running for president of student council, but makes a bad choice by stealing from the school's cafeteria. Middle grade readers will love the chance to transform into the characters and determine what happens to Clara.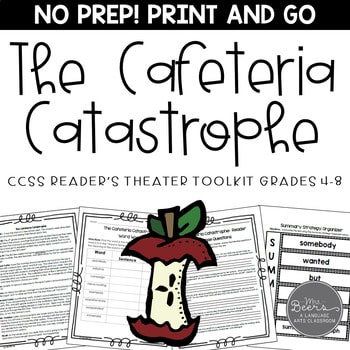 If you are looking for a piece that has your students working on fluency, engaged, and making TONS of inferences, make sure you check out The Cafeteria Catastrophe Reader's Theater on my Teachers Pay Teachers store. It also makes a good resources to utilize with a substitute teacher.