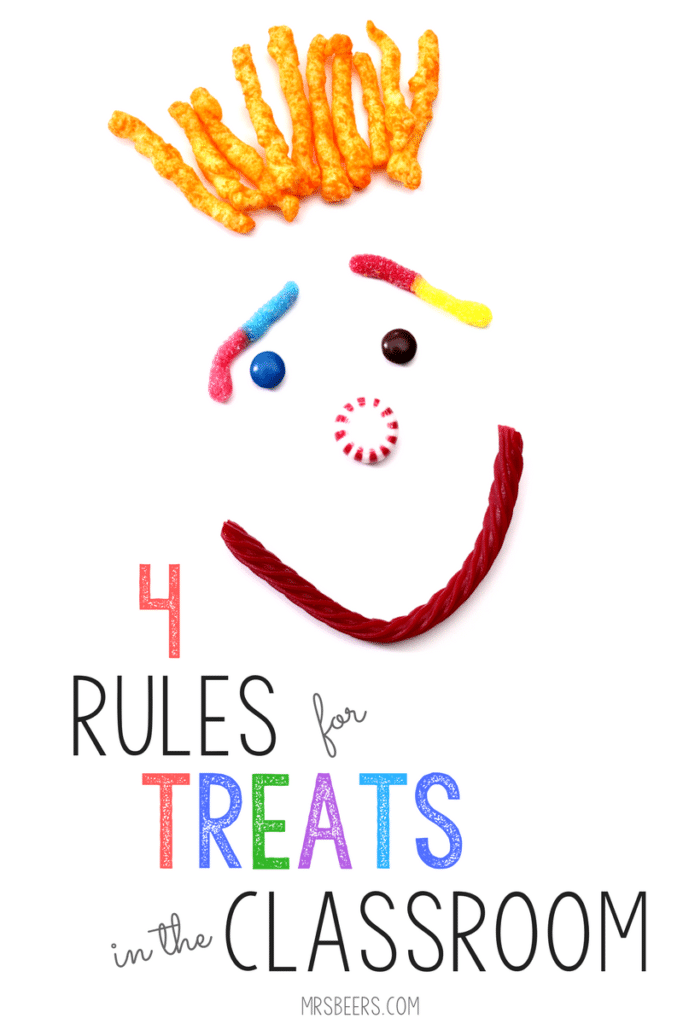 Before I became a parent my classroom was loaded with goodies. During my first few years of teaching, my sister worked for Hershey's Chocolate and my students were able to benefit greatly from her kind donations to our classroom. Needless to say, they were less than thrilled when she decided to take a position working for Elmer's Glue. No matter what color you make it, glue is not a treat! PERIOD.
A great deal has changed since my first year of teaching in 1998. Food allergies, obesity rates, dental health, and overall health and wellness are HUGE concerns and focuses for our students. In addition, I have become a parent. I know more, so I do better for my own kids and students.
I have the good fortune of teaching in a school that has no real ban on treats, but I think it is essential to follow some basic guidelines when providing them for my students. If you are heading into the classroom or considering making some changes to how you handle goodies with your students, here are 4 simple rules that I follow…
Rule #1: A treat is just that…a treat!
I love to use treats to enhance our learning!  Last week we dove head first into our work with paired text essays.  My students did amazing things navigating informational text.  When I was at Dollar Tree I found these candy watches.  I decided to pick up a bunch of bags and to have some fun with our paired text writing I gave my students "writing time" candy watches.  Silly, but the surprise added some fun to our writing.  Some students ate them right away, some wore them like jewelry for the day, others saved them for later.  It was a surprise and it was a fun link to our learning.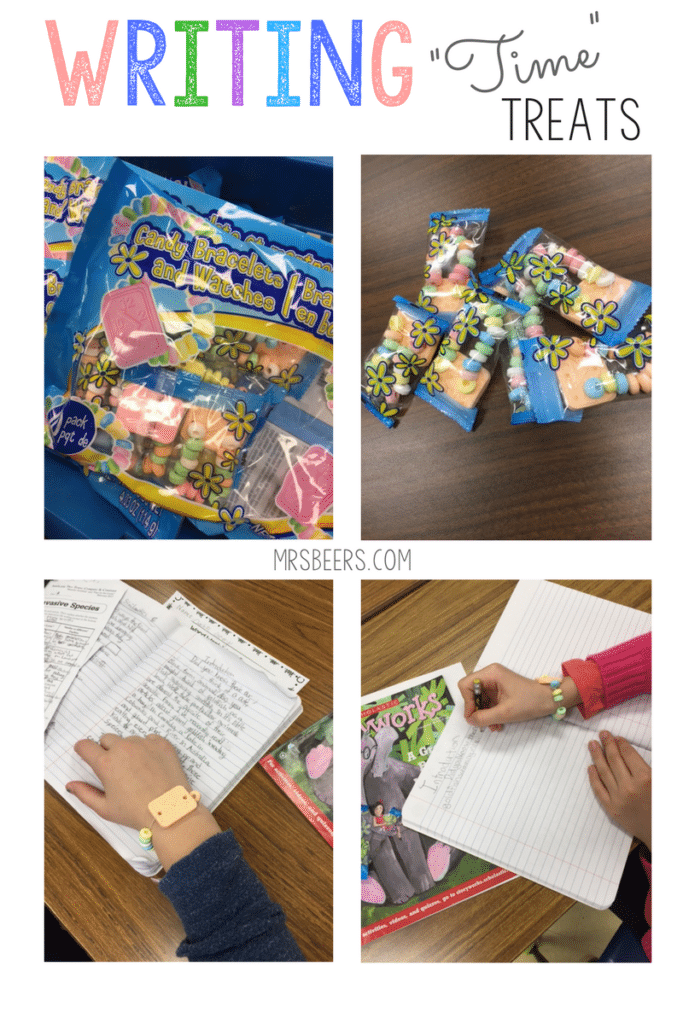 Rule #2: Treats should have no strings attached.  Treats are NOT rewards!
My good friend and running buddy is a dietician.  Our girls are wonderful friends and have grown up together.  While she has a bazillion awesome insights, my greatest take-away from our potty training talks is that "FOOD SHOULD NEVER BE A REWARD!"  I don't work at your school and can't speak for any other educator's experience, but my own.  I will never tell a student that in order to earn their Smarties, they must complete a specific task. Simple as that!
Rule #3: Food allergies can be deadly.  Treats need to be "safe to eat" for ALL!
Food allergies are flat out scary!  We have to be especially vigilant as teachers.  It is essential that we know what our students my be allergic to and any other dietary needs because it can be the difference between life and death.  I teach fourth grade, so the majority of my students are well-aware of what they can and can't eat.  However, it is important that I do my do-diligence.  From dairy, wheat, nut, and berry allergies, to vegan diets, it is important that all of those needs are taken into account when treats are being considered.
Rule #4: Treats must meet school guidelines and parent expectations. Treats don't have to be food-based!
If food-based treats are not something allowed in your building, no sweat!  Special notes, new packs of markers, pencils with fun erasers, personal-sized pencil sharpeners, preferential seating, and special opportunities are all AMAZING "treats" for our students.  We are participating in a United States Valentine Exchange.  Drawing names for students to open and read the Valentine packages sent from all over the country is a huge source of joy for my students right now!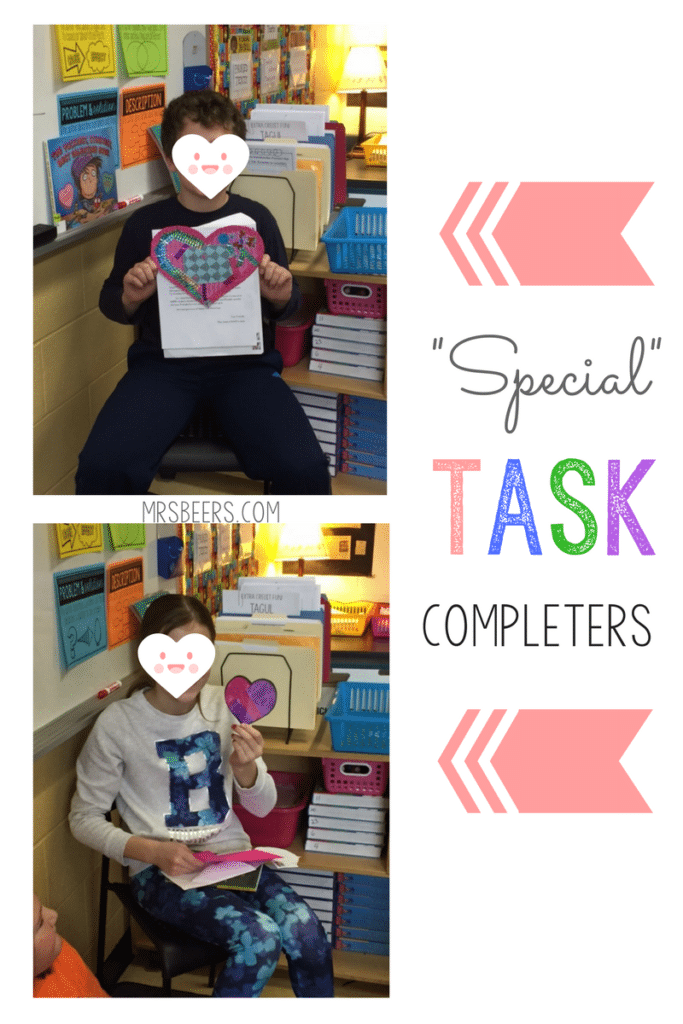 I always keep a few new packs of colored pencils and markers for projects.  Students that are going above and beyond or are deserving of some recognition get to be the FIRST to use them. Simple, but so appreciated. And homework passes?!  Heaven on earth…Grab this freebie homework pass and treat your students to a night off of some work!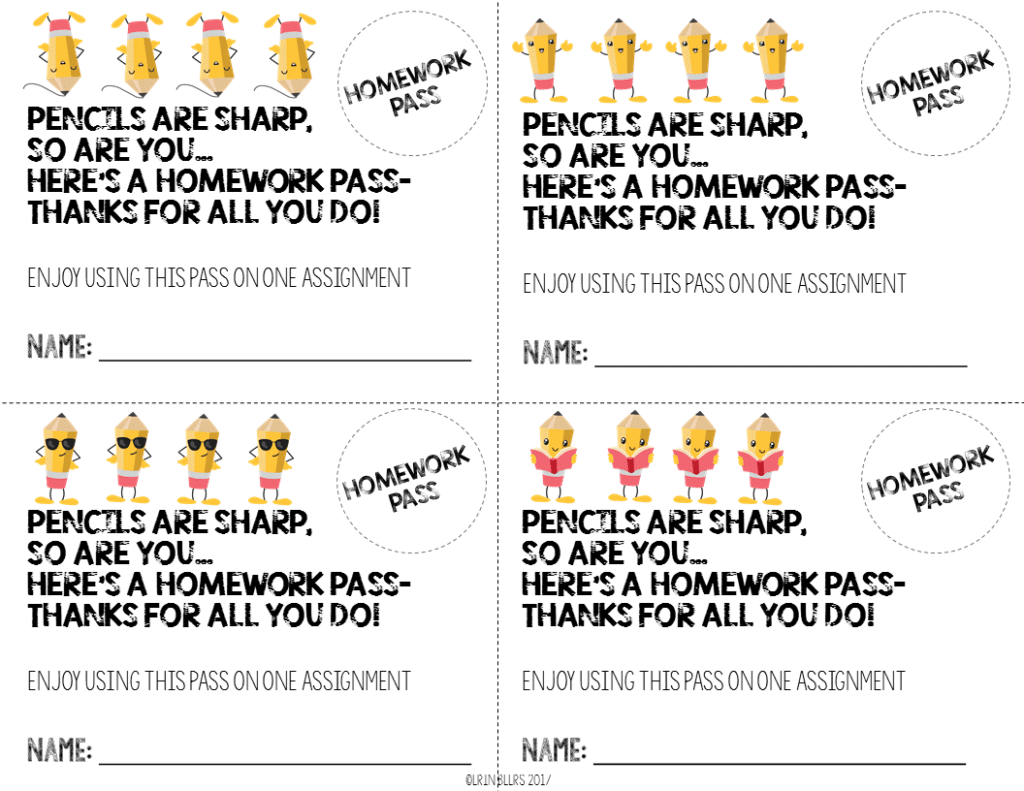 Happy Teaching!