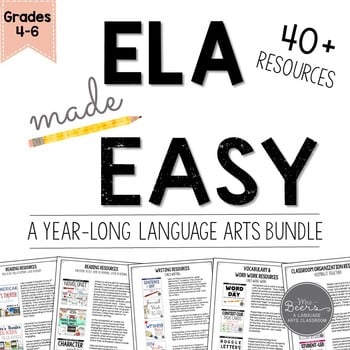 ELA MADE EASY is an exclusive collection of my best language arts lesson plans. This comprehensive 1,687 page bundle provides all the content you need to implement Daily 5 rotations in your middle grade classroom.
This special bundle is designed for 4th, 5th and 6th grade teachers looking to utilize Daily 5 ELA stations with their students. It includes a full year of my top lesson plans and tools to allow seamless integration of the 5 different stations: Read to Self, Read to Someone, Listen to Reading, Writing, and Word Work. You also get a working outline of how I incorporate each of the 20-included resources to make getting started even easier.
This Common Core Aligned Mega Bundle Includes:
Reading Tools:
CCSS Novel Unit Bundle for Grades 4-8
(Crash, Tuck Everlasting, Love That Dog, Maniac Magee, Missing May, The Lottery Rose, Woodsong, Wringer, Hate That Cat, Stargirl)
CCSS Novel Unit Bundle for Grades 3-5
(Because of Winn Dixie, Boxcar Children, Chocolate Fever, Loser, Pleasing the Ghost, Cam Jansen)
End of Novel Projects
(10 High Interest End of Novel Projects and 10 Project-Based Rubrics.)
Character Analysis Task Cards
(32 character analysis task cards, student answer worksheet, instructions, and answer key.)
Reader's Theater for Big Kids Mega Bundle
(Original scripts by Erin Beers: Aesop's Fables, Back to School Blues, Earth Day, Speedy Racer, The Cafeteria Catastrophe, The School Store, and The Snowball Toss. Seasonal themed units for Valentine's Day, Halloween, Thanksgiving, Holiday, and St. Patrick's Day.)
All-American Reader's Theater Bundle
(Original scripts by Erin Beers: September 11th, Veteran's Day, President's Day, Memorial Day, and Martin Luther King Jr.)
Writing Tools:
Sentence of the Day
(150 high-interest sentences to be edited with clip art and 150 answer slides.)
Journal of the Week
(40-high-interest middle grade journal prompts at the ready for display or worksheet print and go!)
Writing Rules! Bundle
(All-in-one writing tool that incorporates all of the writing standards into one resource.)
Draw, Write, Share: Problem-Based Writing
(42-pages of journal prompts with drawing space and a journaling paper for quick printing and student use.)
Word Work and Vocabulary Tools:
Word of the Day: Word Work Resource
(186-slide PDF powerpoint is the perfect morning starter for your middle grades learners that can be utilized everyday of the school year.)
Context Clue Task Cards
(7 sets of 12 multiple choice context clue sentence cards and answer key for quick teacher evaluation.)
BOGGLE Board for Classroom Word Work
(Boggle Board Words printable for student use and 4 Boggle Board letter combination charts for quick use.)
Poetry Tools:
We HEART Poetry! A Poetry Analysis Bundle
(Everything you need to share the poetic devices, how to analyze poems, and make it as engaging as possible in helping students develop their poetry notebooks.)
Love That Dog Poetry Journal and Novel Unit
(37-page common core aligned resource to enhance student inference skills, improve student journal writing, and guide students through poetry analysis.)
Hate That Cat Poetry Journal and Novel Unit
(This unit takes a fun approach to this journal-style novel. Students take on the role of Miss Stretchberry, Jack's middle grades teacher by inferring and writing responses to Jack from her perspective.)
Classroom Organization Tools:
Emergency Language Arts Lesson Plan Bundle
(Over 100 pages and 10 days worth of reading literature and informational text worksheets for your students to work on in your absence.)
Classroom Jobs for Big Kids
(Includes Classroom Jobs Display Header, 6 Classroom Job Titles, Job Descriptions, and Job Lanyard Tags for students to wear.)
Student-Led Conference Bundle
(This Student-Led Conference Bundle for the Middle Grades is the conferencing tool that will enhance your work in your classroom in so many positive ways.)
With the purchase of this CCSS aligned, Daily 5 compatible bundle valued at over $100, starting your year will be a breeze!
Click Here to Buy on Teachers Pay Teachers!
Real Reviews from TPT Buyers:
"Excellent! This was a great help this year because I switched subjects from math to ELA."
"There is soooooo much in this bundle….well done and so helpful! One of the best purchases I have ever made. Thanks!"
"When I found this, I did a little happy dance. This HUGE resource is going to be soooo helpful in the next weeks!"
"I am so excited to use this in my classroom! I teach 5th-8th grade language arts special ed and there are so many great resources in this bundle that I can not wait to use!"
"This is an amazing product at a great price! There are so many tools in this bundle that I cannot wait to use and explore. This has helped me greatly in my 5/6th grade classroom!"