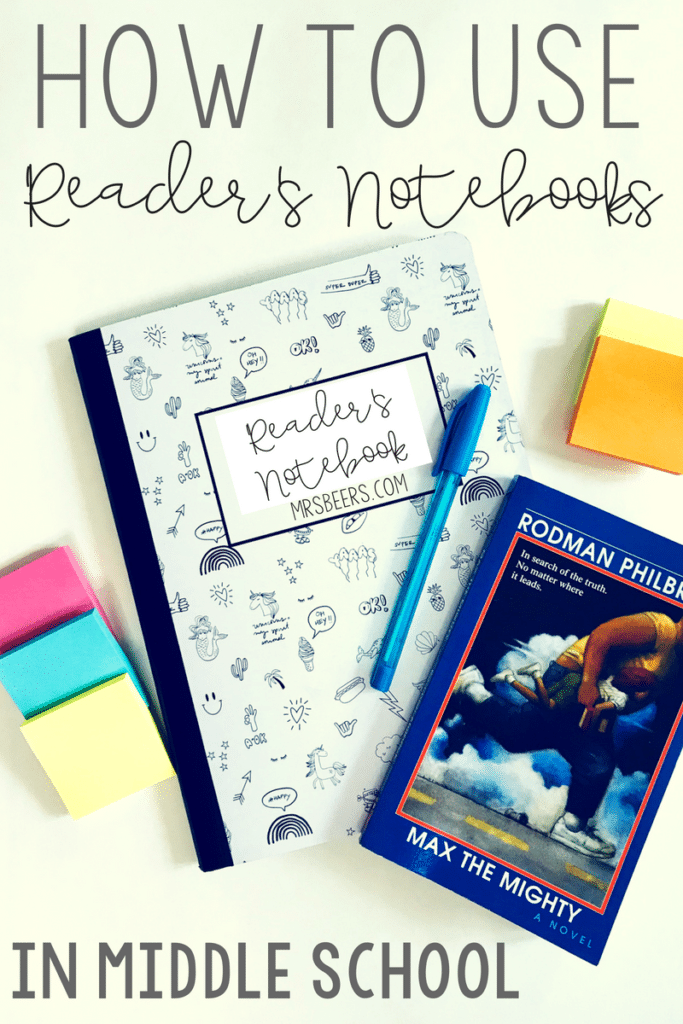 My favorite school days are the ones that find us in a bit of a routine; when my middle school students are to the point where they are energized and enthusiastic, while knowing procedures and classroom expectations. One project that has exemplified this glorious balance has been our reader's notebooks.
We implemented reader's notebook activities with our first mentor text, Freak the Mighty by Rodman Philbrick. If you have never read this book, race to the bookstore, Amazon, or Scholastic to grab it. It is one of the best read aloud texts that I have found to engage my students, while teaching them all about realistic fiction. Freak the Mighty was also the perfect text to help my students launch their work with reader's notebooks.
Let me preface this post by saying that I am not an expert. I , like you, am always working to become the best reading and writing teacher that I can be. Through professional development and my teaching experiences I find ways to grow each day. After my work with reader's and writer's workshop using Lucy Calkins' resources in 1st grade, I knew this was the route I wanted to go with my 7th graders. So I dove in head first.
Last summer, I bought A Guide to the Reading Workshop in Middle School by Lucy Calkins and read it from cover to cover. I bought book shelves, more books, and worked to create a space within my classroom where my students would love connecting with their reading. From the very first day, with the help of our amazing school library, I worked to put books in my students hands that they didn't want to put down, and got them thinking about their work as readers.
By Day 4, my students were building stamina as readers with self-selected books, documenting the number of pages they were reading, and discussing their reading with me. I began my work with my students using the resource A Deep Study of Character by Lucy Calkins and Mary Ehrenworth. As a 7th grade teacher, I know the content standards, but I wanted some tools to help me make the greatest impact with my 7th grade readers from the very beginning of our year. Enter our work with reader's notebooks.
While I do not follow any lesson to a T, here is what I have found to be the most effective ways to utilize reader's notebooks with my students…
Reading Conference Ready!
I encourage my students to read for 90% of their reading time and write about their reading for 10% of the time. Depending on how busy they are in the evenings, this could be reading for 18 minutes and writing for 2 minutes. I want to be able to check in with them as often as possible and see how they are navigating their books. While I love to talk about books, I can't climb inside my students' brains. By writing about their reading, they are able to share the thinking about the reading they are doing, and discuss it more thoughtfully.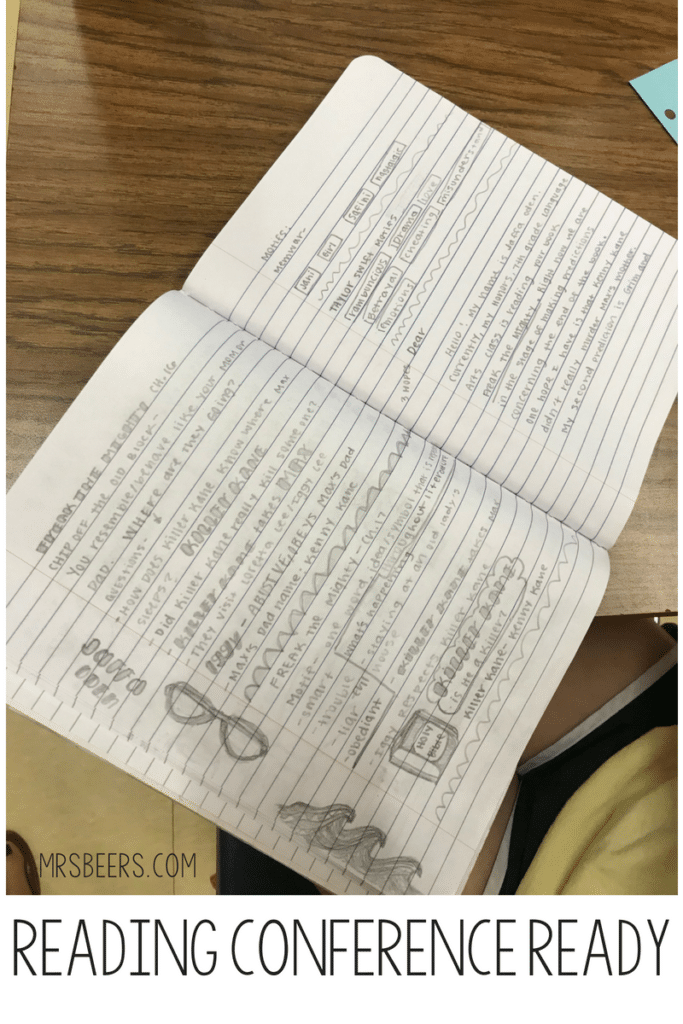 Readers are Writers and Writers are Readers
We use our reader's notebooks to work on skills that we need to possess as readers and writers. Predicting and inferring are skills that good readers need to demonstrate. As writers we need to know how to write a friendly letter. At times I like to combine reading and writing to tackle multiple skills.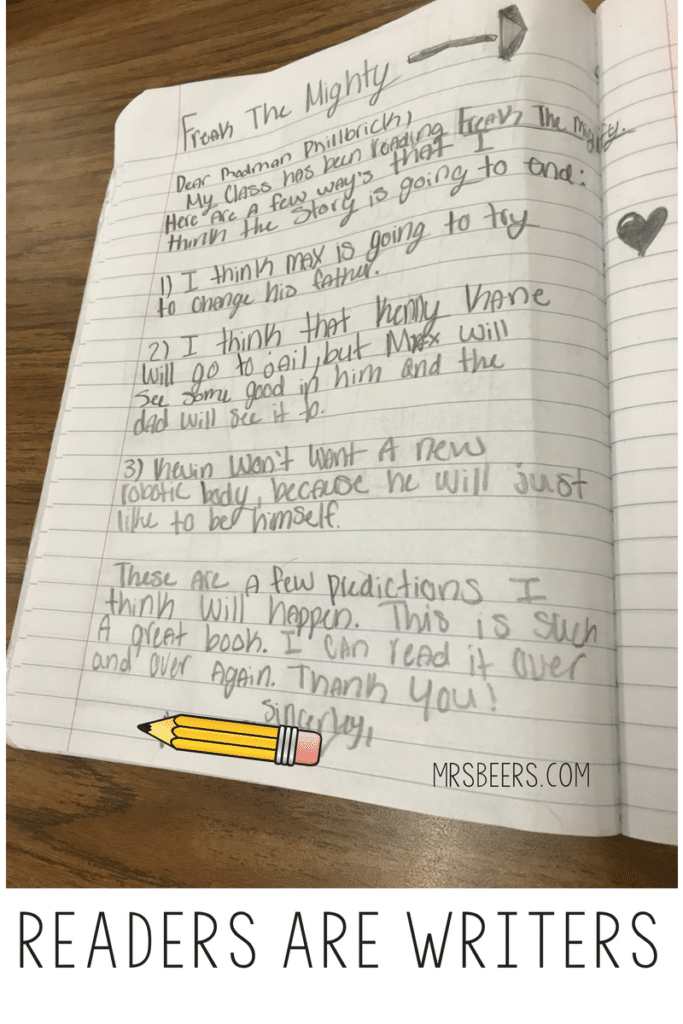 Sketch-Type Notes
"If we are always reading aloud something that is more difficult than children can read themselves then when they come to that book later, or books like that, they will be able to read them – which is why even a fifth grade teacher, even a tenth grade teacher, should still be reading to children aloud. There is always something that is too intractable for kids to read on their own." – Mem Fox
Do you have students that struggle to listen or focus when you are reading aloud? Let them sketch/doodle. I challenge my students to listen to our mentor text read aloud and doodle about:
Words/quotes that jump out at them
Ideas that are hard to keep in their brain
Visualizations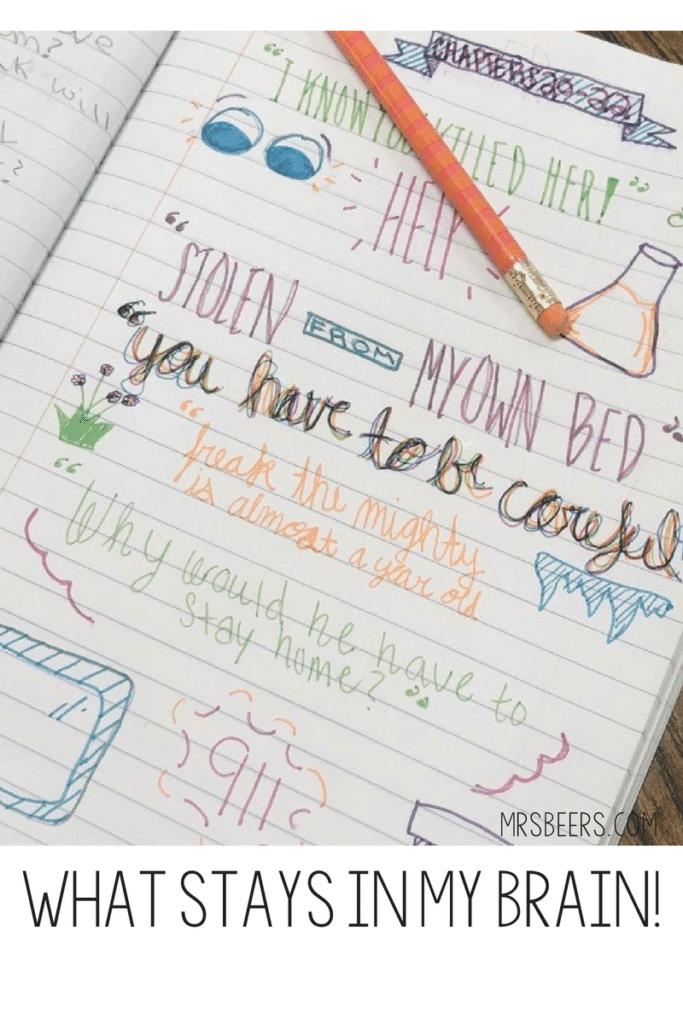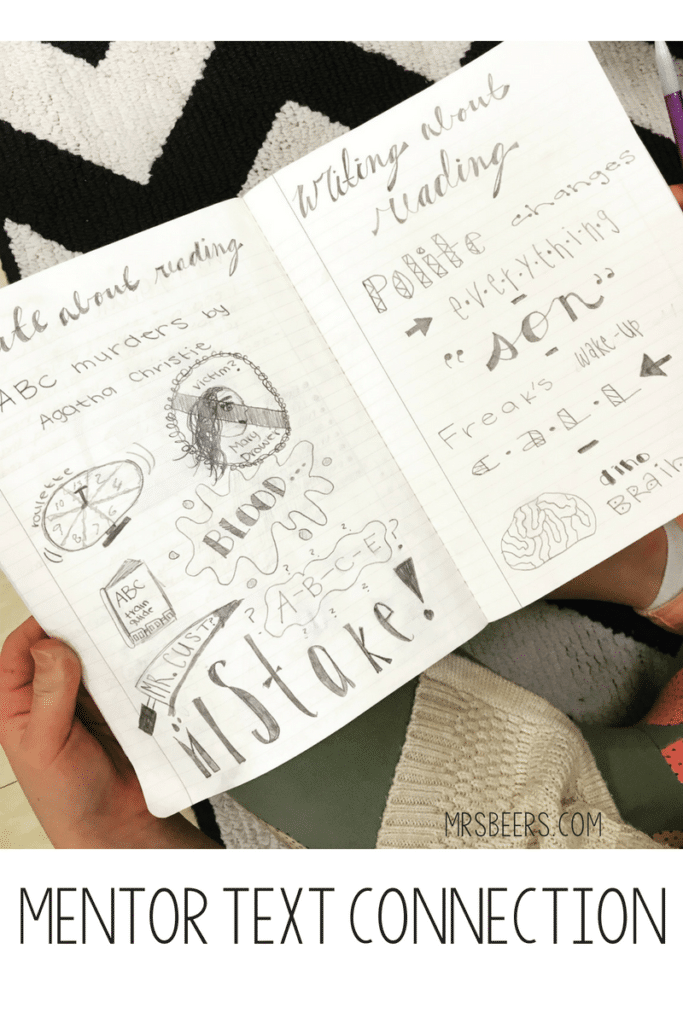 "Where did I leave off?"
My 7th graders are still navigating themselves as readers. While some students can turn a page and pick up right where they left off 12 hours ago, other students' brains don't work that way. One strategy I teach my students is to list questions you may have about reading you just completed, so that those questions can be revisited before continuing on.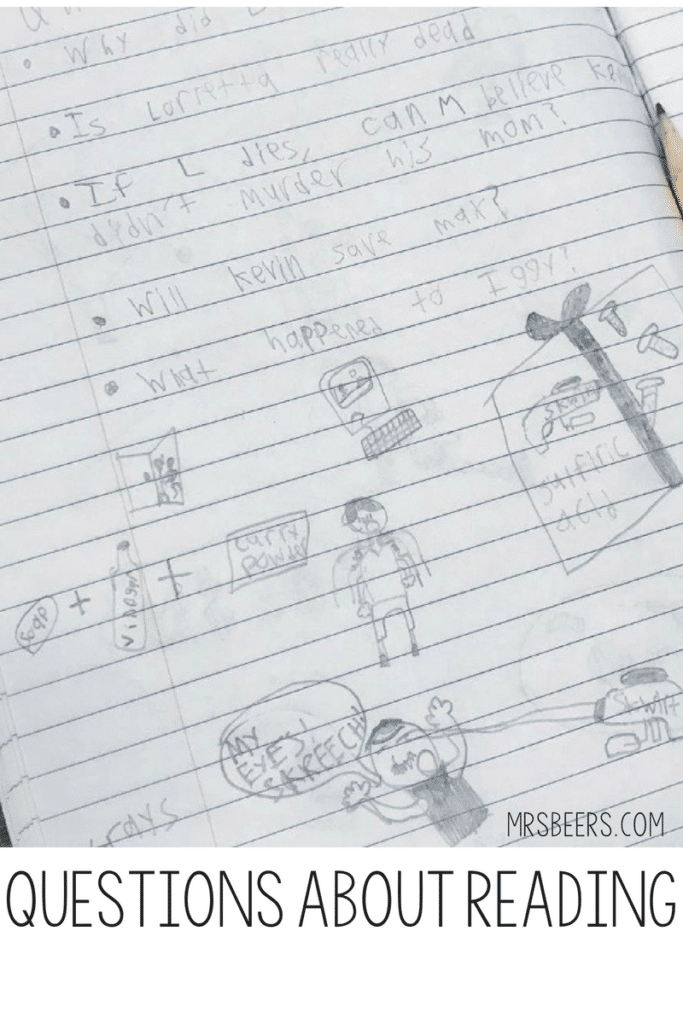 I do not have all of the answers as a 7th grade reading teacher, but I love what I do and try to find ways to meet the needs of my learners. Like you, I grow more each day. I am still navigating my way as I work with my readers, but it has been amazing getting to know each of my students as readers. A few things I am learning and focusing on:
What titles and authors are capturing my readers' attention?
Are my 7th grade readers finishing or abandoning books?
Are my students reading in addition to the time I am giving them in class?
With more purposeful reading time, are my students more enthusiastic readers?
How can reading partnerships be more productive?
Like all new initiatives, I will build off of the wins and adjust as necessary!