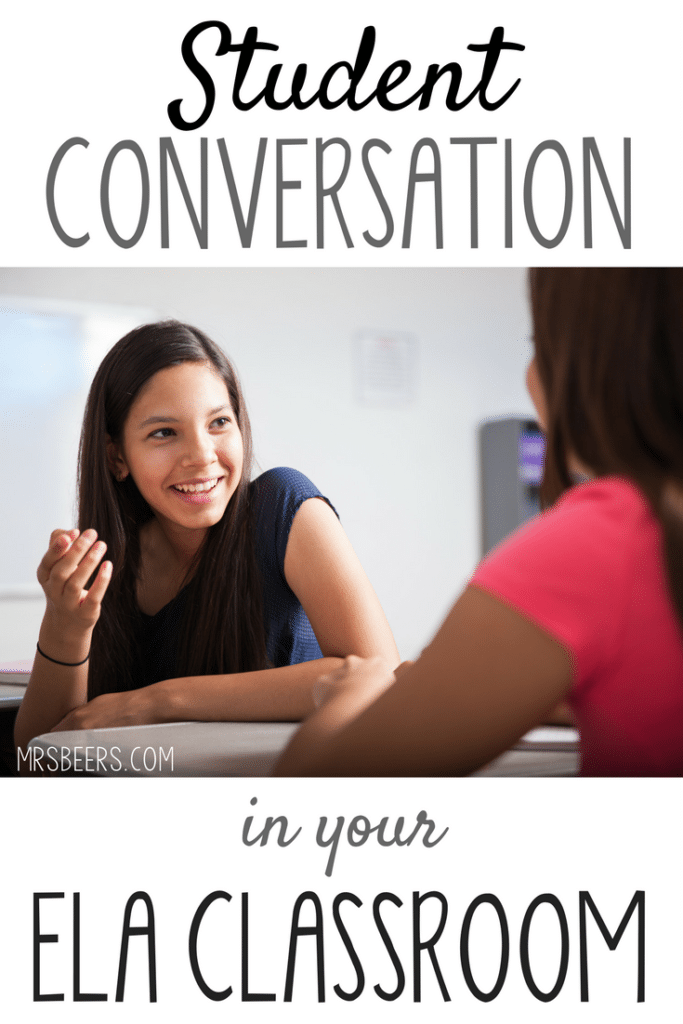 I have to admit that as a 6th grade language arts teacher, I LOVE a quiet classroom.  I do not like CHAOS, I do not like LOUD, and while I am in complete confession mode, I can't stand when things are not organized and out of place!  I know, I am one of those teachers!  In my classroom I prefer students in a structured routine, under control, and highly productive.  If I am speaking your language, read on…
What I also realize is that I have to offer my students opportunities to engage with one another, which can get a little louder than normal.  In addition, I have to allow them the chance to shift around the room to work with others, which can get things out of place, and it is ALL GOOD.
In considering the needs of my students and my own personality, I came up with an idea to allow students more time to engage in thoughtful discussion with one another, but in a productive and meaningful way.  My idea also comes with the added perk of having one less thing to GRADE…Chit Chat Cards.
I have taught 6th graders for 15 years, and one thing I can tell you for sure is that they LOVE to CHIT CHAT with one another. Because our day is so fast-paced and so much needs to be crammed into class time, and minimal time is set aside for student discussion, I came up with the idea for CHIT CHAT CARDS.
Instead of writing down all of their thoughts or recording their responses, they have cards that keep them focused, on-topic, yet able to listen, speak, and discuss. As teachers we don't need one more thing to PHYSICALLY GRADE!
These CHIT CHAT CARDS can be used as a formative assessment after reading any fiction or nonfiction selection and can be used during partner time, small group, whole class discussion, or for reading conferences. Genius, right? Use them how you see fit, but use them. These CHIT CHAT CARDS are also a perfect tool for reading intervention. I promise your students will love the time they have to interact, share, and discuss text.
Simply…
Print and laminate Chit Chat Cards. You will need a few sets for whole class work.
Have students read any fiction or nonfiction selection.
Pass out the Chit Chat Cards.
Partner students and allow them time to read through and discuss the Chit Chat cards.
Have them discuss as few or as many as time allows.
Bring group back together for a whole class discussion.
Allow students to listen, share, and discuss their thoughts.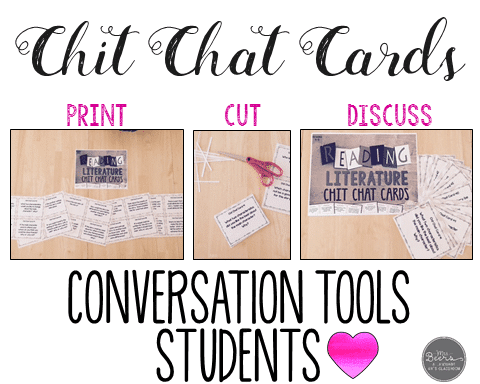 My plan is to print a class set, laminate, attach to a ring for easy, accessible use, and distribute for student discussion upon the completion of a text.  With this fun classroom resource my students are focused, engaged, and interacting, in a structured, controlled, and productive way while enhancing their understanding of reading literature, informational text, and speaking/listening standards.
Grab the BUNDLE here…
Happy Productive Chatting!