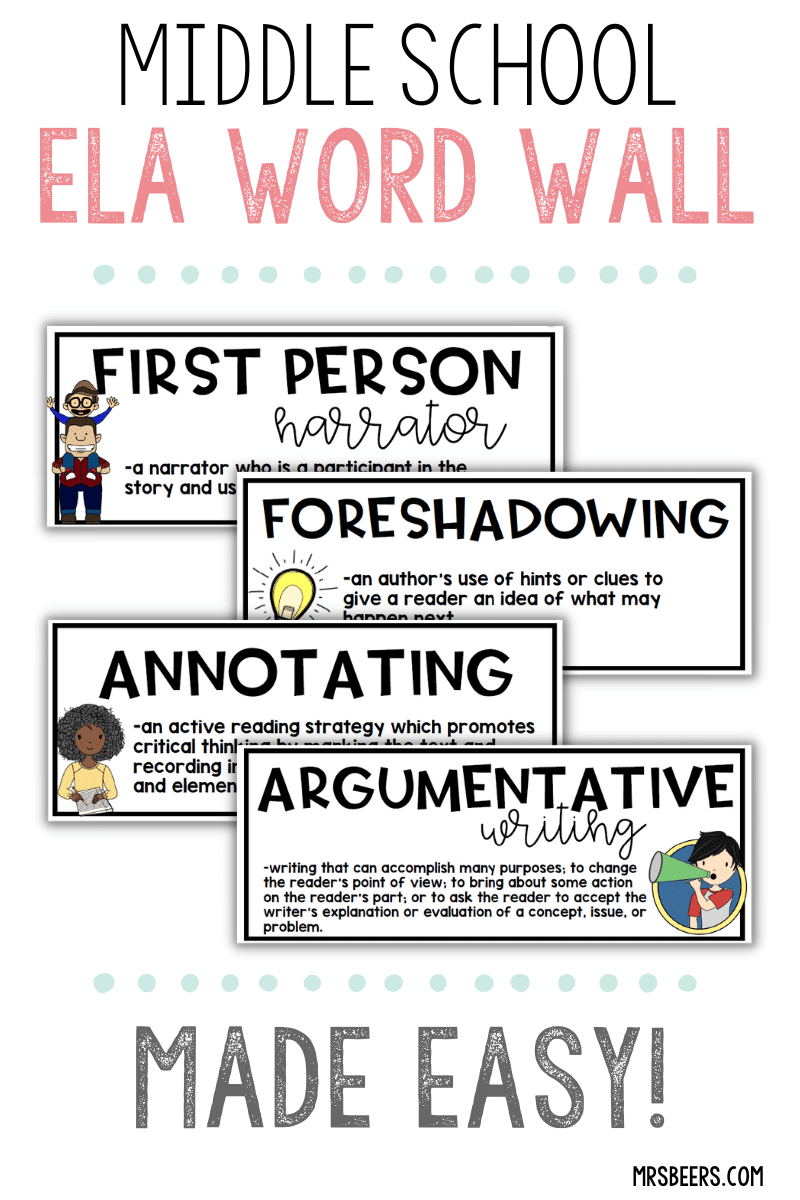 An engaging ELA word wall can transform unused wall space in your classroom into a perpetual learning resource. Word walls have been a staple of my classroom for many years, and I'm excited to share some word wall activities and ideas to help you get started with these interactive learning tools.
What is a Word Wall?
Traditional word wall creations often include focus words or vocabulary terms grouped together in alphabetic order and openly displayed on the walls of classroom. At the middle school level, many teachers have expanded the idea to create word wall templates for a variety of subjects and terminology.
The concept of a word wall is to visually display important concepts around the classroom. For example, my word wall features language arts terminology such as plot, narrator, etc. I post the word cards on my classroom cabinet doors, which allows students to refer to them as needed and gives me the opportunity to integrate them into instruction.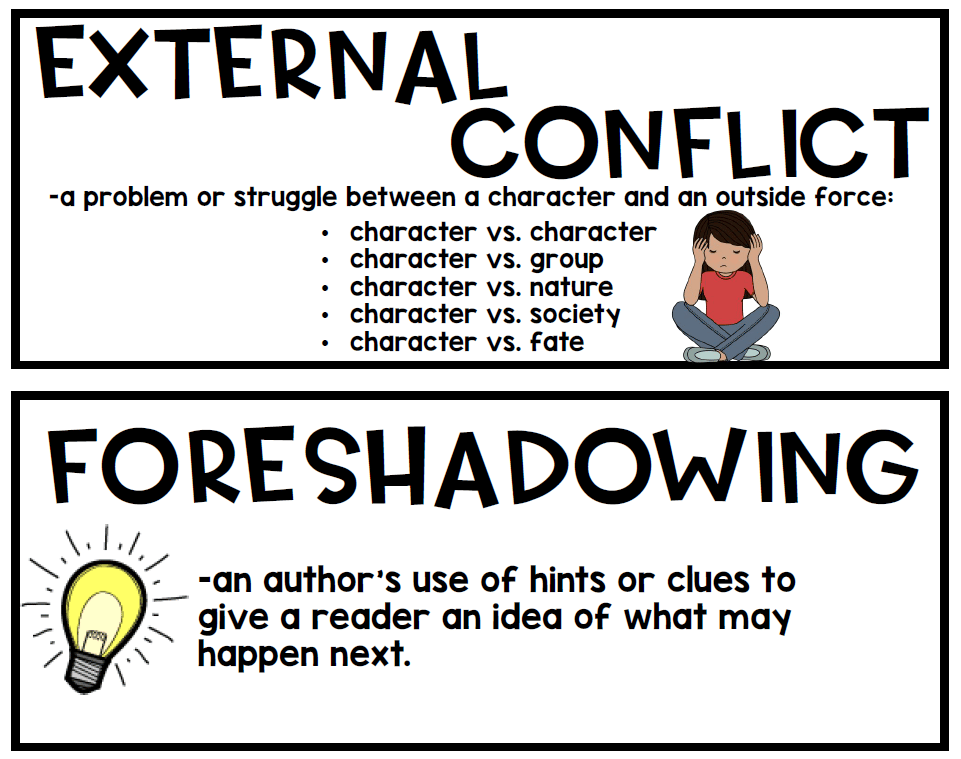 How to make a word wall
The process for creating a word wall template is pretty simple, regardless of what subject you plan to use it for. I wrote out the steps below and included a free template you can use to get started.
Step 1: Use PowerPoint or Google Slides to create your card template. I used a simple line border to fit two cards on one PowerPoint slide. If you have access to PowerPoint you can download my free template in the image below.
Step 2: Enter your words or learning content. You can also add clip art and custom fonts to your design to make it more eye-catching. You'll notice from my examples that I used both a custom font and added character clip art to enhance the design.
Step 3: Print and laminate your cards for display! If you don't have access to color printing you can send the job to a Staples or FedEx store. Personally, I think a splash of color makes the resource more engaging and adds some functional design to blank spaces within the classroom.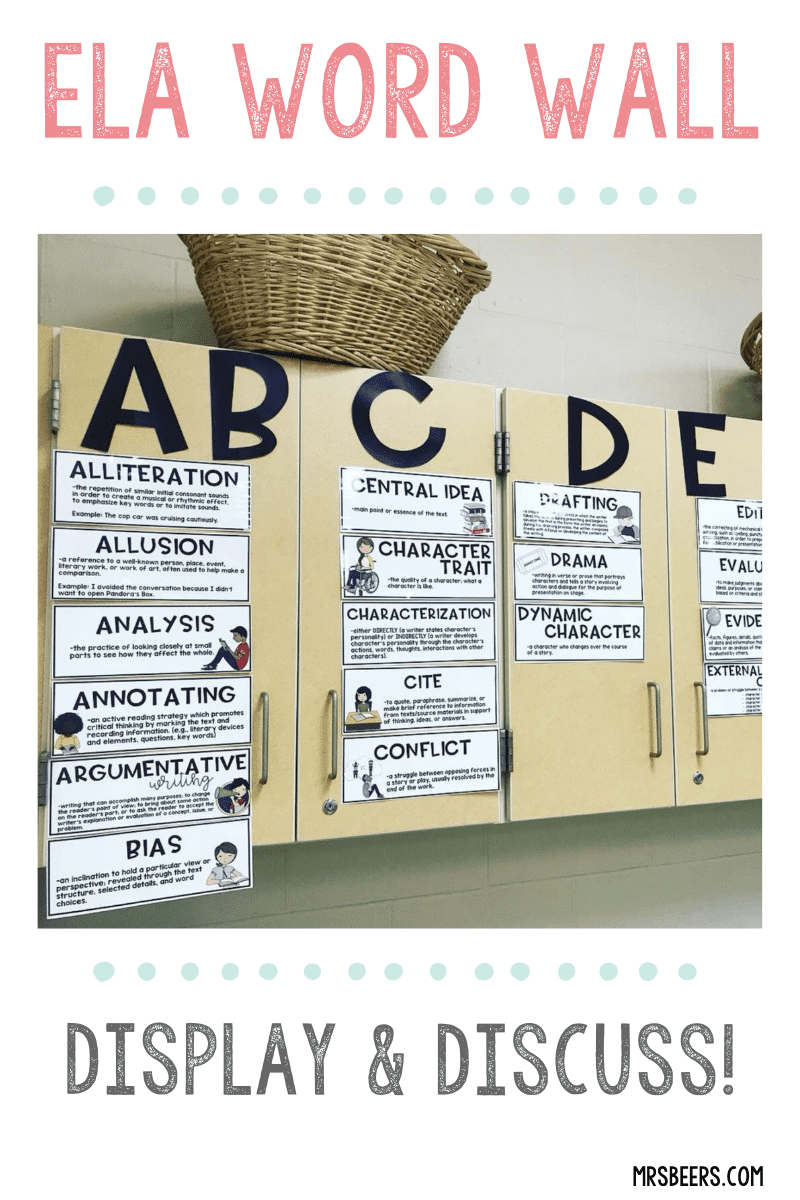 How to use a word wall in middle school
As a middle school teacher, I am always referring to academic terms during instruction that my students need to know and understand. I designed my word wall resource to display this ELA terminology so that it can be referenced and reinforced throughout the year. It has been a great addition to my ELA teacher toolbox.
When it comes to our book discussions and novel units, it is incredibly helpful to have the literary elements and techniques displayed in the classroom as we learn about them. While my students are capable of memorizing a term and definition, visually reinforcing the concept while analyzing how it is used within a book is a win-win situation.
Beyond my example above with literary terms, there are dozens of other creative ways to utilize word walls with middle school students. Some of the more creative uses I've seen include connective phrases, math formulas, rule breaker words, historical figures, and even art vocabulary!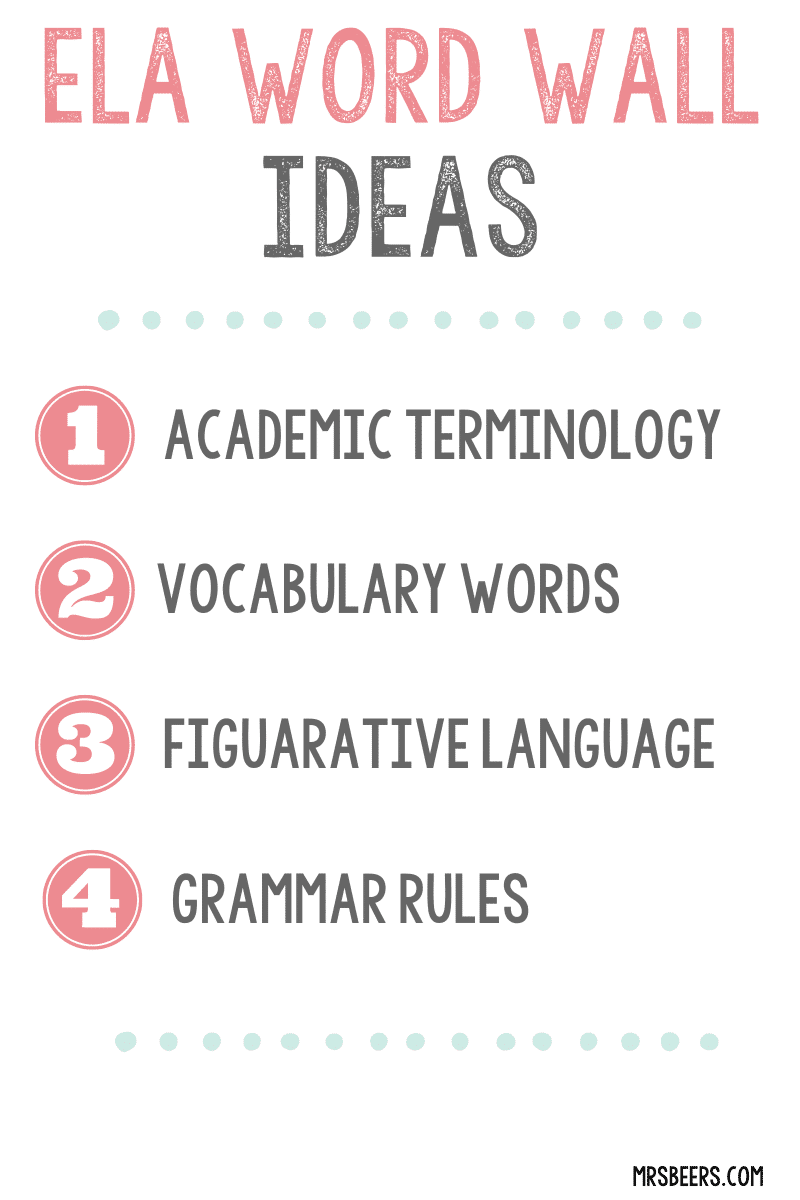 Word Wall Activites
As valuable as word walls can be, they can also turn into clutter if your students don't utilize them. It is important to raise student awareness about the resource and teach them practical ways to utilize it. Here are a few activities you can try to make your word wall more interactive.
Exit tickets are an easy way to draw attention to your focus words. For example, choose two literary genres from the word wall and share a book that you've read from each one. How many stars would give you each book and why?
Word work activities are another way to encourage the use of your word wall. A short answer challenge could be to give 3 examples of "personification."
Compare and contrast exercises are great to develop a fluent understanding of a term. Students are given contrasting terms (ie. two different literary characters) and then asked to provide 2 examples on how they are similar and different.
Journal prompts work particularly well with my wall of literature terms. During our novel studies, I give students prompts tied to the text to help them navigate different aspects of the story.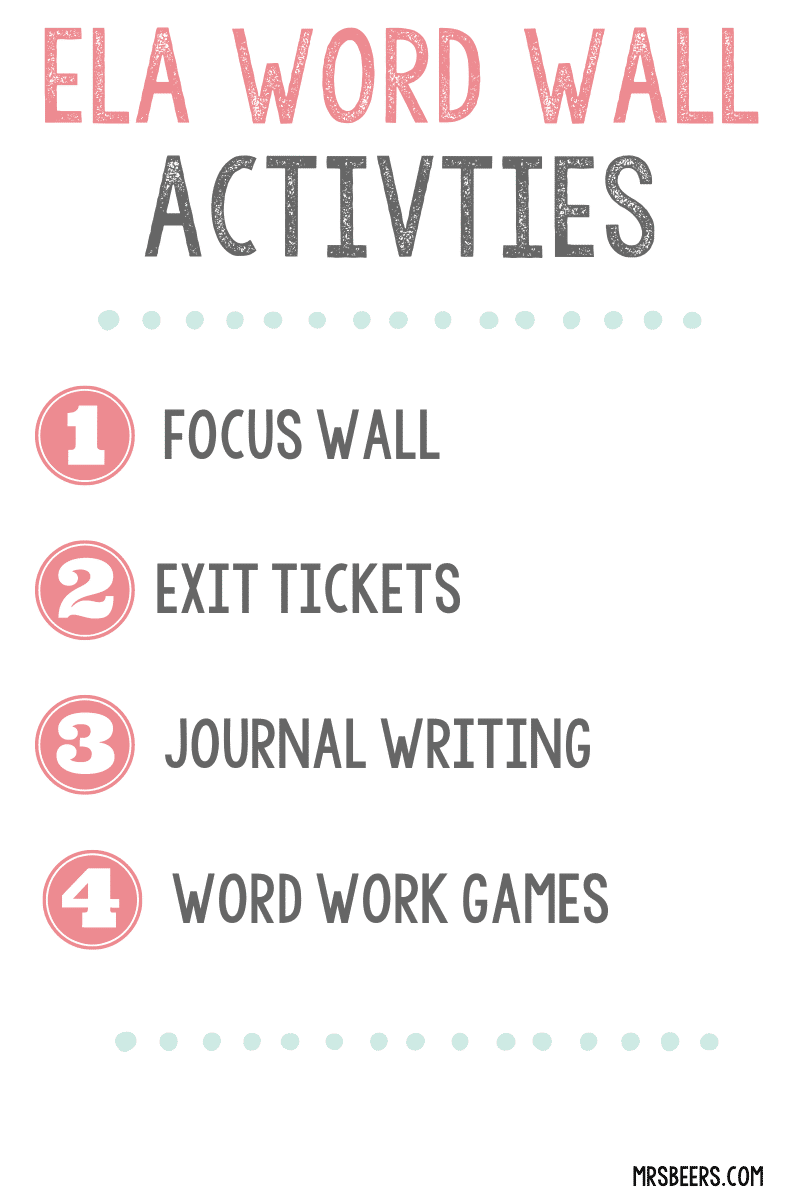 Fun Word Wall Games
Experimenting with word wall games is a great way to spark engagement with this resource. Middle school students love friendly competition so experiment with different formats to find the best balance between fun and learning.
The most popular word games with my students are Pictionary, Scattergories, Family Feud, and Mind Reader. I like to use small groups for teams and each of the games listed above work well with groups of 4-6 students.
Word Wall Resources
Every classroom can benefit from a word wall, but each class has different learning goals and objectives. As teachers, they key is to determine what concepts your students need to master most at their grade level. If you have limited space for display, you can reveal the full set of words over time and maintain focus on the core ideas you studying right now.
If you teach language arts in the middle grades then I have created a $5 resource that will save you hours of preparation time. My Editable ELA Word Wall for Middle School features over 100 word cards that cover all of the important language arts terminology.
This is a printable PDF word wall you can implement right away. I have also included blank card templates so you can add your own words as needed. Even if you don't use all the words I have included, the amount of time you'll save over creating a word wall from scratch is well worth it.
Common Core Standards
My ELA Word Wall is designed to cover the Common Core standards below.
CCSS CCRA.L.6
Acquire and use accurately a range of general academic and domain-specific words and phrases sufficient for reading, writing, speaking, and listening at the college and career readiness level; demonstrate independence in gathering vocabulary knowledge when encountering an unknown term important to comprehension or expression.
CCSS CCRA.L.5
Demonstrate understanding of word relationships and nuances in word meanings.