Creating a middle school syllabus shouldn't be intimidating, but I know from experience how hard it is to condense all of your classroom guidelines and expectations onto a single page. One way I was able to streamline the process was to build my own editable syllabus templates. It took extra effort on the front end, but having a reusable template that represents my preferences from both a design and communication perspective has saved me hours of work ever since.
As a middle school teacher, I design my syllabus as a tool for both students and parents. The goal is to give both parties a roadmap of what we will be learning in language arts, and what to expect in terms of work requirements. My syllabus outlines what subject units and group learning projects we will work on at different points in the school year.
While it is important that I help my students increase their independence as learners, it is also essential to keep parents informed about the work we are doing in my ELA classroom. I distribute the same syllabus to parents on "Meet the Teacher Night" that my students received on the first day of school.
My most recent ELA syllabus…
The key points I want to communicate at the beginning of the year include:
My contact information
What we will be learning in ELA class
Schoology information
Grading scale and policies
Cadence of assignments and projects
Supplies needed for success each day
Absence and makeup work policy
Syllabus Design TIps
I prefer to use PowerPoint to create and edit my syllabus templates. While Google Slides is a popular classroom program, PowerPoint allows you to upload custom fonts and the image options are easier to use in my opinion.
I am a bit of a font junky, especially when it comes to creative presentations. A good font will draw attention to the document right from the start, while also leading the eyes through the important sections.
See below for a couple different examples of syllabi I utilize with my students. You'll notice the difference the fonts make in capturing attention over the standard Arial font.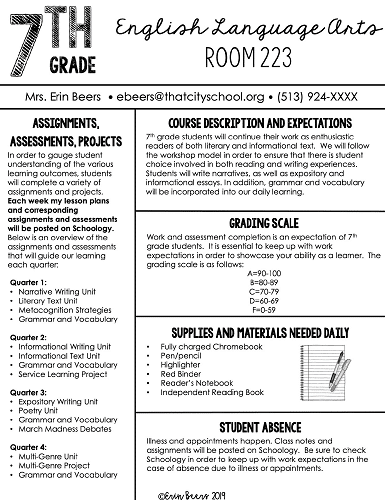 Of course, every teacher has their own unique taste, and even my favorite fonts change over time. This is what makes PowerPoint files so great. They are easy to switch between different fonts and sizes as your tastes change.
Powerpoint to Google Slides
It is possible to create a syllabus in PowerPoint and still use it with Google Slides. The easiest way I have found is to capture an image or screenshot of your final version and insert the image into Google Slides. This methods prevents the program from automatically changing your font since it is not part of the program files.
Even if your school does not provide PowerPoint license keys, you may still be able to gain free access though the Microsoft for Educators program. Note that you will need to sign with your school email address to get access.
ELA Syllabus Made Easy!
If you are interested in using the Powerpoint templates featured here, I have included them in a single inexpensive resource. My 3 Editable Syllabus Templates are packaged together and you can purchase them for only $3.50 on either my TPT Store or Etsy Store.
Regardless of what subject you are teaching, I highly recommend taking the time to create a syllabus template that is personalized for your needs. While you can expect to spend a couple hours building it the first year, the amount of time you'll save over the course of your career is well worth it!