You know those movies and books like Adventures in Babysitting (I am dating myself) or Cat in the Hat, where the kids go on a wild adventure, but as soon as the parents' car pulls in the driveway, the kids are in their beds, no mess can be found, and the sitter is snuggled on the couch?!  That just about sums up my recent adventure on a snow WEEK!  Minus the snuggled up on the couch part…I am standing at my computer relieved that it is Friday!
My husband went to Orlando on Monday morning for a business trip for the entire week.  On Monday, we drove him to the airport in a crazy snowstorm and he easily made his way to sunny Florida. I say easily because he got to go ALL BY HIMSELF!  Of course he called to share that it was only "55 degrees" yesterday to which I responded in sub-zero, tundra of Ohio temps, "You are talking to the wrong lady!"
So here is a retelling of our sans daddy adventurous week…
Monday-drop lucky husband off at the airport, drive home watching cars fly past and spin out all over the highway, big kid goes sledding with friends and has a milkshake, big kid comes home and THROWS UP on the basement carpet. While gagging, I clean said carpet to the best of my ability while trying to help big kid navigate the stomach bug for the rest of the night. Showers, books, shows, bed!
Tuesday-NO SCHOOL! Wahoo!  Schedule Stanley Steemer, Stanley Steemer cancels, big kid has fever, sister and little brother get geared up and shovel, with bucket in hand (in case of more vomiting) we race to Walgreen's for carpet cleaner, Ring Pops (for the littlest), more laundry detergent, and Gatorade, big kid begins feeling better, I scrub carpet until my hands are raw, off to Potbelly we go! Showers, books, shows, bed!
Wednesday-NO SCHOOL! Bummer!  Little kid swimming lesson cancelled, big kid has no fever and hasn't thrown up since Monday night, Stanley Steemer cancels due to cold temps, big kid, sister and little brother help shovel, friends come over to play, I must get out of this house, off to Panera and Target we go! Showers, books, shows, bed!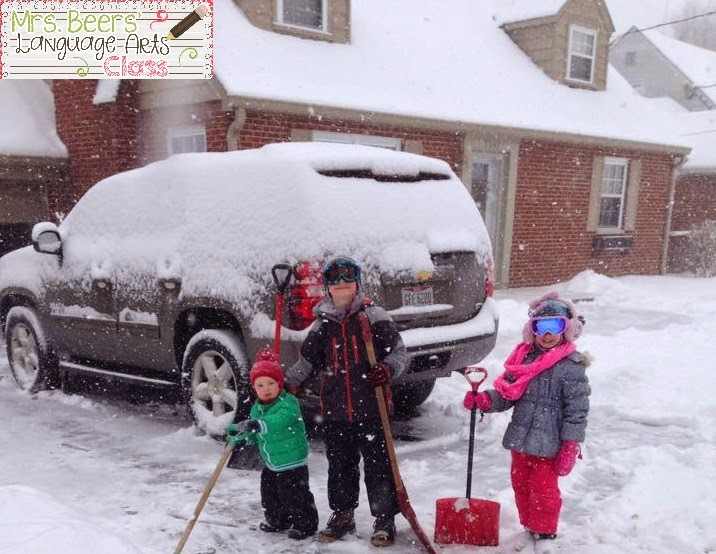 Thursday-NO SCHOOL! Lord help me!  Re-scheduled little kid swimming lesson cancelled, my running buddy comes over with her girls to watch my three kiddos so I can go run on the treadmill, come home, feed 6 kiddos lunch, have friends play for the day, MUST GET OUT OF THIS HOUSE, off to the mall we go, Sbarro for dinner! Showers, books, shows, bed!
Friday-NO SCHOOL! For the love of all things holy, I am hanging by a thread!  We head to Recreations, a local indoor play place, THANK YOU STANLEY STEEMER for coming and making that awful smell go away, sister plays at her friends' house, big kid plays with friend, little kid napping, on our way to pick up daddy!
We made it!
It was an exhausting week!  I have always had an incredible respect for single parents who do it all, on their own, all of the time, but after spending EVERY WAKING MOMENT with my kiddos this week due to snow and cold temps cancelling school, I am even more grateful for my husband! Would you believe that I am actually looking forward to running 14 miles on the treadmill tomorrow?!  Training calls and the snow continues to fall!