This was our last walk to school day because these sweet faces finished kindergarten and third grade, respectively, and were anxiously awaiting the fun of summer!  In the last 7 days since school has ended we have…
(deep breath)
…planned and hosted my daughter's 6th birthday party, attended a friend's birthday party, taken two trips to the zoo, had four playdates,  attended basketball camp, played at some local parks, grabbed summer reading books from the library, begun our summer reading, played countless games of Uno and Go Fish!, eaten too many ice cream cones and popsicles, gardened, grilled, ran, biked, swam, stayed up too late, and snuggled!
The next weeks will bring more of the same and I can't wait!  Baseball, soccer, and cheerleading camp will be attended by my oldest kiddos, and I have some sweet time with my littlest.  I am attempting to sneak in some teacher work here and there, before all three kiddos wake up and at night.  I also try to get it in when I have a napping two-year old and big kids busy with friends.  I am happy to report that I did complete a novel study unit that I am testing out on my son, which will be much to his chagrin, of course, but a boy's gotta read, right?!
So despite the urge to prepare for next school year, I am making sure to make the most of this summer with my kiddos.  While a teacher's work is NEVER finished, be sure to take some time to just BE and ENJOY!  I don't say relax because there isn't much of that happening at my house, so I assume it doesn't happen in other busy households either.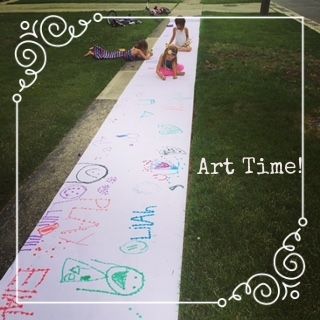 Happy Summer!