The end of another school year is quickly arriving and there are a bazillion things to do before your students pack up their belongings and leave your classroom for the final time.  I find this time of year to be a complete blur despite having gone through it for 15 years.  No matter how organized or prepared I am for the last days of school, I am always racing to Starbucks for one last gift card or racking my brain working to find the right words to say to a colleague, parent, or my children's teachers.
While you may be up to your ears in paperwork and completing final exam grades, here are a few ideas to grab right away, or store on your Pinterest board for next school year to make it easy to show gratitude and say thanks to those co-workers, parent volunteers, cafeteria/maintenance staff, student helpers, etc.
Classroom Appreciation Printables
I am BIG on thank you cards and notes. I feel that it is essential that we take the time to show gratitude toward those that we care about, have given to us, or done some kind gesture.  As adults we must set a good example, so that our children and students learn this important deed. To help with the task of showing thanks, and making my life as easy as possible throughout the school year, I created this $1 resource. It includes 20-thank you printables that with a simple signature and $1 Spot goodie from Target, are so meaningful. The person that is on the receiving end of one of these, truly feels appreciated.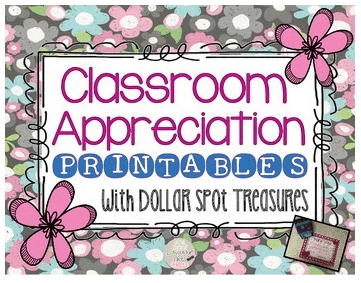 Character Pals
I am one of those people that tends to give gift cards to others for all gift giving occasions. I want the receiver to be able to pick out something that they can truly utilize and not duplicate something they might already have, or have to worry about a return. This end of school, I vowed not to do that. Instead, I came across a clip artist on Teachers Pay Teachers. Lauren from Polka Dots & Pals, creates characters in the likeness of people and she is truly GIFTED! I wasn't sure what I would do with the images, but I had her create my children's teachers. I sent her a picture, filled out a brief inventory to assist her in creating the image, and VOILA, I had two adorable characters.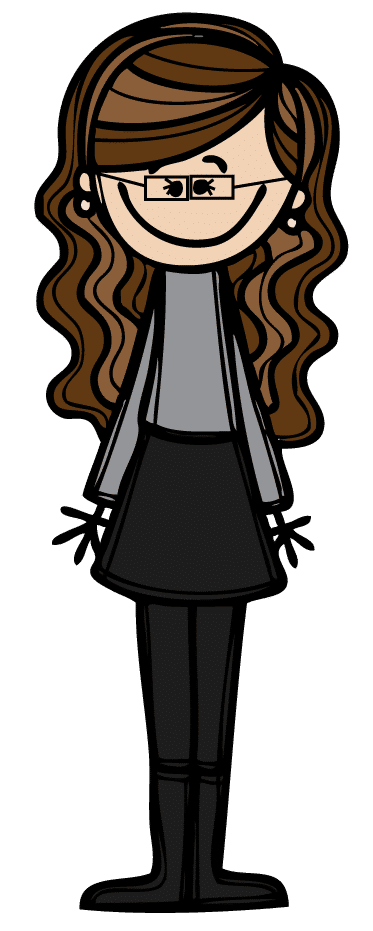 I took to Powerpoint and Vistaprint to create these adorable post-its and bags. Every teacher needs bags for stuff, and post-its are another teacher essential. Lauren also gave me the go-ahead to send them their jpeg character pal to utilize with resources and blogging fun. I can't wait to give them these fun end of year surprises.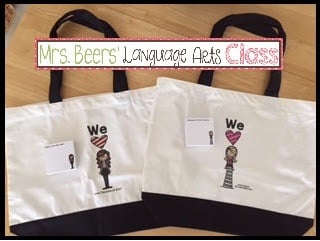 Share your teacher appreciation or end of year gift giving ideas in the comments below.that you do to show your gratitude…I am always on the hunt for fun ideas!  Happy End of Year!