What back to school books do you love to share with students on those first days of school?  I have a bunch that I have adored reading aloud to my my own children and my enthusiastic 6th graders over the years, but the picture book The Recess Queen by Alexis O'Neill has quickly become one of my newest favorites and one I can't wait to share with my 6th graders.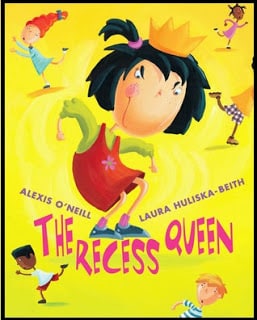 The Recess Queen is a fun, rhyming story with perfect illustrations that truly showcase the impacts of bullying and how bullies truly have the ability to negatively impact those around them.  Quick summary-"Mean Jean" wants to be included in recess activities, but has no idea how to go about playing thoughtfully with her peers, and she bullies them.  So a new girl, Katie Sue, arrives at school, not knowing Jean's reputation, and asks Jean to jump rope.  Jean's bullying ways change immediately, and she realizes how nice it is to have someone to play with at recess.  It is a light-hearted look at a serious topic that is overwhelming students in our schools today.  I promise, even 6th graders will love it!
This book opens up the opportunity to discuss with our students, "How can we be less like a Mean Jean and more like a Katie Sue?"  To encourage even more discussion with this text I have created these FREEBIE chit chat cards to get students thinking, reflecting, and chatting.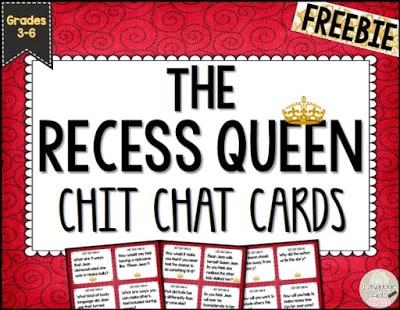 Instructions…
•Print and laminate Chit Chat Cards. You will need a few sets for student work/chit chat.
•Read the picture book The Recess Queen.
•Pass out the Chit Chat Cards.
•Partner students and allow them time to read through and discuss the Chit Chat cards.
•Have them discuss as few or as many as time allows.
•Bring group back together for a whole class discussion
Your students will love this book and the opportunity to share their thoughts and ideas about this thoughtful book.
Best of luck combating bullying in your classroom and school setting!  I hope this resource gets your students talking, thinking, and reflecting on ways to make bullying a thing of the past.