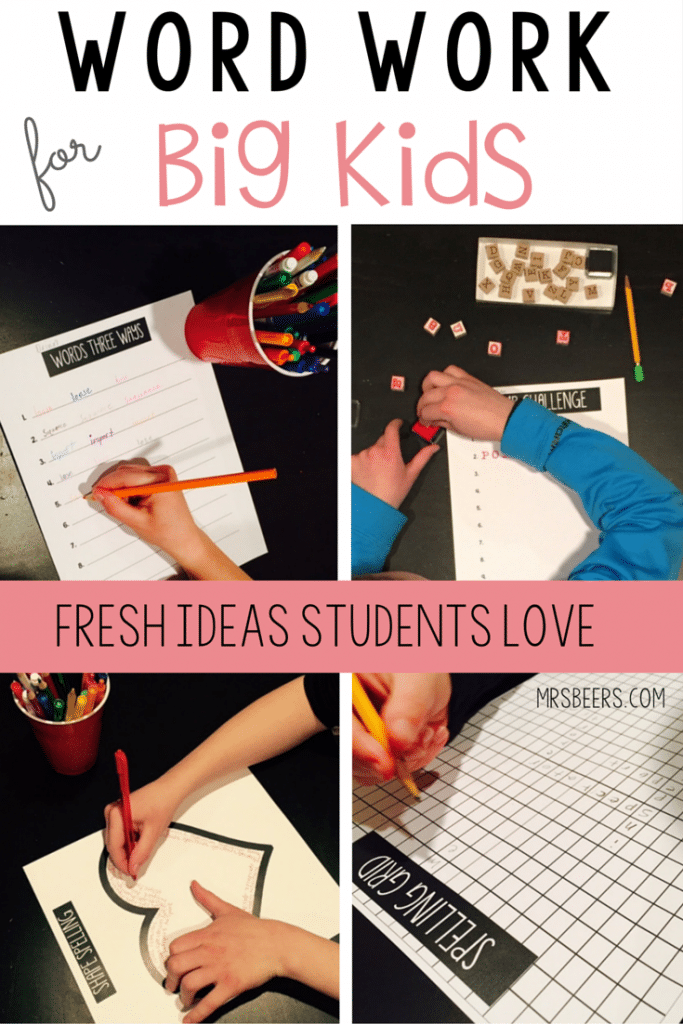 2021 UPDATE: I originally published these word work ideas a few years ago, but the tips and lessons are still applicable today. This post shares some unique ways to practice spelling and word work in middle grade classrooms. Don't forget to download the freebie activity sheet at the end of the post!
I am always looking for ways to enhance my students' work with spelling and vocabulary. Whether you focus on a weekly spelling list or vocabulary word work, students get bored doing the same tasks each week. For Reading Street, students are expected to complete a word sort, words in a sentence exercise, and a word scramble.  Beneficial, but uninspiring for middle school grade levels.
So I came up with some fun ELA Word Work ideas that my students LOVE.  You can use a special space in your classroom, "Word Work Station", or you can just allow students to work at their desk to complete these different activities.  Take a peek at these fun ideas to make spelling words F-U-N!
Scrabble or Grid Spelling
Students use a special grid and their word list to spell words that are connected and build off of one another until all words are used or the grid is filled.  You can get creative and have a word already on the grid, or let students start with their own word and add their word list words from it.  Students can use scrabble letters, letter beads, or write the words in with a writing utensil.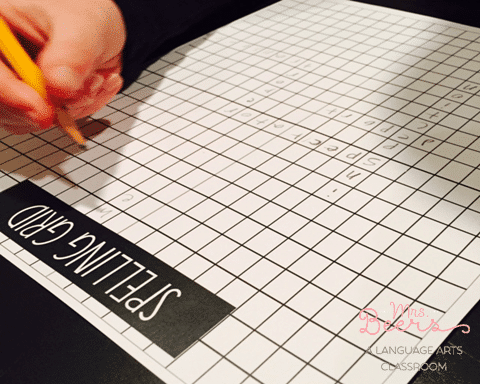 Shape Spelling
This idea popped into my head after reading the novel Love That Dog by Sharon Creech.  In the novel, there is a poem called The Apple by S.C. Rigg, (which is actually a concrete poem written under the pseudonym S.C. Rigg, who is Sharon Creech.)  While students may not be able to use their words to describe a shape-like the poem, they can use a seasonal shape and write their words inside of the shape as many times as they will fit in order to practice their spelling.  You can provide students with a shape organizer or have students draw and add words to their own design.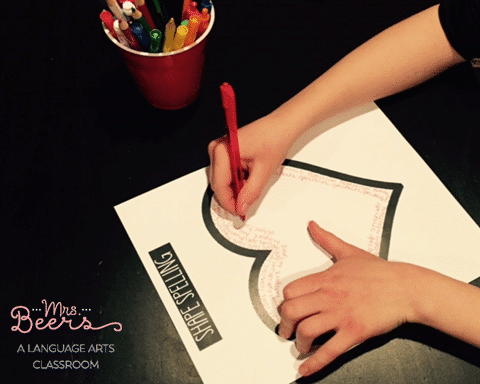 Stamp Challenge or Speed Spelling Challenge
My students love competition.  The stamp challenge is a fun way to encourage students to correctly stamp out their list words while challenging a classmate.  Have two stamps pads and two sets of letter stamps.  Students will pull a word from the bucket and stamp it out as quickly as possible in an attempt to beat their opponent.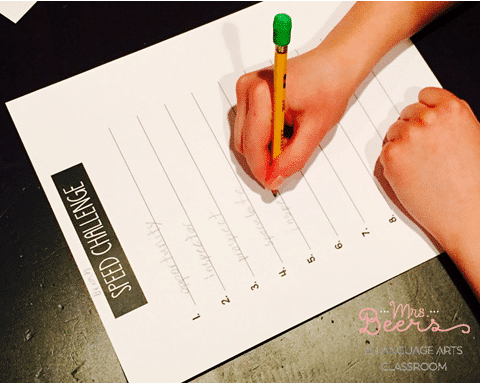 OR…don't even worry about the stamps.  Good old paper and pencil will work perfectly to challenge competitive students.  You can simply have students number their paper, say a word, have students write it as quickly as possible, and place pencils down as soon as they are finished writing.  You will just need to share that their writing has to be legible.  Bottom line-they get to compete AND they are practicing their words!  WIN! WIN!
Words Three Ways
Each week, my students have to write their spelling words three times each.  It may seem like a dated practice, but it is what it takes for my students to learn their weekly spelling words.  I am not sure about your student population, but the majority of mine do not study at home.  For that reason, I need to provide them with the necessary opportunities to learn and practice their words at school.
Because three times each is not the MOST fun, I let students jazz it up using three different types of writing utensils to complete the task…colored pencils, highlighters(I know…it hurts me, too), markers, crayons, colored pens, etc.  They can use any reasonable classroom art supply to get the job done.  And no, invisible ink is not an option…While some prefer to write in pencil and not glamorize this weekly assignment, the opportunity to have a choice is what my students appreciate.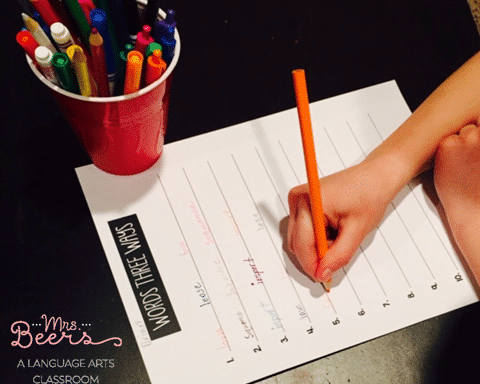 I have students that LOVE to come in early, stay in from recess, or just spend time doing little jobs around the classroom.  With minimal prep, you can enlist students to help you prep your weekly or daily word work if you decide to make it a station or center in your classroom.  Whatever you do, don't make it hard on yourself-it is FUN!  Your students will LOVE word work and be more engaged just by changing up the monotony and routine.
While lined paper and a pencil will work just fine for each of these spelling/vocab practice activities, I created some simple organizers to keep on hand.  Grab these FREEBIE word work organizers here…
Happy spelling and word working!