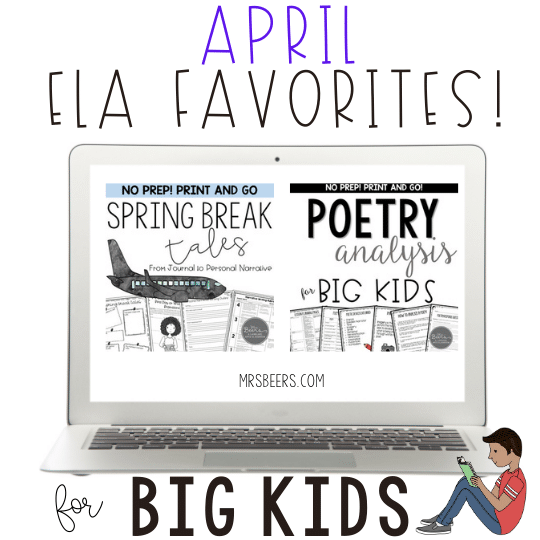 The month of April offers a handful of holidays and themes to integrate into your language arts lesson plans. Poetry month is always a popular pick for ELA teachers, but April also features Easter, Earth Day, April Fool's Day, and MLB Opening Day! Each of these events provides a fun angle you can use to boost classroom engagement.
The lessons and resources featured below are my favorite April ELA activities to use with middle school students. All of my resources are designed for easy implementation. You simply download the printable PDF from my TPT store and you are ready to print-and-go!
Spring Break Writing Activities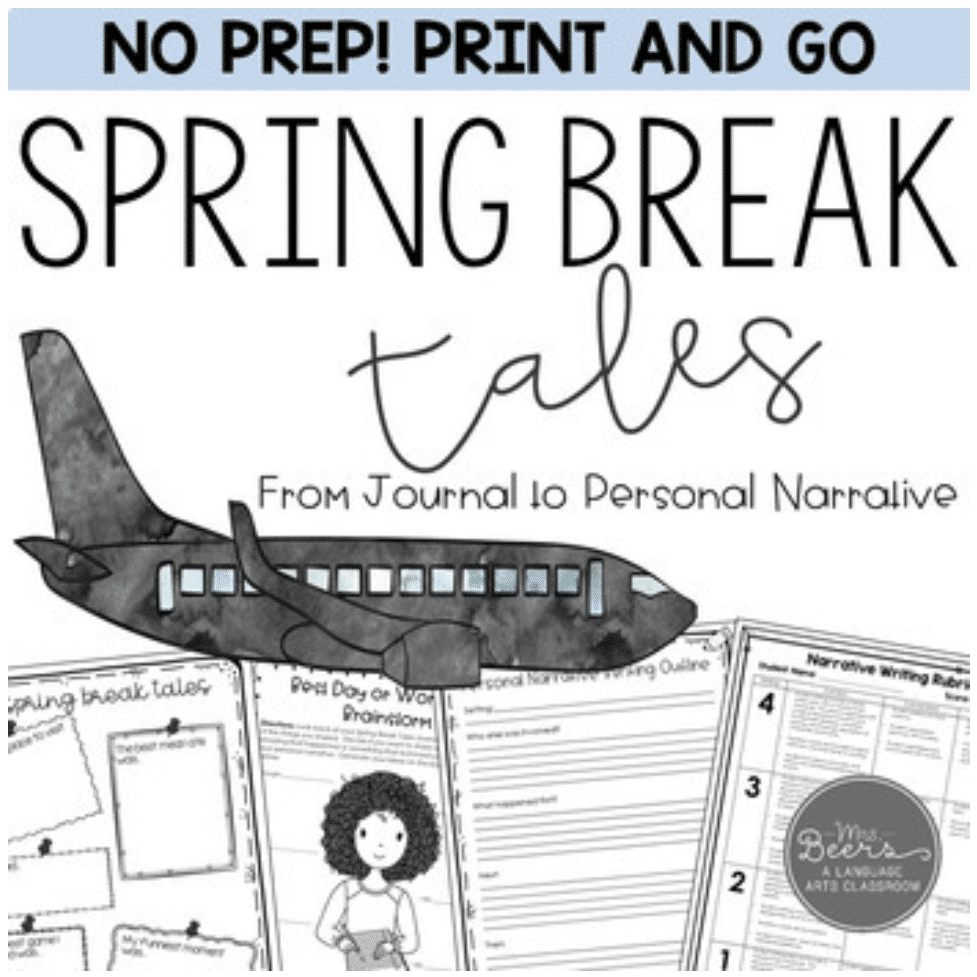 As someone who taught upper elementary and middle school teacher in an urban setting, I found that my students rarely traveled anywhere for spring break. However, they always had plenty of stories to share about how they spent their days off from school.
Instead of of going around the room to have them share a verbal account of their break, I created this spring break resource that gives them a creative outlet to share their experiences while also allowing us to work on journal writing and personal narrative essays. Even your "staycationers" will have fun with the writing outlines I've included. You can even break it into parts and use the journal writing and narrative writing activities separately. See full description on TPT.
Poerty Month Activities
Middle school teachers usually have a variety of learners; enthusiastic and engaged, easily inspired, indifferent, and those that require a bit more encouragement to enhance their joy of learning. Can you relate?
While I touch on poetry throughout the school year, I really wanted an age-appropriate resource that would enhance student understanding and enthusiasm for poetry. My poetry analysis resource is broken down into 8 lessons, covering all of the poetic devices and finishing with analysis worksheets for students to demonstrate their understanding.
Share the poetic devices, how to analyze poems, and make it as engaging as possible helping students develop their poetry notebooks. You can use the poetry lesson plans, go page by page from beginning to end, or hop around. See full description on TPT.
Find more tips for teaching poetry analysis here.
Earth Day Reading Activity
Grab your students attention while working on both fluency and comprehension with this Earth Day Reader's Theater.
Summary: The students at Lakeland Intermediate have been given the annual Earth Day Challenge. With only recycled materials, they must landscape the front of their school building. They are competing against another school in the district who bends the rules. Who will come out the victor of the challenge? Your readers will only find out at the very end. See full description on TPT.
Learn more about my reader's theater scripts here.
April Close Reading Passages
This April ELA Bundle is the perfect Common Core and Daily 5-inspired resource to engage your students in all things April. Engage your students with the ideal tools for read to self, read to someone, listen to reading, word work, and writing with this ALL-IN-ONE bundle. It is truly engaging ELA FUN! See full description on TPT.
I hope these resources give you some fresh ideas to try in your classroom! Check out this teacher toolbox post to learn more on how I utilize these different resources in my middle school classroom.