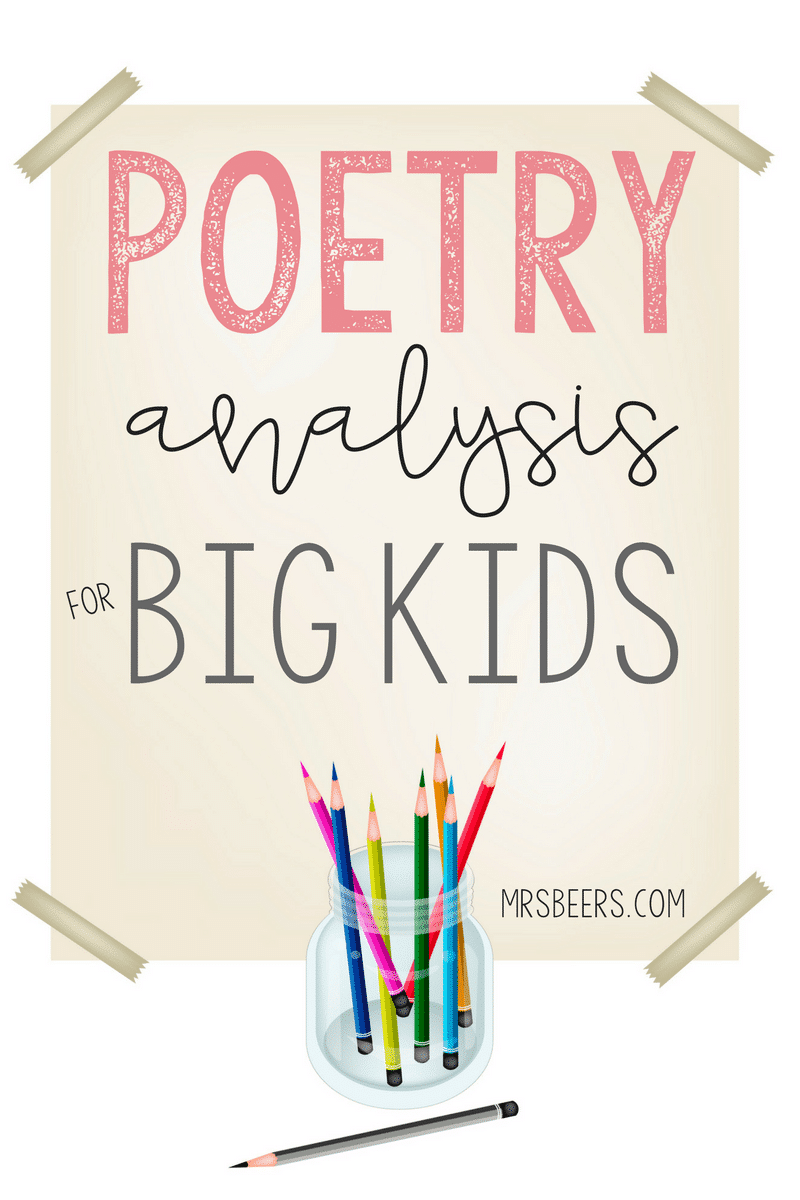 POEMS? That 5-letter word will send shivers down the spine of middle school students. Add in the suggestion of "poetry analysis" and the moans and groans can be heard throughout the hallways! If all this sounds familiar, I have a few teacher tips to help you boost engagement with poems that middle schoolers actually enjoy!
There are several different strategies for teaching poetry analysis. The key of course is choosing an approach that aligns with your students reading and comprehension levels. I've included three different lesson units you can try depending on the needs of your ELA classroom.
Poetry Analysis and Poetic Devices
Modern Poems for Middle School
Sample Poetry Unit
Poetry Analysis and Poetic Devices
If you are looking for a fundamental approach to teaching poetry, a great place to start is to analyze and discuss the different poetic devices. Examining each poetic device and having students identify how they are used within poems is a good foundation for a middle school poetry unit. I have successfully used this approach with both 6th grade and 7th grade students.
Because I struggled to find an age age-appropriate resource that I felt enhanced student understanding and enthusiasm for poetry, I created my own poetry unit. It is broken down into 8 lessons, covering all of the poetic devices and finishing with analysis worksheets for students to demonstrate their understanding.
If you are looking for a print-and-go resource to guide you through teaching poetry, you can purchase this unit from my TPT store for $7.00. It is an essential tool for your teacher toolbox.
Modern POEMS FOR MIDDLE SCHOOLERS
For some students, the mere mention of renowned poets like Langston Hughes, Robert Frost and Louisa May Alcott will have them rolling their eyes. As teachers, we understand the importance of these poets in the history of literature, but one way to increase student engagement is to pivot to modern poems that students can better connect to.
I LOVE to utilize the novel Love That Dog by Sharon Creech. If you have scanned this book and put it back on the shelf because the first pages were complete confusion, give it another shot! I guarantee your students will develop a fondness for poetry and feel a greater confidence in their own capabilities to analyze poetry. The key is to select the right poems for middle school, and this book makes for a great poetry unit in the 4th through 6th grade.
I was introduced to Love That Dog by Sharon Creech during a summer reading institute presented by Tanny McGregor. She read the book to us after lunch each of the four days of the conference. I immediately fell in love with the story of narrator Jack begrudgingly keeping a poetry journal and corresponding with his teacher, Miss Stretchberry. Throughout the short, free verse novel, Miss Stretchberry shares a variety of poems with her students and encourages them to create poetry in the likeness of the famous poems she shares.
My students relate to Jack because they are not all poetry enthusiasts. They connect with his reluctance to write poetry and his frustration with poetry analysis. It makes for a good poetry to analyze for middle school students.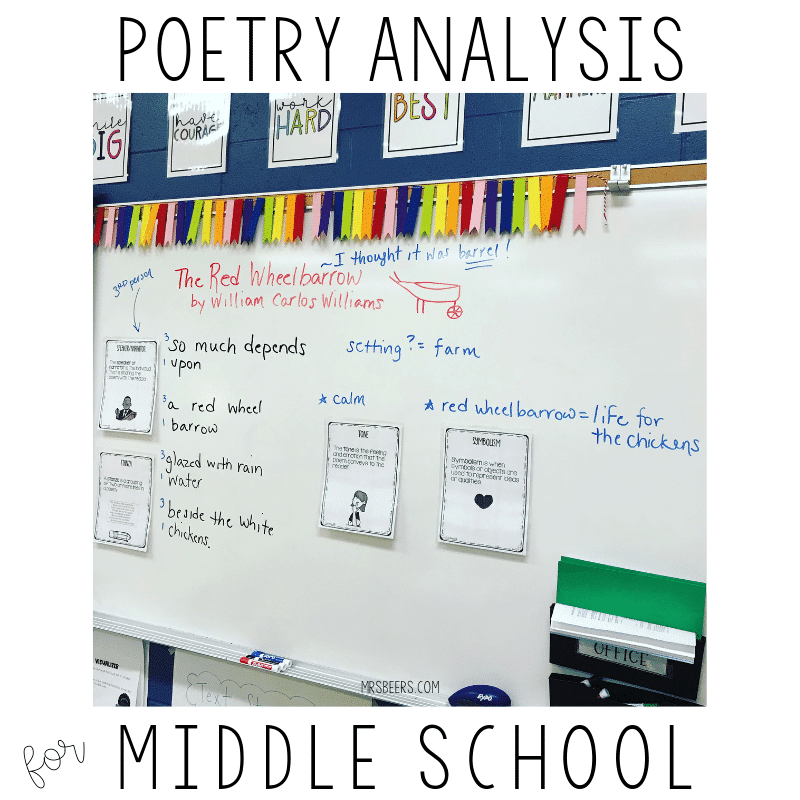 Poems included in the back of the novel Love That Dog are: The Red Wheelbarrow by William Carlos Williams, Stopping By Woods on a Snowy Evening by Robert Frost, The Tiger by William Blake, dog by Valerie Worth, The Pasture by Robert Frost, Street Music by Arnold Adoff, The Apple by S.C. Rigg, and Love That Boy by Walter Dean Myers. If you are short on time, simply Google these poems because they are the perfect poems for middle school, especially for grades 4-6.
While I teach my students all about figurative language and poetic devices, here is a tool I utilize with each poem we read…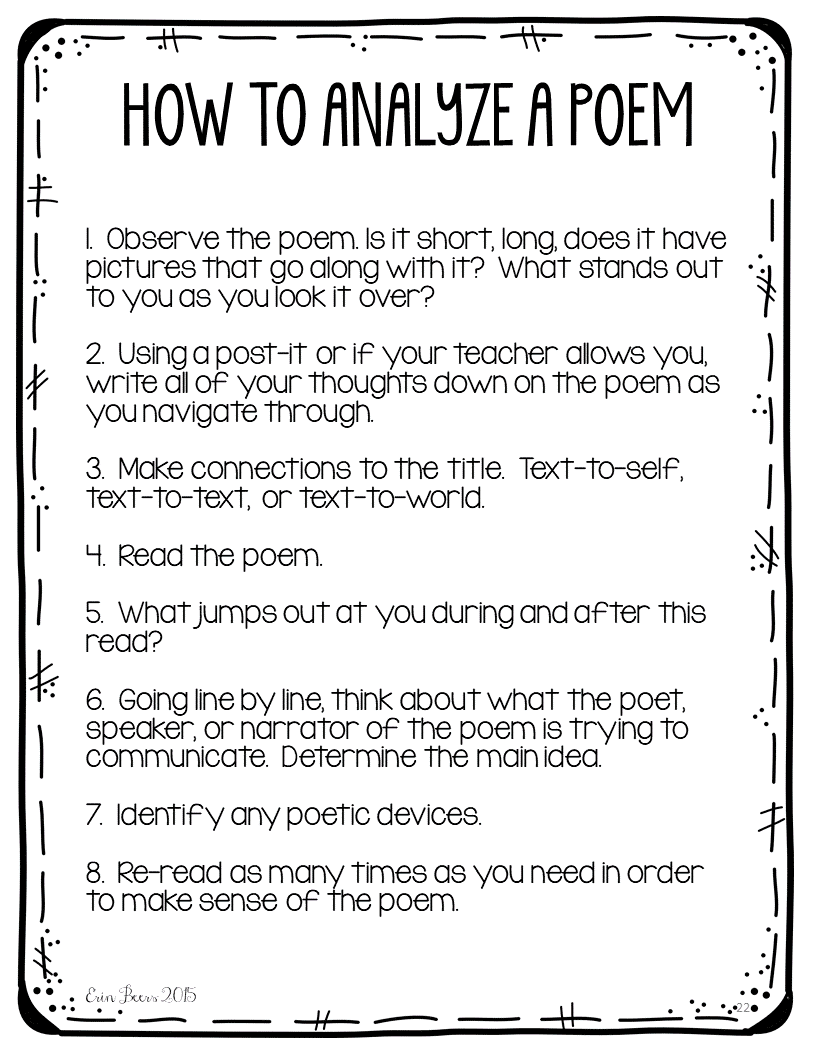 As we read Love That Dog as a whole class read aloud, I teach my students strategies to analyze poems that encourage them to feel more confident reading and understanding poetry.
In addition, I give them the task of becoming the teacher and helping their student, Jack, find his way into accepting poetry and becoming a superstar poet in the process through poetry analysis and journal writing.
Again, this is a different approach for teaching poetry. By using more modern poems, and sharing the story of a boy who also dislikes poetry, you can break down some of the engagement barriers that are common in upper elementary and middle school.
I have a created a lesson plan resource that combines poetry analysis and reading comprehension activities based on this wonderful book. Click on the image below to purchase a copy from my TPT store…
FREE PRINTABLE POETRY LESSON PDF
One of the biggest challenges we face as teachers is having enough instructional time to cover subjects like poetry. In some cases, the best we can do is dedicate a handful of blocks to simply introduce students to poetry analysis. If you are looking for ways to review poetry for your standardized tests, the free mini-lesson pdf below offers a template you can build out as needed. It focuses on imagery and includes a sample poem and worksheet printable. Download the PDF by clicking on the image below…
I hope your students learn to love poems as much as mine have! Every group is different, but hopefully you discovered some new and engaging ways for teaching poetry in your ELA classroom!