While I have a bunch of books that I share with my students during the blustery, winter months, my favorite winter read for grades 4-8 is Brian's Winter by Gary Paulsen.  This is the continuation of the novel Hatchet if Brian Robeson had never been rescued from the Canadian woods.  Your students will be AMAZED at Brian's ingenuity and all he is able to do to survive the brutal winter that could kill him.  If you have never read this book, you need to race to the library and grab it because your students will LOVE it!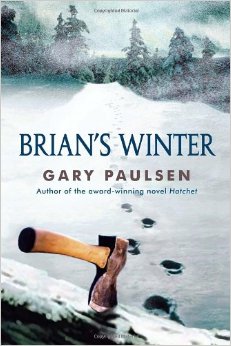 First, I feel compelled to share that I am NOT a winter person.  I would take sunny and 90 degrees every day of the year if I could be so lucky, but since I have no desire to move from Cincinnati, Ohio, I will take the good with the bad.
During the FRIGID winter months, outside recess does not often take place, so I have to provide indoor opportunities for my students to get up, move, and TALK.  Otherwise, we all seem to go a bit stir crazy!  So to go along with this winter-themed novel, I created Brian's Winter Chit Chat Cards.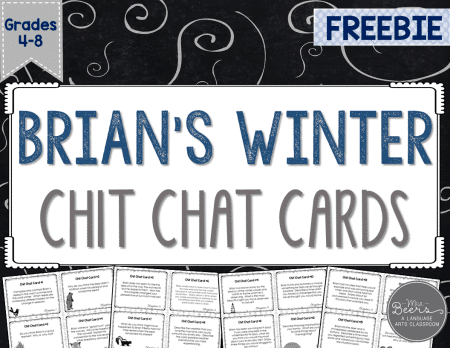 These Brian's Winter Chit Chat Cards allow my students the chance to discuss the novel without having to write or record any of their thoughts.  They simply read the chapter-based chit chat card and discuss their ideas with a partner, in a small group, or as a whole class.  It is the perfect resource to keep students on-task, reflecting on the text, and CHATTING with nothing to GRADE.  While these cards don't take the place of novel unit work, they will enhance the discourse component that is essential to enhance student comprehension.
You can simply print, laminate, and share the cards with your students. I find that our school laminator is often jammed, and paying to laminate a bunch of sets at Staples can get pretty pricey.  So I will print the chit chat cards, hole-punch them, and then string them together with some twine. The cutting and stringing is a task that I can have students tackle or pass along to the classroom helper.  I have students that LOVE to take on these little organizational jobs a few days before we will be getting to them.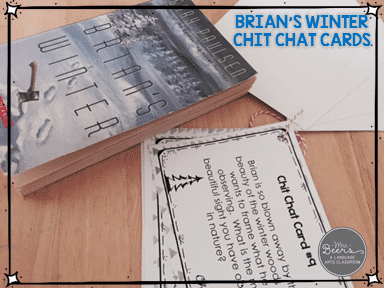 While they can get roughed up a bit from student use, I explain to my students that more than one group will be utilizing them and to take pride while using the cards.
Whether chatting about the text during reading class, small group time, or in literacy centers, students will be so engaged and enthusiastic about sharing their thoughts and discussing with classmates while reading this high-interest novel.  Here is a look at the entire FREEBIE…click the image to snag it!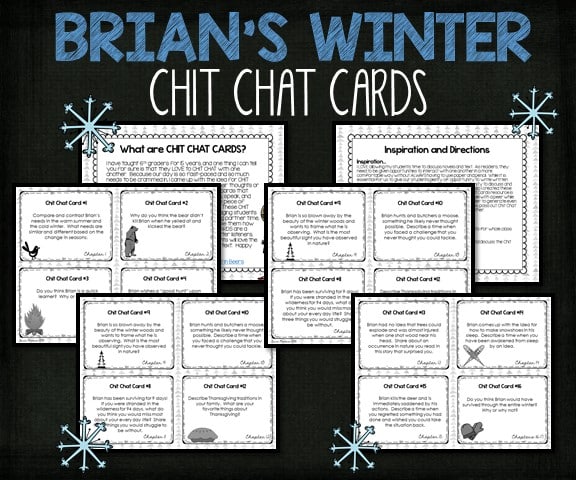 You can grab the whole unit here…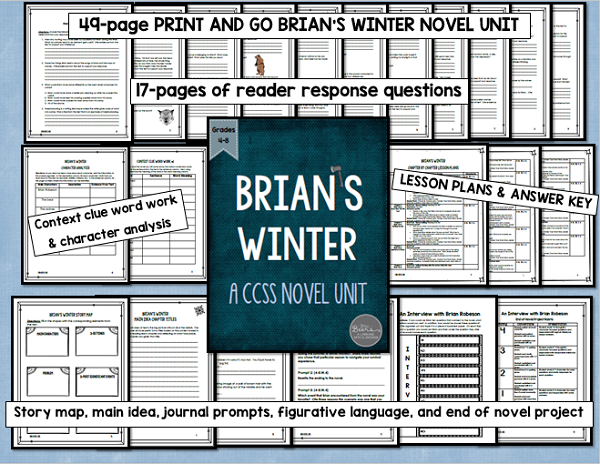 Warm winter wishes to you!