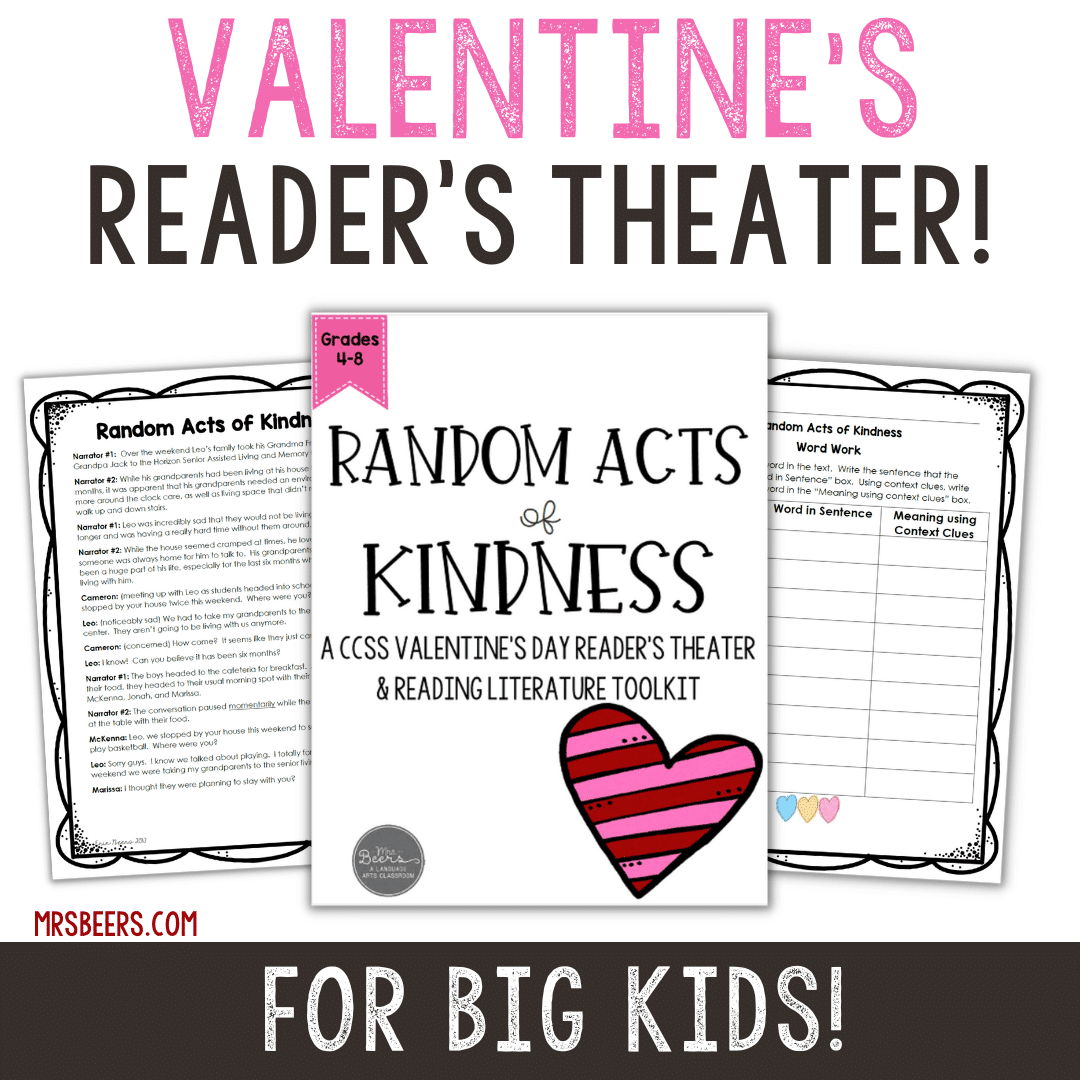 If you are looking for an engaging Valentine's activity to use with your middle school students then check out my Valentine's Day reader's theater script. Depending on the level of your readers, this script can be used for grades 4 through 8. It offers an easy way to incorporate common core standards while also enjoying some seasonal fun!
Random Acts Kindness tells a story Leo and his 6th grade classmates. Challenged by the school principal to perform kind deeds and reflect on them in a journal, Leo's group comes up with a plan to bring some Valentine's Day fun to a local senior living center. You can view the full description on TPT.
In addition to the 7-page, 13-character PDF script, this printable toolkit includes reader response questions with prompts to cite evidence from the text. There is also a context clue worksheet and journal prompt to keep your students busy. Like all of my reader's theater lesson plans, you can use this as a whole class activity, or break your students into small groups and spread them around the classroom to perform concurrently.
As a bonus, I have included a list of 25 random acts of kindness for students to reflect on. Teachers can create their own challenge or journal assignment with these ideas. You can also use this list to spur a classroom discussion on helping each other work through tough days.
If you are new to reader's theater, I use these scripts as a fun way to practice fluency and reading comprehension skills while also giving me the chance to listen to my students read out loud. It takes about 25 minutes to read through the script but I recommend students read the text silently beforehand. You can use a random number generator or popsicle sticks to choose speaking parts.
This lesson plan toolkit can be used across multiple days when you incorporate the included comprehension activities and journal writing options. The best part is you can reuse the idea every year in February! I also use reader's theater toolkits for sub plans and small group activities.
You can purchase this Valentine's Day toolkit from my TPT store for only $3.50. This high-interest reader's theater will have your students laughing out loud at the thoughts and actions of the cast, but also reflecting on how they can work to make a difference in the lives of other people.
You can find more of my favorite February activities to use with middle school students in these posts:
February ELA Favorites for Middle School