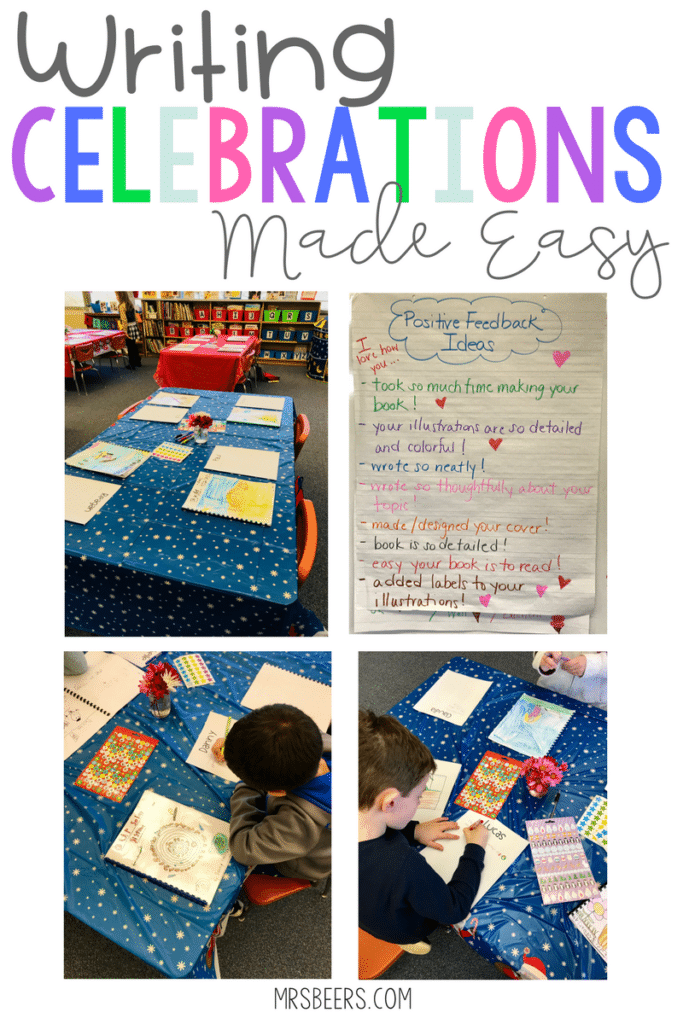 Completing a writing unit is a HUGE accomplishment no matter what grade level you teach. Whether you teach Lucy Calkins' Writer's Workshop, district mandated writing units, or some other writing curriculum, it is something to celebrate when your students come full-circle from the brainstorming to the drafting to the publishing process.
When I consider the growth that my students make from day one of a writing unit until their final draft is published, my heart bursts with pride for each one of my kiddos, and the hard work that is poured into their writing.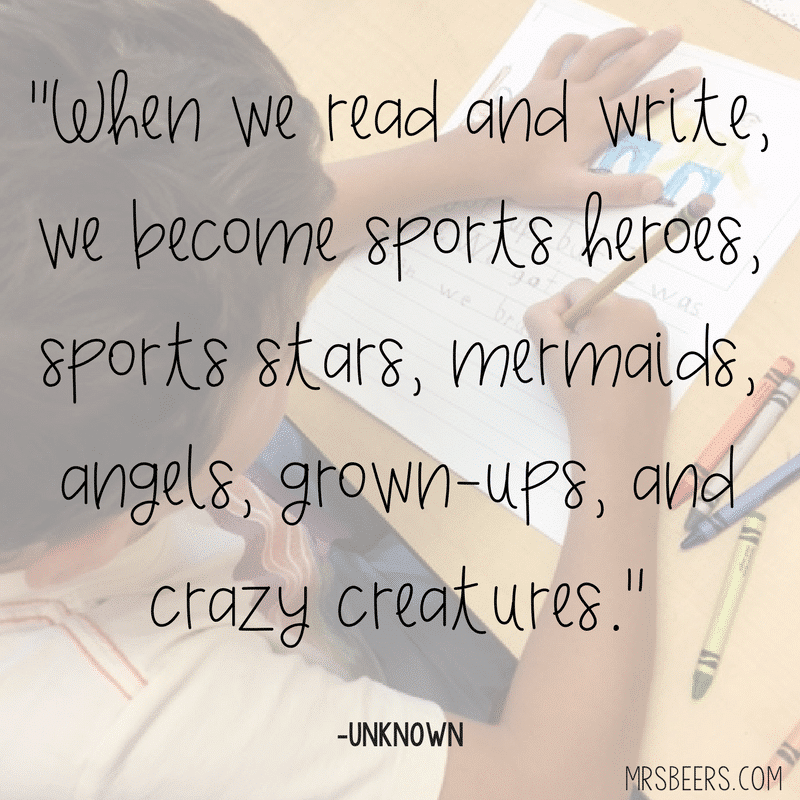 When you come to the end of a writing unit and student work is published, what do you do to showcase and/or celebrate your students' writing success?
For years my students would complete a writing unit and I would hang up student work in some sort of thoughtful hallway display. This hallway display would have a cute title, but hang with little interaction or attention until it was replaced by another student-focused display upon the completion of our next big writing task.   Of course some teachers, parents, or an administrator or two might take a peek at our work.  But, I realized that while it is exciting for students to see their work on display, I wanted to do more, and allow for more eyes to truly get to SEE growth and writing success.
I decided to take on a more interactive approach when I was teaching first grade.  When a writing unit had been completed, we CELEBRATE!  With the growth my students make as writers with each writing unit we complete, I don't want all of their new knowledge and hard work to just get hung up as a wall display in the hallway that no one will ever get to read because we have places to be and not enough time in our day to appreciate this work.  So instead, here is what we do…
First, we designate a date for our celebration.  It is essential to set a deadline, so that students are aware of the timeline they have to complete their writing.  With writing conferences, I am able to determine how to help my students best manage their time to make certain they have a published piece ready to share.
Once their writing is published, I laminate the front cover (feel free to laminate the entire book) and bind each student's book using the coil binding machine.  If you have parent volunteers, this is an ideal task to have them complete.  I love tackling this task myself because it gives me time to look through each student's completed work and take a moment to reflect on their individual growth.
I buy a few items at the dollar store to fancy up our classroom a bit because celebrations need some fun elements.  I purchase seasonal tablecloths, stickers, and colorful pens.  I grab a bouquet of flowers and divide it into 12 oz. mason jars to add some pizzazz to the tables.  My favorite comment from one of my students when she walked in on the day of our first writing celebration was, "It is so FANCY in here!" This is what I call $10 Fancy!  With our students the littlest touches can mean so much!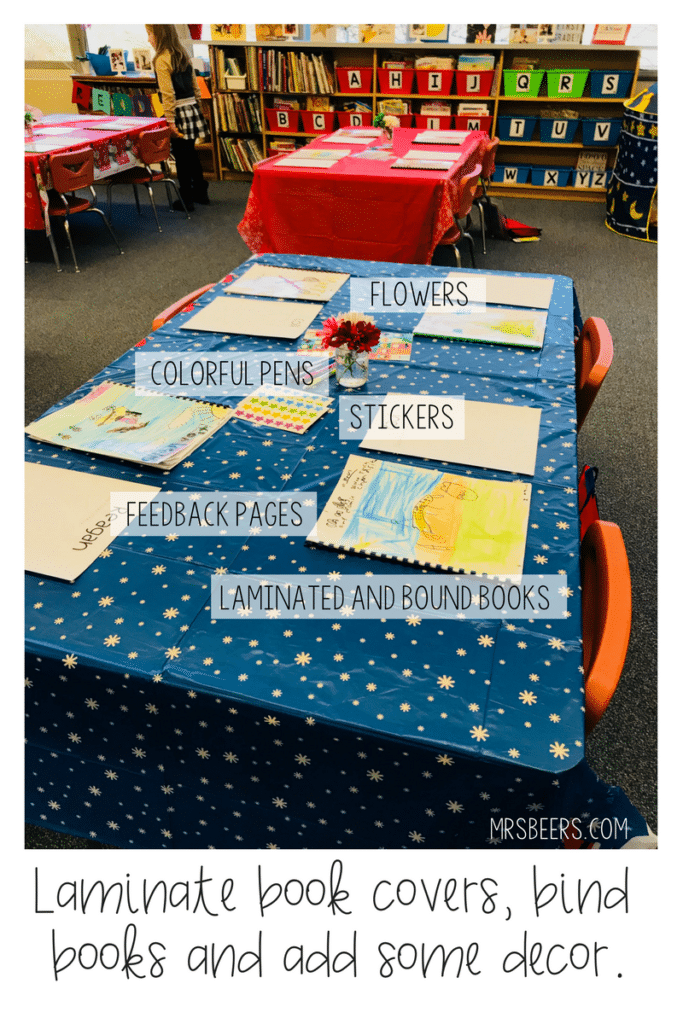 Next, we discuss ideas for thoughtful feedback and create an anchor chart to help us keep track of our ideas.  This is an anchor chart I created along with my first graders.  I asked them what they might be looking for in their classmates writing and this is the list they developed.  Depending on your students' grade level, and the type of writing being published, this will vary greatly.  I do love having a visual for my students so that they vary their comments to their peers as they read their classmates books and share their kind thoughts.
If you implement Responsive Classroom, this "Positive Feedback" discussion is an excellent way to enhance your classroom community.  When we model and offer thoughtful ways to provide feedback, this gives our students another tool to make the most of their peer interactions.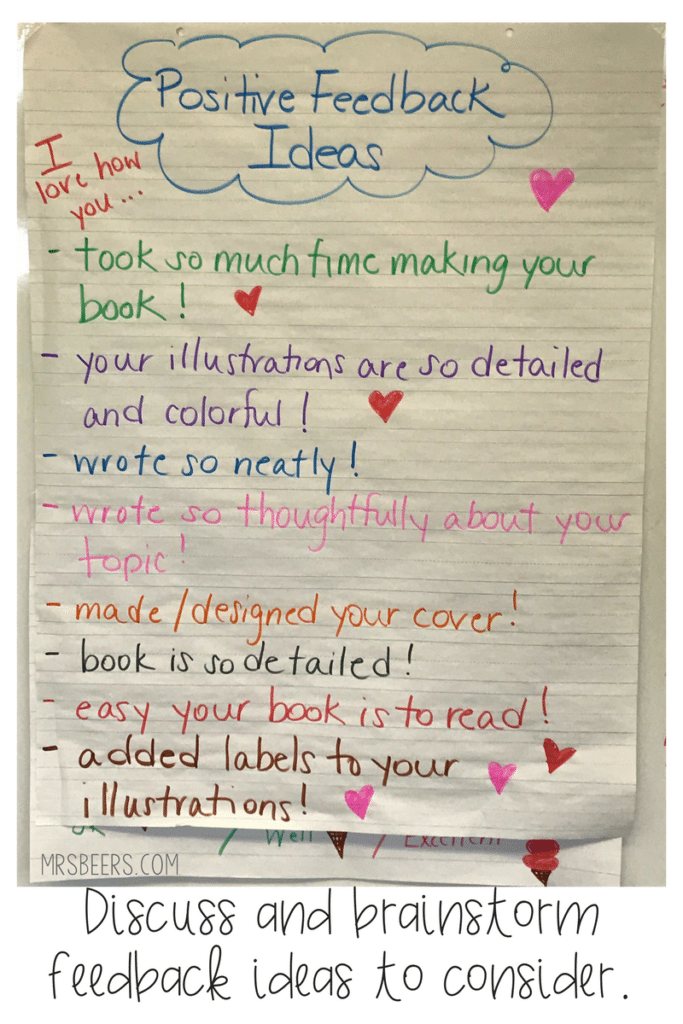 Finally, I designate an entire writer's workshop block (or more, if needed) to our Writing Celebration.  I print out a personalized feedback form for each student that has the student's name along with the words "I love how you…" I encourage each student to read each peers' book and leave a signed compliment that directly relates to their classmates' work.  By having students attach their signature, they are held accountable for the words they write.  I want my students to write more than "Good Job!" and add a sticker.  By signing their name along with their feedback, they are allowing others to see their comments.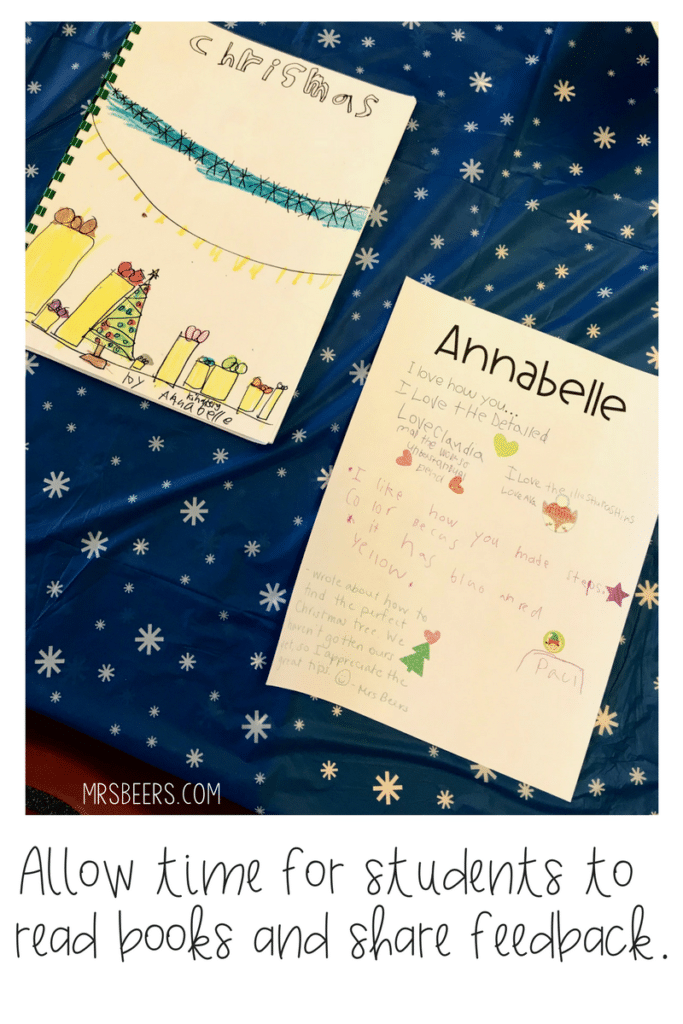 I also go around to each student's book and read and comment.  I want my students to see me model exactly what I expect of them.  It takes time, but I leave detailed feedback for each student.
My favorite aspect of our writing celebration is when students return to their work and see the positive feedback that has been left.  They absolutely G L O W reading their peers' thoughts.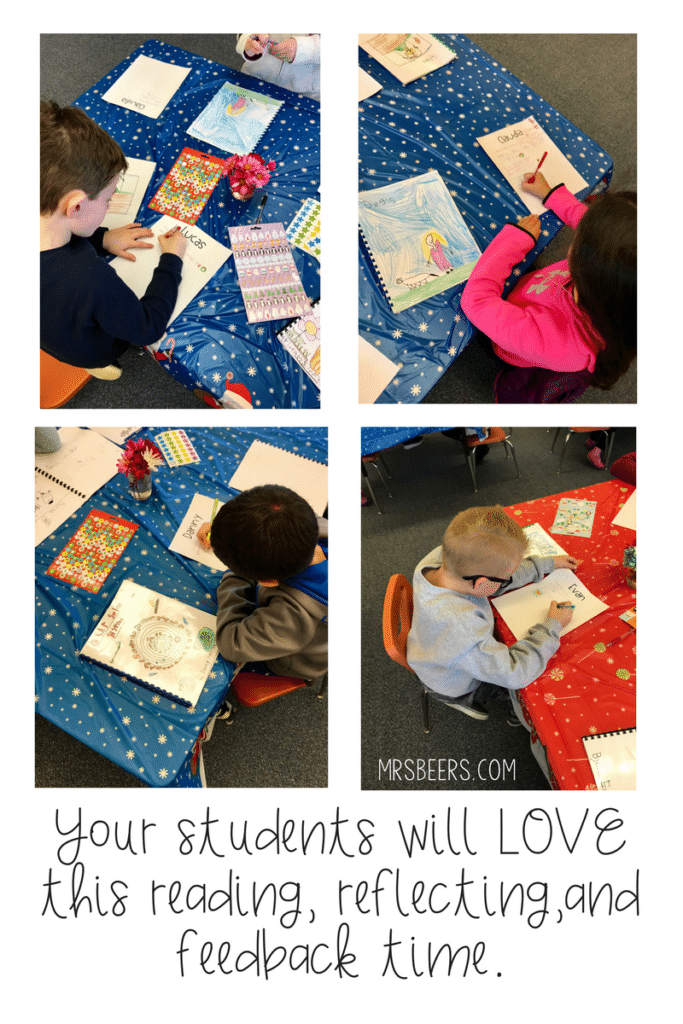 Writing is not easy!  It takes patience, persistence, and time.  If you are trying to find a different way to engage your students once a writing unit has been tackled, I HIGHLY recommend having a writing celebration. Your students will LOVE this experience!
All the best,
Erin