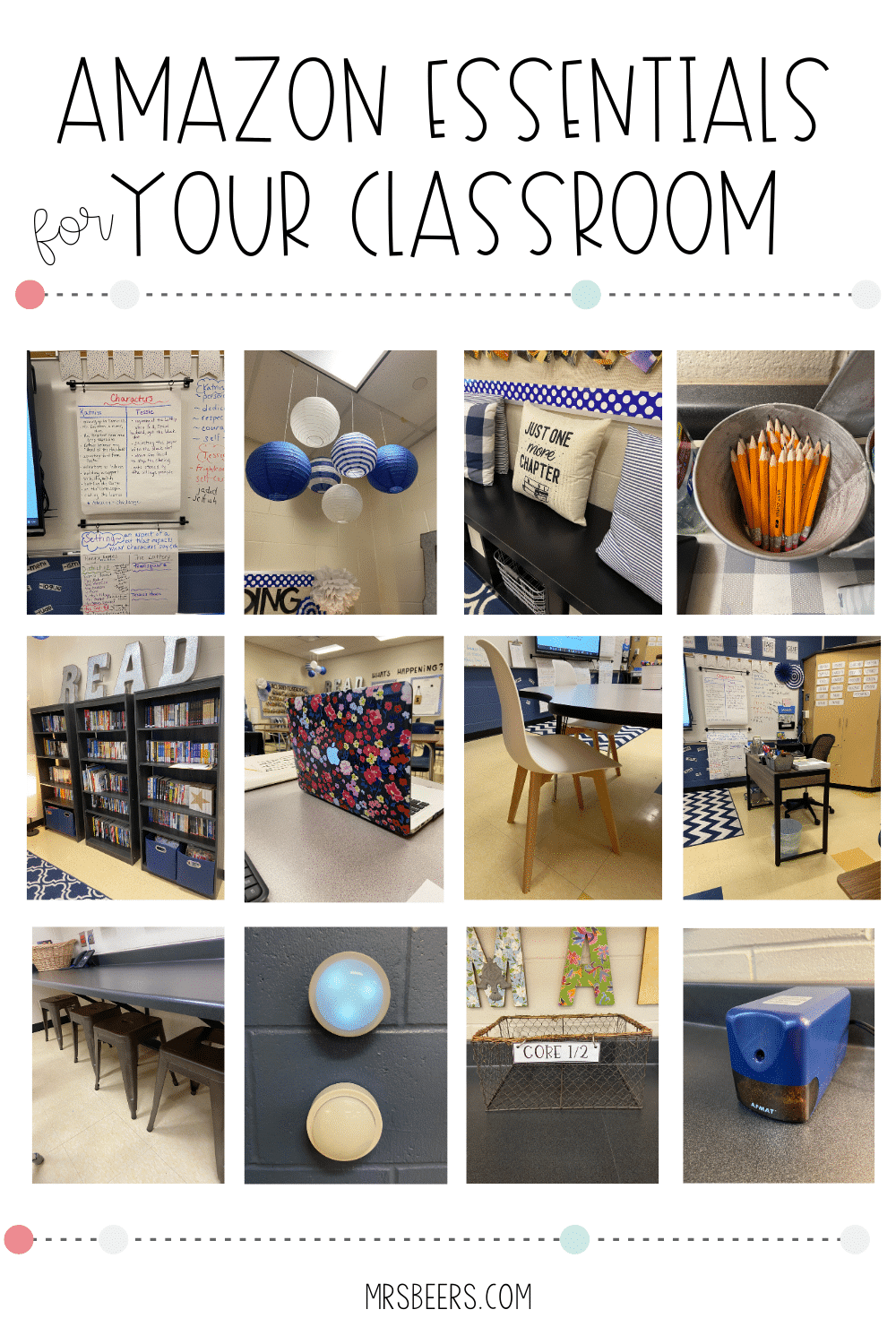 "Your classroom environment speaks to your students before you utter a single word. What is your classroom saying?" These thoughts from Megan Dredge resonate with me as a middle school teacher. As teachers, our classrooms are our home away from home. I also believe that by creating an inviting space for my students, it encourages them to love learning. Middle school is an amazing place to get to teach each day. I love the students that I get to teach and the space I get to teach them in.
It's probably a good thing that I had no idea Amazon existed when I began my teaching career in 1998. I got my first teaching position as a 5th grade teacher in a small Catholic school and made $16,900 that first year. Bartending three nights a week, in addition to full-time teaching, was how I was able to make ends meet.
In 1998, my go-to classroom stores were John R Greene, a teacher supply store, Walmart, and Michaels. I stenciled my walls to make them welcoming, decorated bulletin boards with seasonal fabric, and bought books to build my classroom library from Scholastic and discount book stores.
Over the years, I have been able to save and purchase the items that are in my classroom now. Trips to find items on sale at Target, IKEA, Facebook Marketplace, and Amazon have helped me create a space that I love. If you are looking to find some useful ideas for your classroom, here are a few of my Amazon picks…
Bookshelves
As an ELA teacher, bookshelves in my classroom are a must. I love that my students have access to current, diverse, and high-interest books that challenge them. I would love to add more books and bookshelves, but our school library and public library also allow for my students to have access to books at all times. Our public library also provides teacher-requested collections, which allows me to have a variety of books at all times for my students to read and return. While I would love to have about four more of these to line my back wall, these three shelves allow for plenty of titles that my students get to read.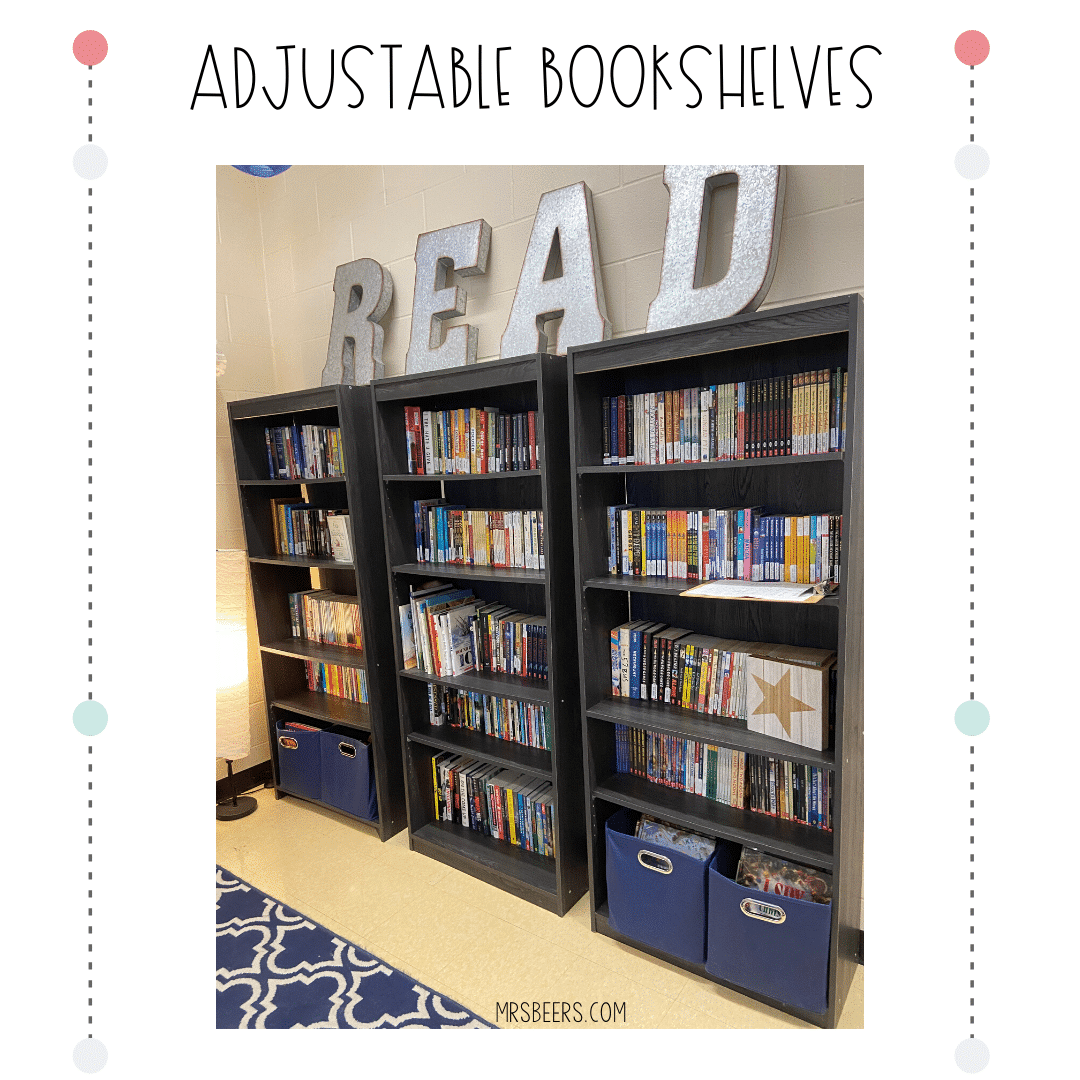 Teacher Desk
My teacher desk is something that I rarely use when students are in my classroom. Therefore, I wanted something that was a bit smaller in order to conserve space. What is it about sitting down at a desk as a teacher that seems so taboo? If I am sitting, my favorite spot is around my small group table. However, in order to have my own workspace when students are circled around my small group table, this is the perfect option. Unfortunately, this exact model is no longer available, but here are some similar options.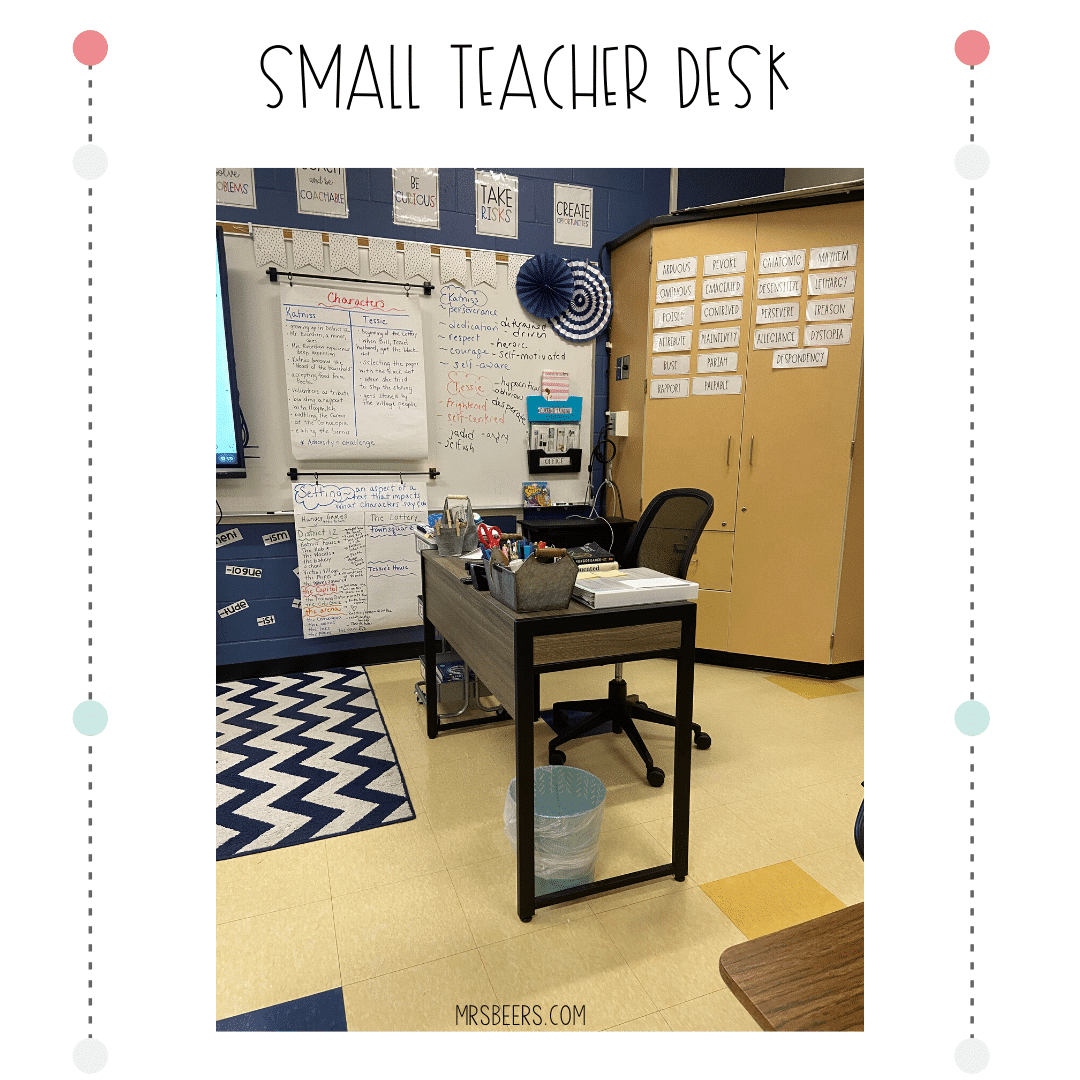 Flexible/Moveable Stools
My students often use this counter space to work and charge their Chromebooks. These durable 18″ stools work perfectly in this space, but my students can scoot them around the room as needed. I love this particular set of four stools because they are sturdy metal.  I can grab these to scoot up next to a student's desk so that I can spare my knees, or my students can use them to work alongside one another.  When we tackle a Kahoot, students use the stools to move closer to our interactive display board.  There are so many uses that have made them so worthwhile.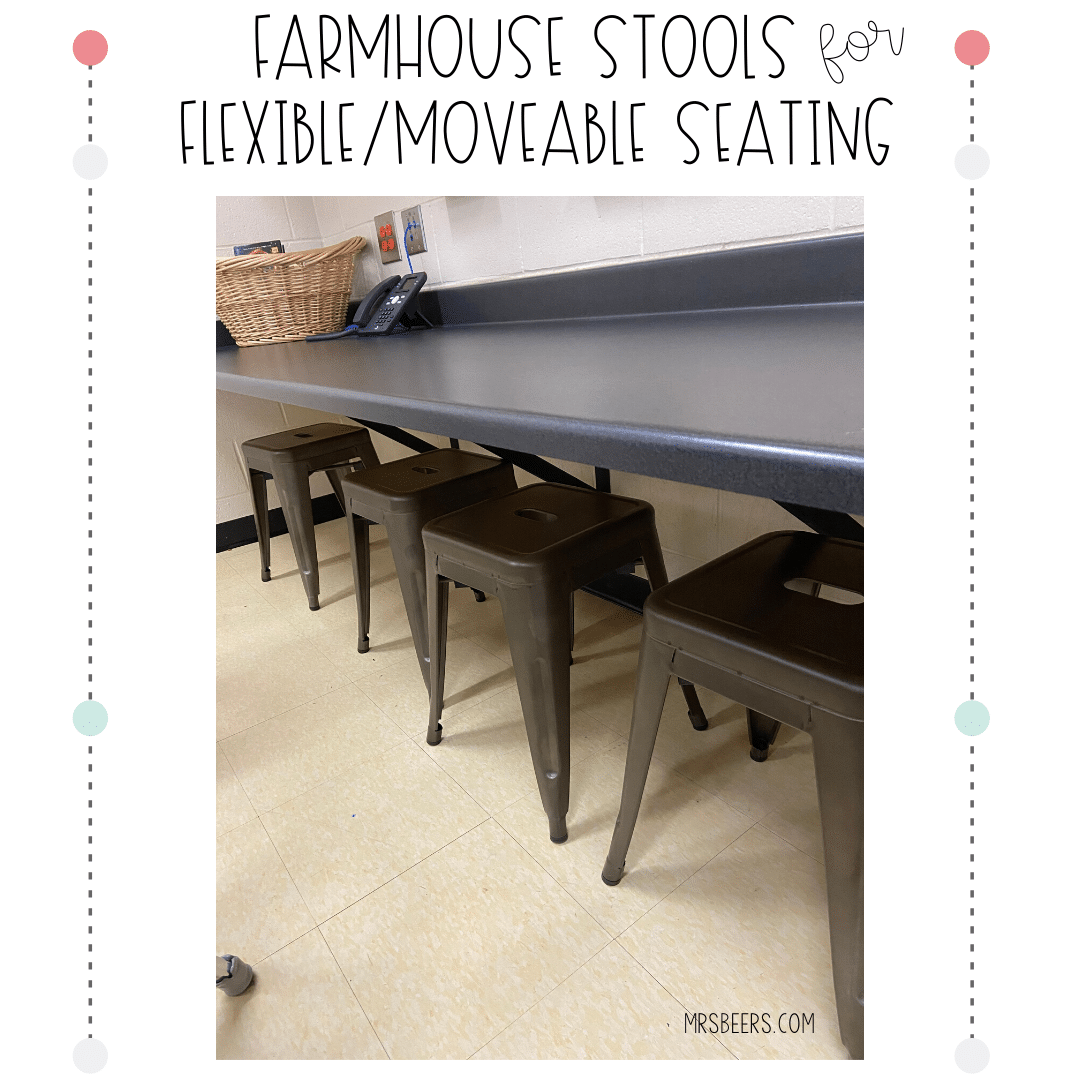 Electric Pencil Sharpener
I have tried EVERY.SINGLE.PENCIL.SHARPENER.THAT.EXISTS! This one is quiet-ish, continues to work when my students need it, and is currently not broken.  Therefore, it is my favorite:) The picture shares the phrases "HEAVY DUTY" and "LASTS FOR YEARS!" Great…challenge accepted!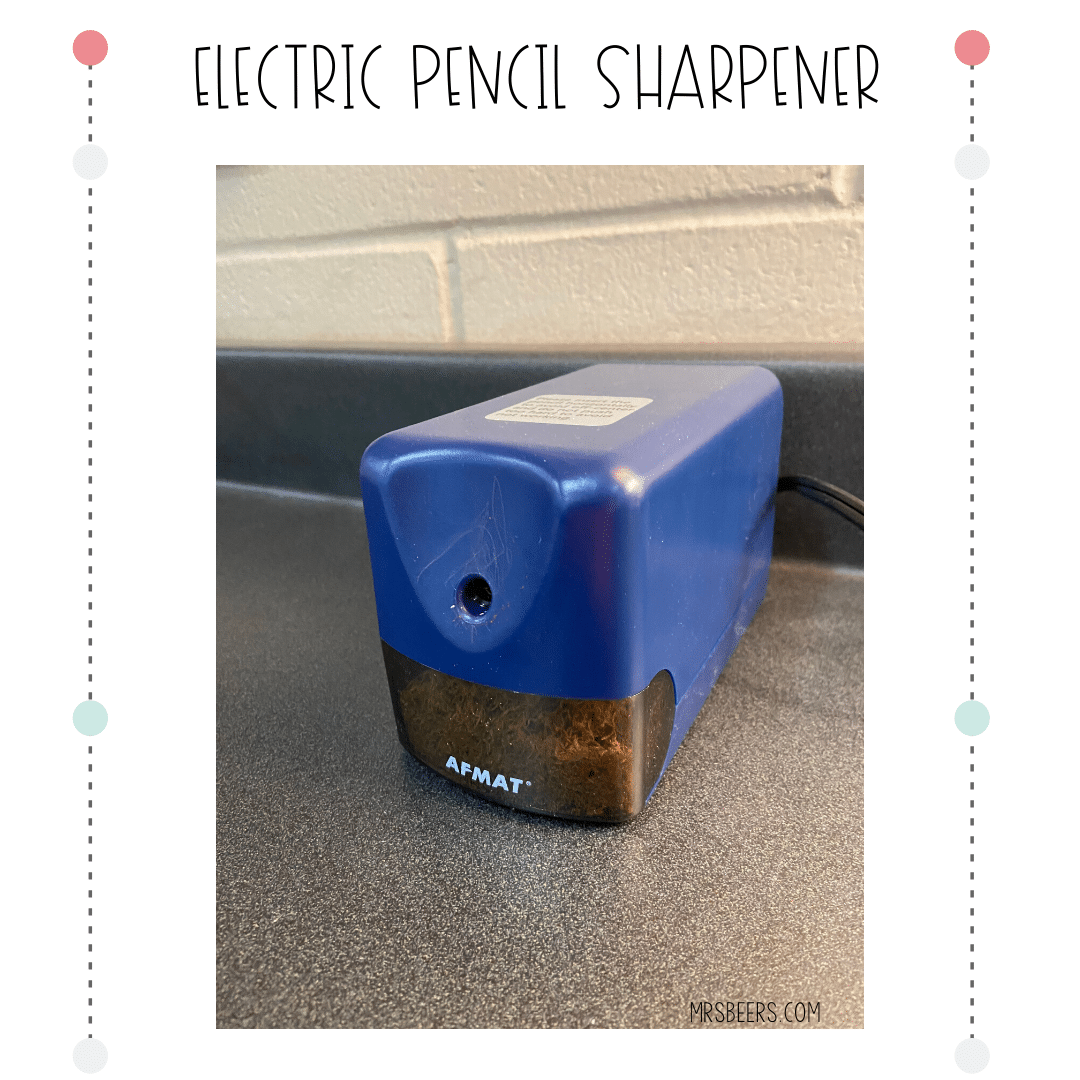 Golf Pencils
Students using a pencil in its entirety is a rarity in middle school.  Check the hallways,  you will see exactly what I mean.  To banish forever the phrase "I don't have a pencil!" from my classroom, I decided to test out the waters with golf pencils, and it has proven effective.  Students borrow them when they are in need and return them when they are finished. They come sharpened and with erasers—just what middle school students need. I am guessing that "baby" pencils are hard to carry around:)I am not sure why this concept is true with golf pencils and not full-size pencils, but I am running with it. I always have them stocked and available.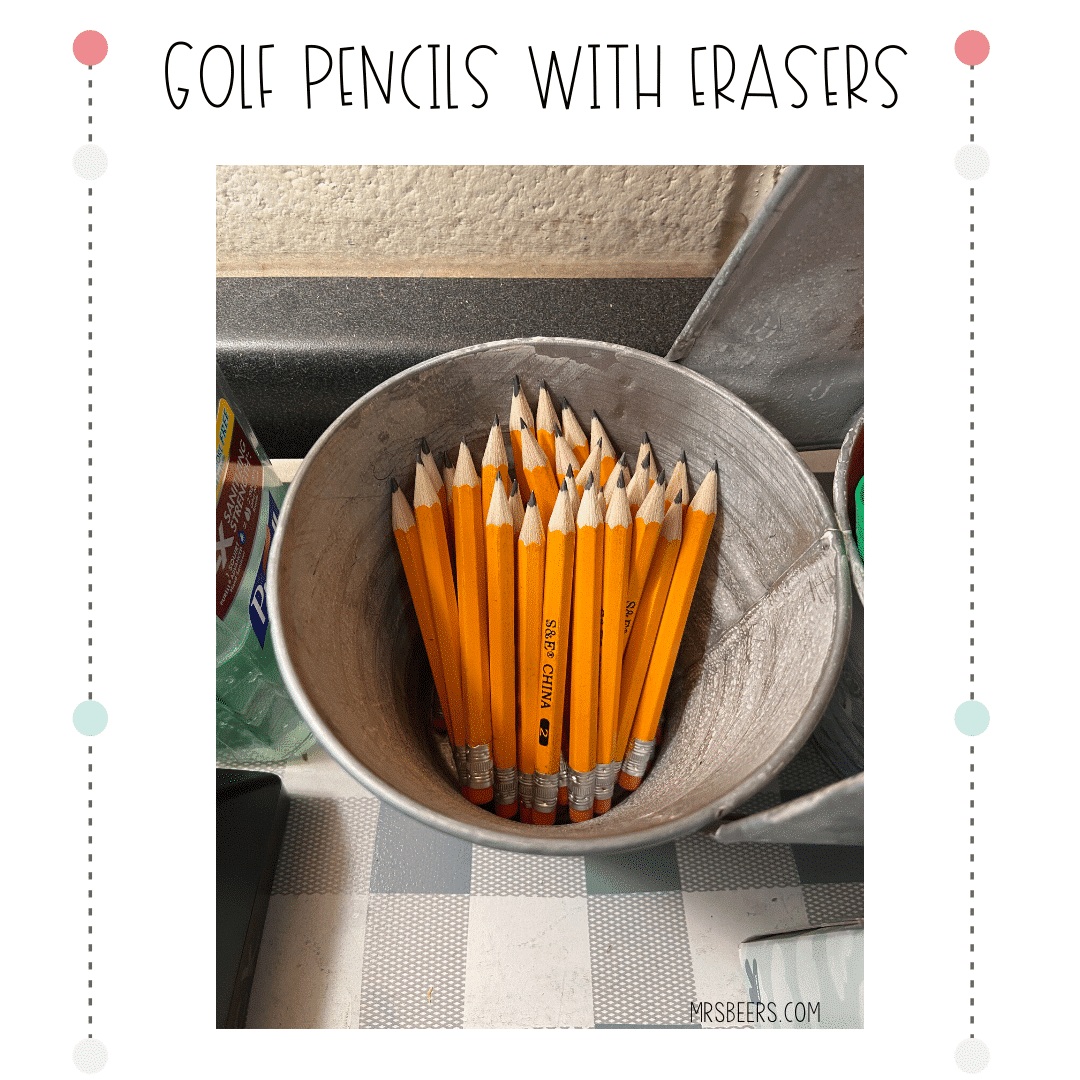 Magnetic Curtain Rods
Wall space is a premium in my classroom.  I have a wall of cabinets and a wall of windows (I do know how lucky I am) that limit places to hang anchor charts.  I have strung a big rope and used clothes pins to hang anchor charts in the past.  However, this year I wanted a tool that could display and "store" charts for my students to utilize as learning tools.  These magnetic curtain rods have been the ideal solution because I am able to instruct my students and then display the chart.  When we are finished, I can use curtain rod clips or book rings to attach the chart to the rod so that it can be stored and used as needed.
Classroom Decor
My classroom bulletin boards and ceilings are decorated with party decor. I buy it from Amazon because they have every color under the sun for really reasonable prices. This is year two with these hanging decorations on my ceiling and on my bulletin board. I have tried Walmart and Dollar Tree, but these have held up especially well.
Teacher tip: Hang the lanterns really high and out of student reach. These ceiling hooks are awesome for drop ceilings. They are really tempting to jump up and spike:) For this reason, I do not recommend lanterns in the middle school hallway:)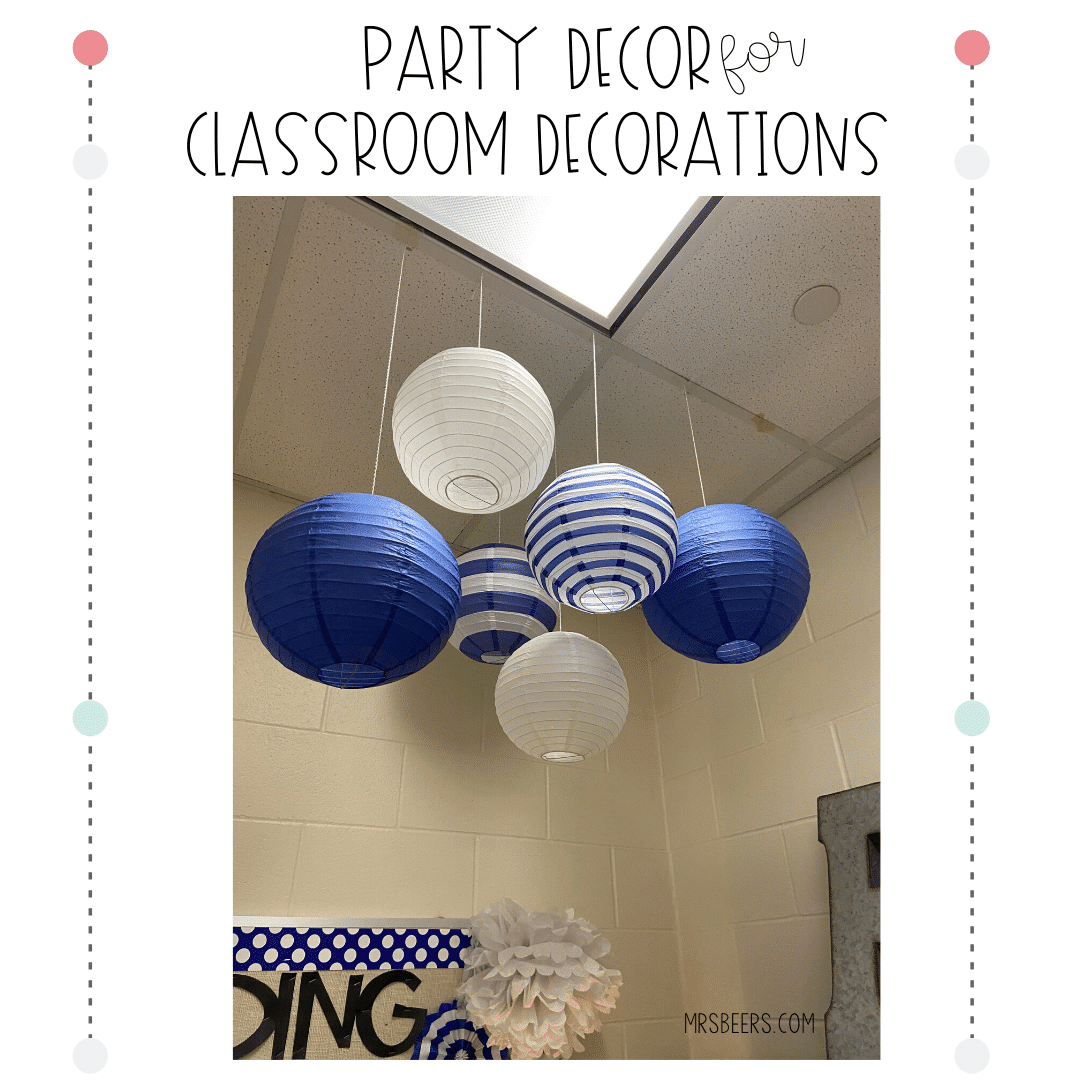 Restroom Lights
These battery operated tap lights are how my students let me know that they are taking a restroom/drink/stretch break. A student simply presses the light and goes. No asking to use the restroom or get a drink. Press and go! When two lights are lit up, my students know that they need to wait until a classmate returns before they may leave. I have attached them to the wall by the door of my classroom with 3M Velcro strips, and I keep spare batteries in my desk. This is the simplest way that I have found to navigate student breaks.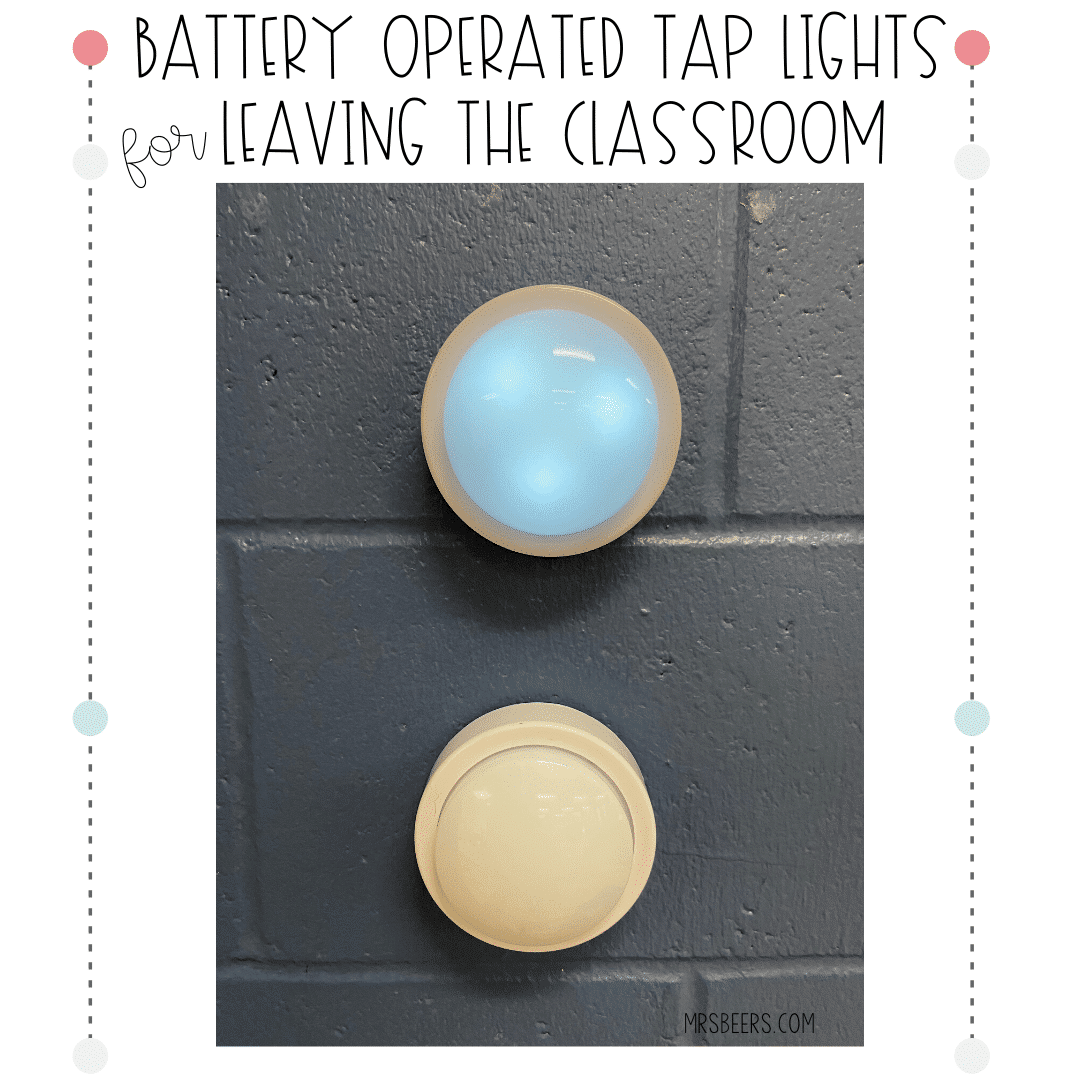 Cozy Pillows
I love being cozy and comfortable. My middle school students love to read and write in cozy spaces. These pillow covers add the perfect touch to our reading area.  Often, my students will lay on the floor and curl up with a book or tackle writing. Since these are just covers, I can take them home to wash.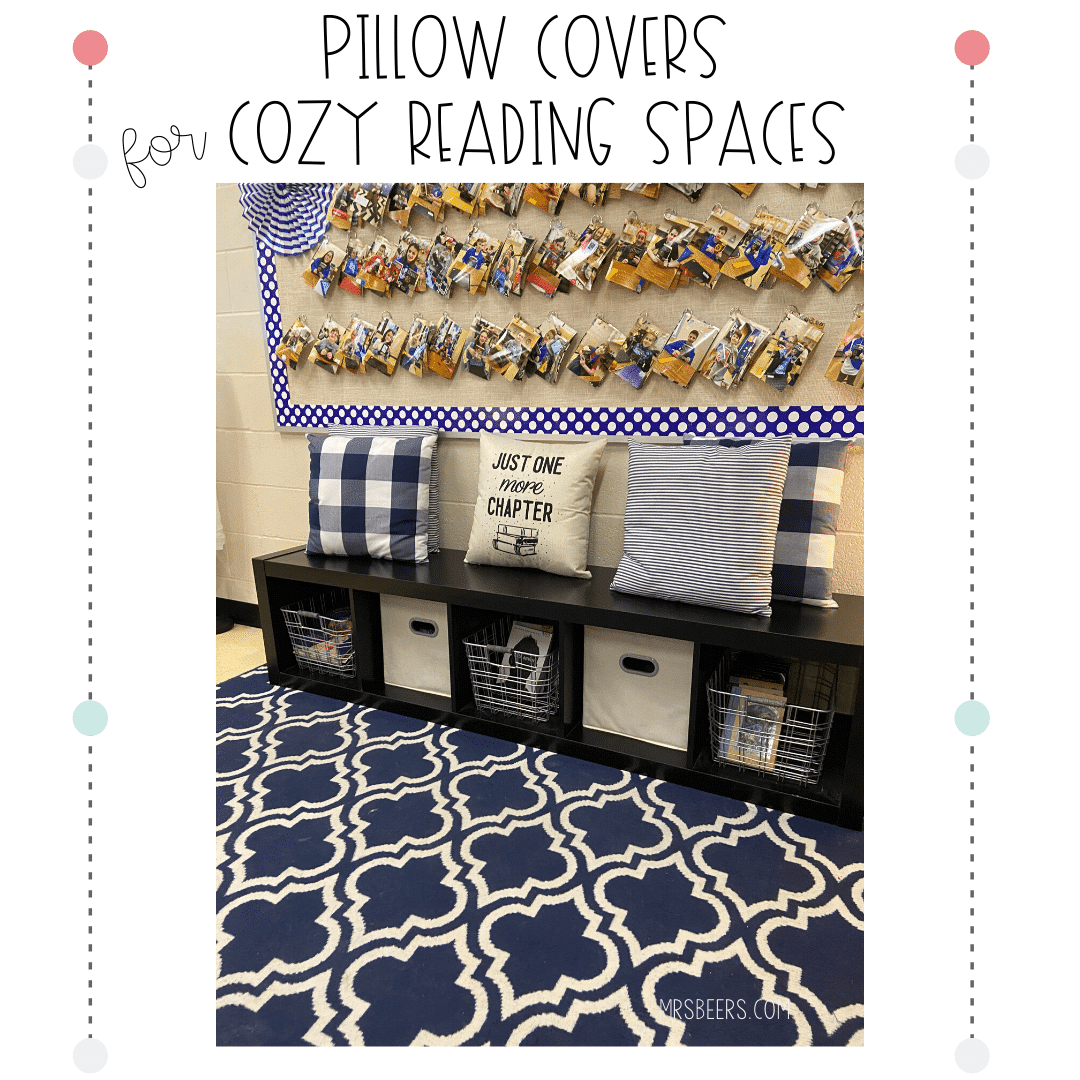 Containers
I am a sucker for organization.  I love bins, baskets, and all things organized.  These are not used very often as the majority of our work is completed and assessed through Schoology, but these are perfect as turn-in bins for library books and my students' work.  This is a purchase that I will never have to make again and that I can use for a variety of things.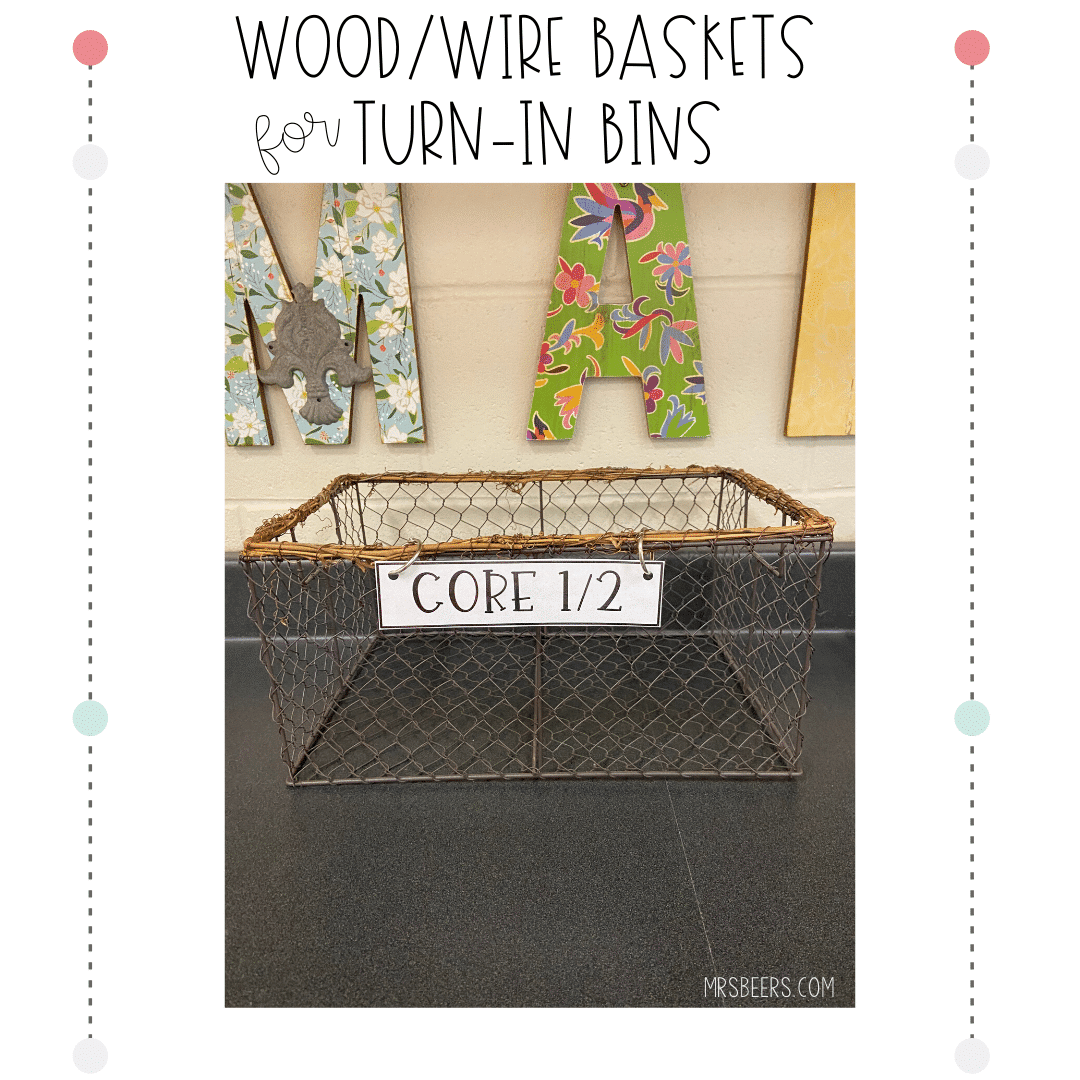 Birthday Seat Covers
Seventh graders will be the first to tell you that it is their birthday! I love that they are still enthusiastic and excited about their special day, so we take a moment to celebrate. I ask students if they would like the birthday seat cover and then they get to pick five treats from my classroom treat bucket. I am changing that this year to gifting each birthday student with a package of microwave popcorn that I will pop for them at a convenient time. While it is not an elaborate party, I have found that even the littlest acknowledgement (a seat cover and the class singing "Happy Birthday" at the top of their lungs) makes a student's special day really meaningful.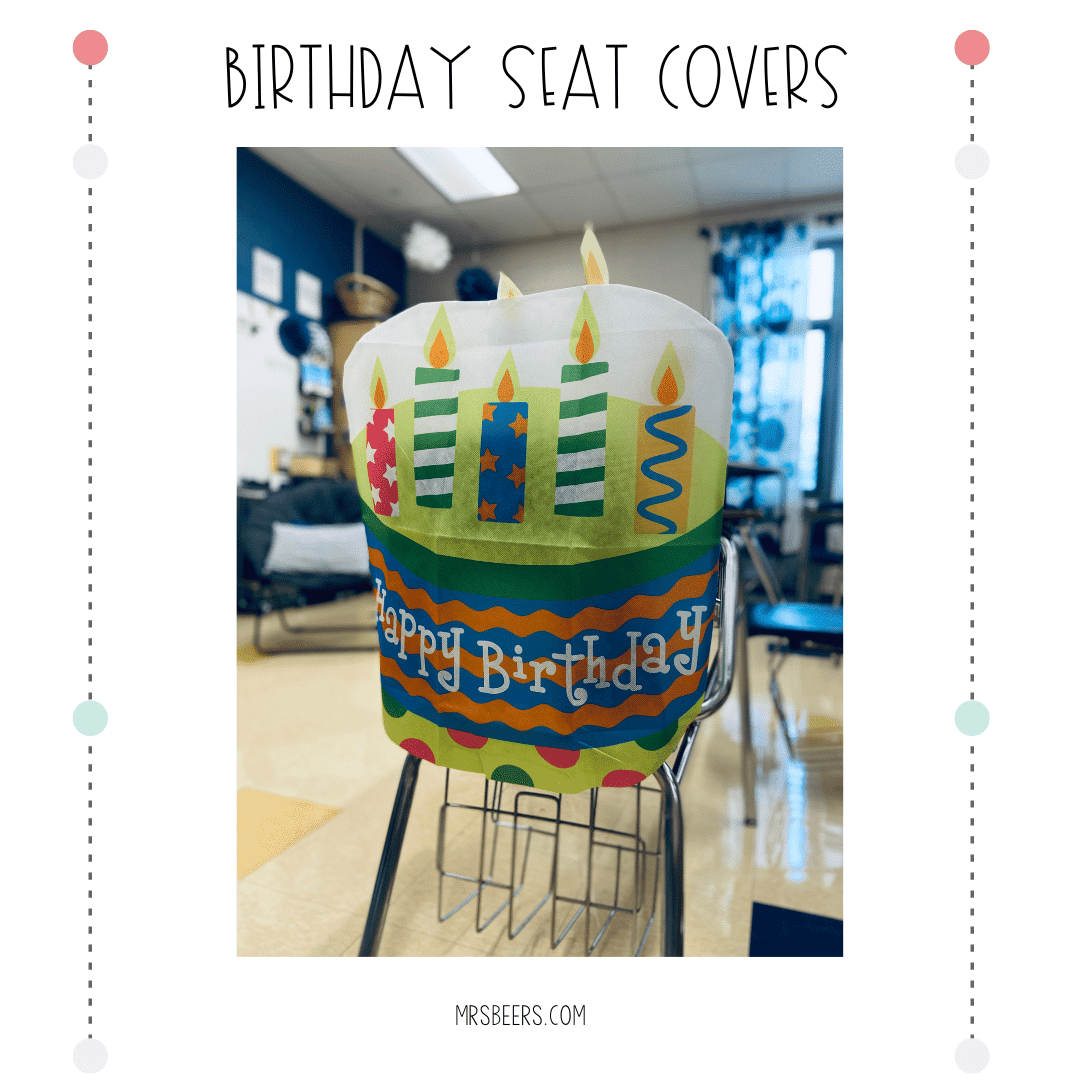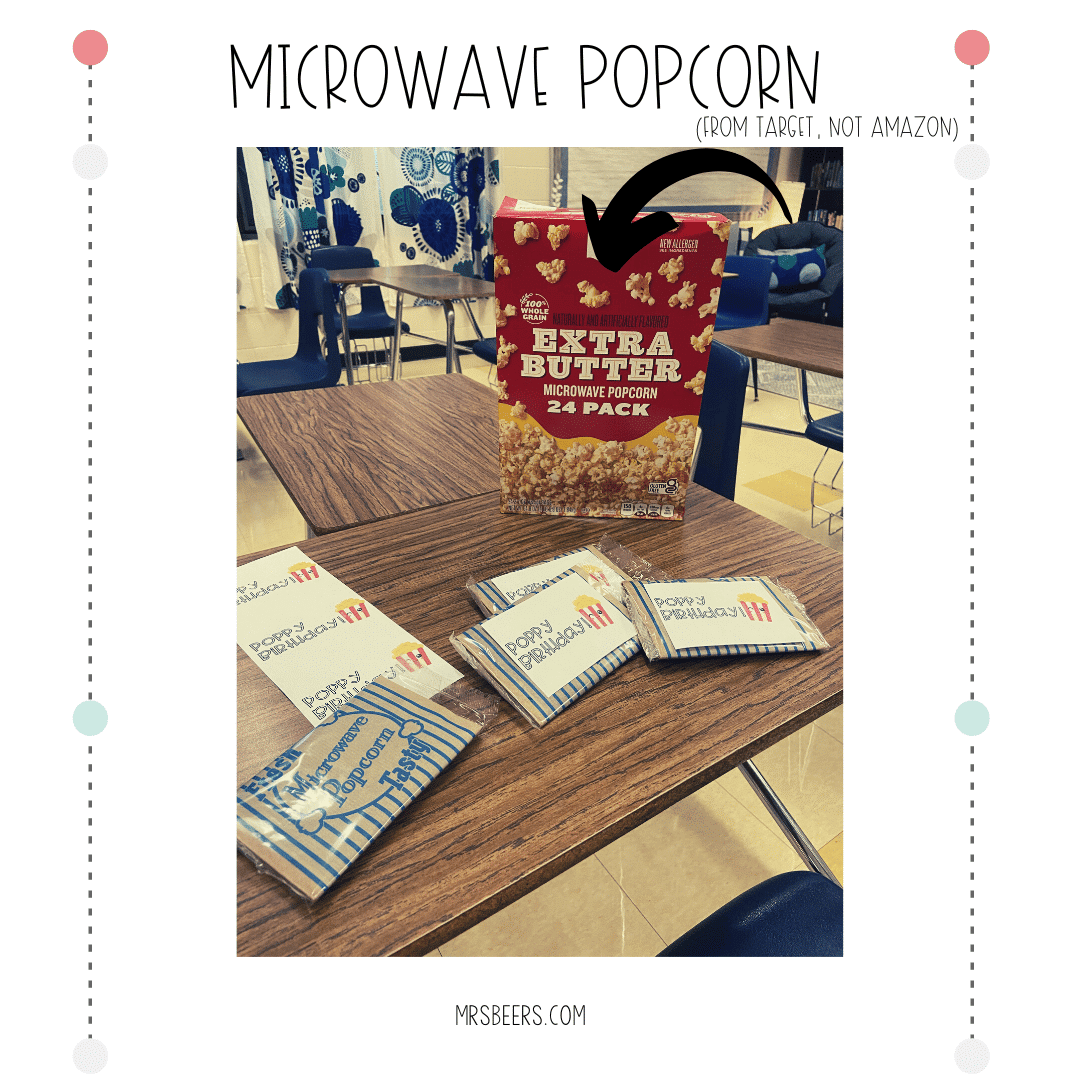 Snack Dispensers
Middle schoolers are growing and always seem to be "STARVING!" I try to keep snacks in my classroom that can help my students not die of hunger during ELA. I found these snack dispensers and loaded them with Kix and Apple Cinnamon Cheerios to fend off a bit of hunger. While my students do have the opportunity to grab breakfast and lunch in our cafeteria, these just provide me with a readily available snack option. My teaching teammates can even grab a quick snack when in need…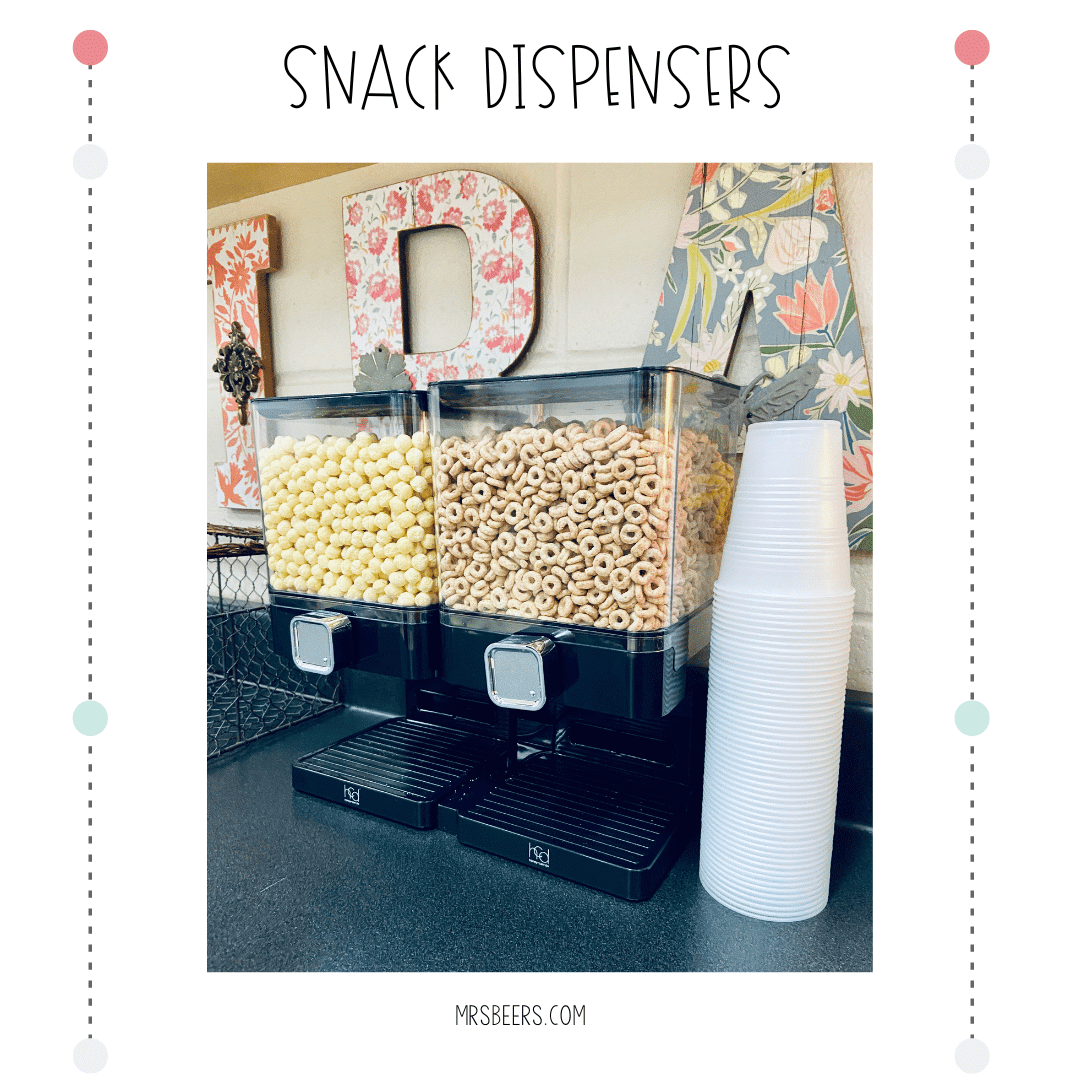 Buy all the things, or spend ZERO dollars on your classroom. I have navigated both extremes in my teaching career. Educators have a variety of choices on how to utilize their learning space, and this is how I choose to make mine.
In the end, our goal is to get our students excited about learning and the work of being lifelong learners. A Teddy Roosevelt quote that I love to remind myself of is "Do what you can, with what you have, where you are." I wish you all the best as you tackle the rest of your school year.
Thanks for taking a mini-tour around my middle school classroom.