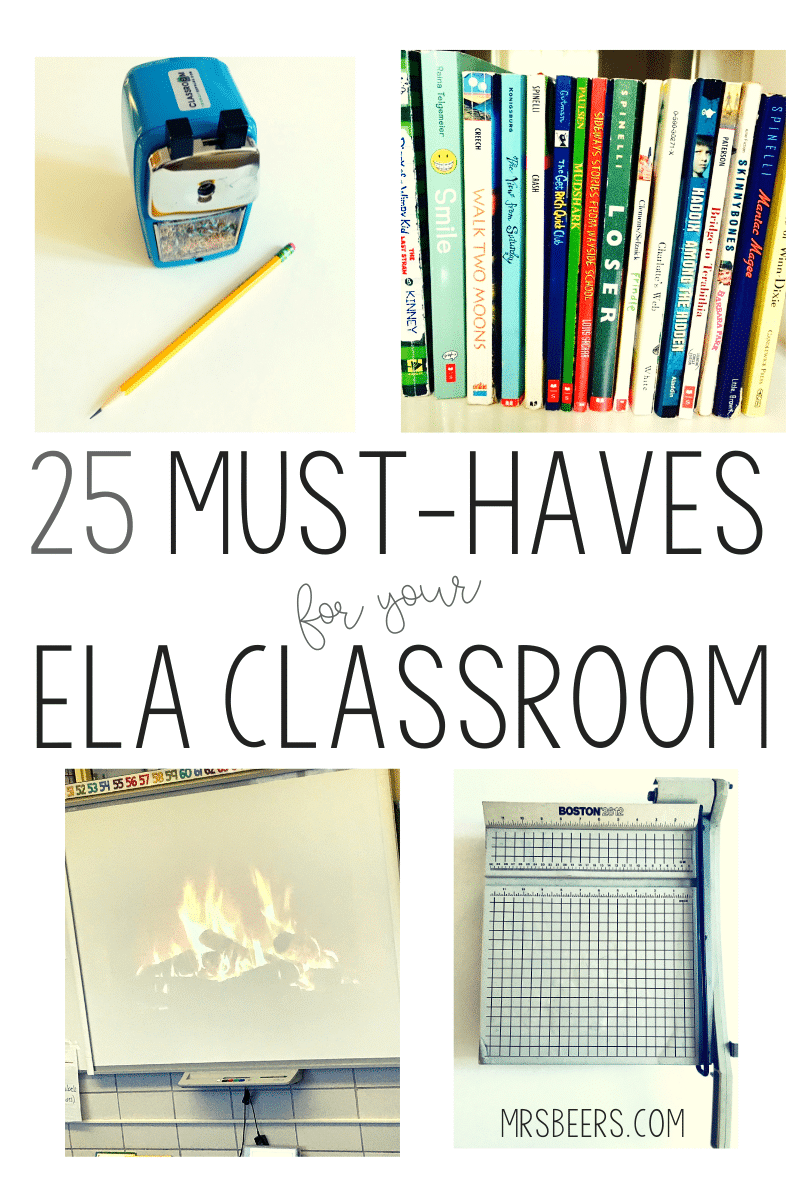 As a teacher, I am always on the hunt for the perfect tools at the cheapest prices for my ELA classroom. Taking care of our students and keeping our learning centers stocked and ready is just ingrained in our brain.
Whether you are beginning your school year or wanting to refresh for a seamless return to school after a break, here are the free tools, easy ideas, and inexpensive items I use from my toolbox every year to add fun and engagement to student learning…
1. You Tube: I utilize You Tube in some capacity EVERY.SINGLE.DAY!  While there are always video clips and read alouds, two of my favorite things are music and classroom environment enhancers ie. a roaring fireplace, waves crashing on a sandy beach, or a snowy landscape.   I LOVE having these playing on my SMART board while students are engaged in their learning.  What is better than reading a novel and welcoming that setting into your classroom?  If you are looking for a quick and easy way to add some environmental elements to your classroom, this is a free and easy way!
2. Classroom Music: I play music for the majority of my day.  I have it quietly playing when students arrive and during student work times.  Music calms them and tends to help with their concentration while keeping talking at bay.  I try to play mostly instrumental music, but I like to surprise them at appropriate times with some of their edited versions.  A current instrumental favorite of mine and my students is this big playlist of Instrumental Pop Hits. We also like Babies Go Taylor Swift and Babies Go Beyonce'. (You're welcome!) While they are all instrumental, I struggle not to break it down to Single Ladies!  Hopefully, you have more self-control!
3. A STOCKED classroom library with high-interest novels, picture books, and magazines While Amazon always has what I am looking for, it is not always the best deal.  Be sure to sign up for an educator account on Scholastic- from Dollar Deals to multi-book packs, you will stock up your classroom library without breaking your budget. Half-Price Books and Goodwill are two other amazing spots to find the best deals on books.  At Half-Price Books, they are always rotating their inventory, so you can find books that are in "like-new" condition for 50 cents to $1.  Book studies, literature circles, and read alouds are easier to plan and prepare for with the help of these discount book stores.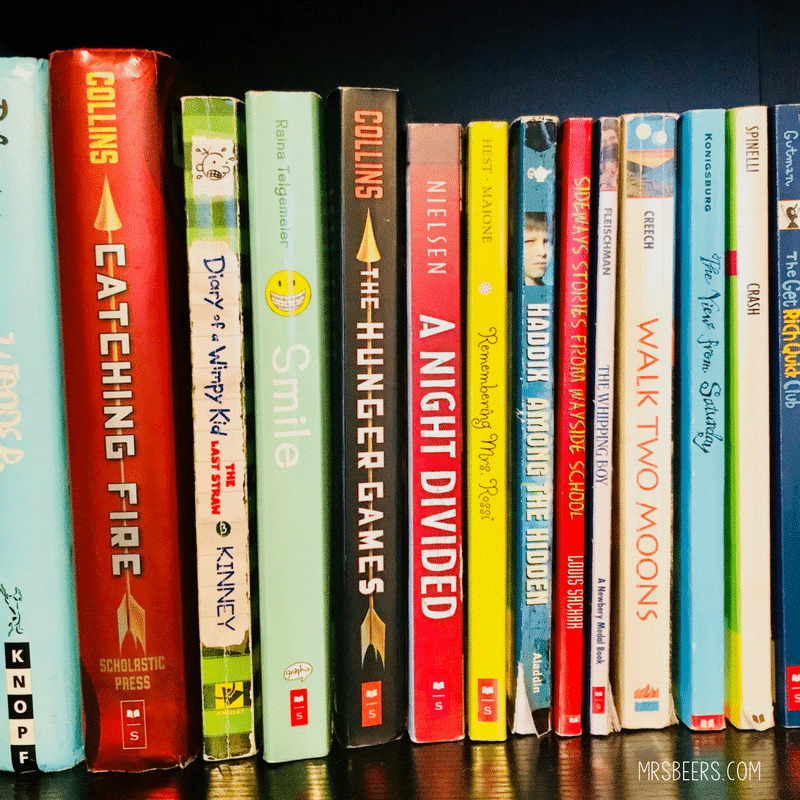 4. Student Work on Display: I make a big deal of student work going on display.  Displayed work is our best thoughts and ideas, written responses, reading reflections, and projects.  While I am nothing but encouraging about posting student work, I share with my students that it is important to take pride in the work they are doing so that others can observe their true capabilities as learners.  I will not hang up any old anything, instead, I encourage my students to put forth their very best effort in order to have these best efforts showcased for others to observe and appreciate.  Student work displayed around the classroom and in hallways gives students the opportunity to reflect on what they can contribute and accomplish.
5. Photos of Students: I LOVE to snap pictures of my students' learning in action and display them around the classroom.  Capturing them working thoughtfully in small groups, giving a presentation, or curled up with a good book can make for awesome bulletin board displays or classroom photo walls.  I buy $1 IKEA frames and display these pictures on book shelves around the classroom.  I send the pics straight from my phone to the Walgreens app where pictures are typically about 10 cents each.  Super cheap, but inspiring for my student learners to see themselves "featured" around the classroom.
6. Focus Wall: You do not have to create any sort of fancy spot in your classroom, but a space where you make students aware of their learning is ideal.  Whether you teach standards, "I Can" statements, or learning targets, making these visible to students is important for them to better understand what they are learning.  While we have come a long way since implementing state standards, I will never forget my fourth year of teaching, when we were expected to make sure our students knew the learning standards verbatim.  The expectation was that if an administrator came in for a walk-through, any student could be pulled out to recite the learning standard.  I remember thinking, "I can either teach my students or teach them to memorize the standard I am teaching them."  Thankfully, times have changed…
7. Daily Agenda: No matter which grade you teach, students want to know what they are "in" for during their instructional time.  As educators,  when we attend a meeting or professional development we want to know time frames and what our time spent on task consists of.  Create a visual for your students, so they are able to manage their time and meet your class expectations as needed.  This can be created in a variety of ways, but create a daily agenda that allows students to visualize their learning during the course of the time they are in your classroom.
8. Sticky Notes in every size: I use sticky notes/post-its for EVERYTHING!  A few uses we have for them in my classroom are: bookmarks, annotating texts, motivational notes for students, task card answers, exit tickets, KWL charts, class votes, peer feedback, reminders…my list could go on for days.  I find the best deals for generic sticky notes at dollar stores.  Different sizes, different colors, lined/unlined, they are my go-to tool on a daily basis.  Have them available and accessible because both you and your students will use the heck out of them while saving giant sheets of paper and tape in the process.
9.Sharpened Pencils: Nothing is more annoying during instructional time than the churning of an electric or non-electric pencil sharpener.  While it can be hard to spend the money, Ticonderoga truly are the best brand.  They do come in pre-sharpened packs, but the point is not sharp enough for my kiddos, and I find them needing that sharpest point at all times.  Do yourself a favor and make it a class job for a student to sharpen pencils and have them stocked and ready to go in your classroom.  I keep two small buckets marked "SHARP" and "NOT SHARP."  When a pencil is dull or broken, students place it in the "NOT SHARP" bucket and grab one that is ready to go from the "SHARP" bucket.  Teach your students the system, and you will no longer be competing with a grumbling pencil sharpener.
10. Pencil Sharpener from Classroom Friendly Supplies. There are few things in my classroom that need to be a specific brand.  My focus is usually just finding the BEST deal.  However, I have two of these pencil sharpeners!  They are the absolute best because they sharpen #2 pencils and colored pencils to a point that will blow your students' minds.  They are QUIET, easy to use, and able to be mounted or can stand alone.  You will never need or want to use another pencil sharpener.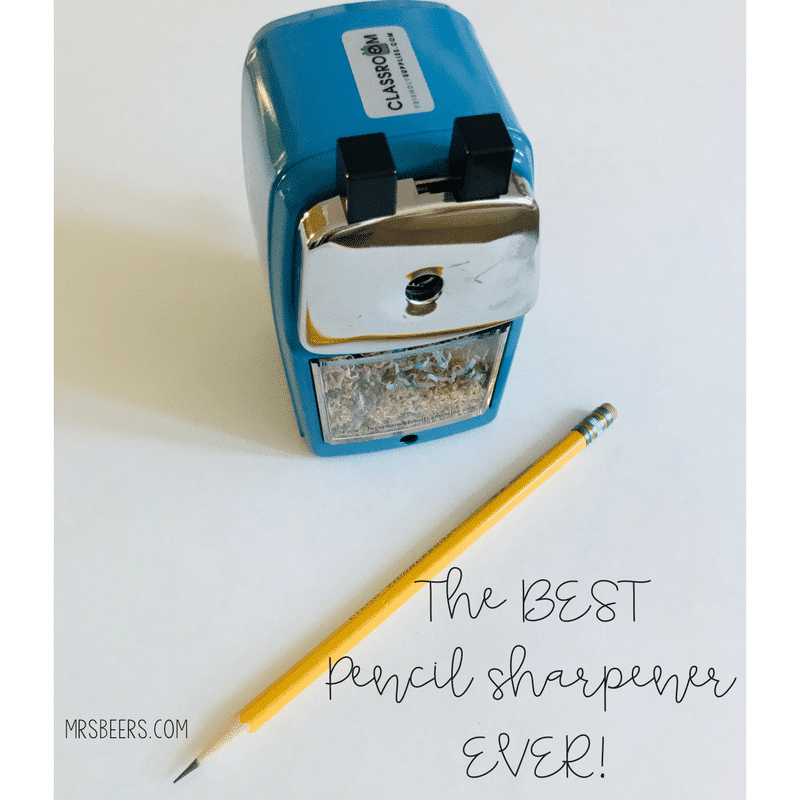 11. File Folders: So much of our teacher workload is digital these days, but I am always in need of a few boxes of file folders each year.  File folders are essential for organizing everything from student data (DRAs, Dibels, F&Ps, IEPs, etc.), student-led conference materials, novel studies, and group work.  Also, if you have tables in your classroom and multiple students are seated at each table, they can even be utilized as "offices" and students can use them as dividers to work without distraction.
12. Student Work/Daily Copies File Trays: I love a few file trays on my desk to keep turned in student work organized before I evaluate it or to keep any assignments needing completed by students organized.  I also have trays for work that is graded that can be sent home for parents to observe.  By having a system for copies, completed student work, and work that has been evaluated, I am never needing to climb out from piles of disorganized paperwork.  Have a system so you don't make yourself crazy.
13. Supply Caddies: I currently have tables, so supply caddies are perfect for my student seating scenario, but when I have had desks, I liked to group them together and use stocked supply caddies.  On each table is a Dollar Store caddy with pencils, erasers, markers, glue sticks, and scissors.  My students always have what they need, so instructional time is not compromised looking for supplies.  There are many ways to organize and use supplies that work in different classrooms, but this is the way I have found it easiest for my students to have the tools they need at all times.  I bought 6 of the $3 Target Spot caddies, labeled them by table, and have loved their durability for my students' needs.
14. Paper Cutter: I was lucky enough to be gifted with my classroom paper cutter TWENTY years ago at the end of my student teaching assignment.  It was the BEST.TEACHING.GIFT.EVER!  It has been through many classroom moves, a flood, and 6-different schools, but it still works perfectly.  I am eternally cutting task cards, flip books, and other assorted assignments and activities my students are completing, so having it in my classroom is essential.  If you are on the fence, grab one here.  It will be the greatest convenience you could have for $25.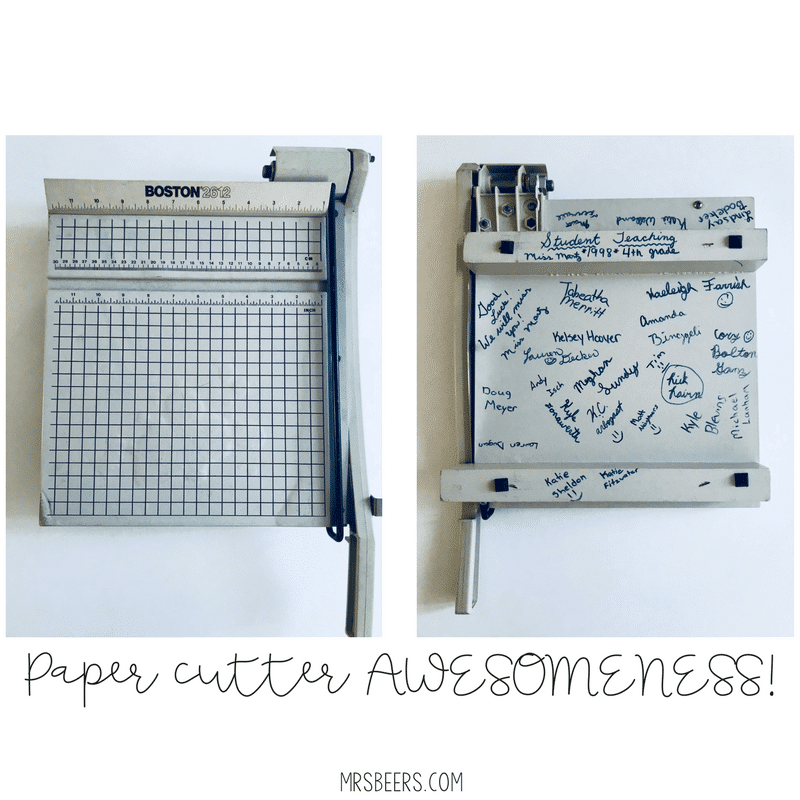 15. Colored Pencils: My students always have access to colored pencils for assignments and other assorted learning activities.  Book projects and other novel activities look so much more thorough and thoughtfully done with some colored pencil pizzazz.  While students may have their preferences about brand, stock up on Roseart and Crayola at super discounts at the beginning of the school year.
16. Dry Erase Boards and Dry Erase Markers: I love dry erase boards for word work and other whole class and small group activities.  While we are 1:1 and have Chromebooks, notebooks, folders, etc. for our instructional needs- dry erase boards are a quick, transportable tool to have on hand to coincide with any mini-lesson.
17. Clipboards: Clipboards are multi-faceted in my classroom.  I use them on a display wall to showcase student work.  Students to be able to utilize them as "portable desks" on the floor for group work, independent work, or whole for class meeting.  I bought them bulk from Walmart and there is not a day that goes by that they are not utilized.  Shove them in a basket or storage container for students to grab whenever they are needed.
18. Scissors: If you teach BIG kids, have a bin of BIG scissors for projects and other activities.  If you teach littler kids, have a bin of littler scissors to accommodate those cutting needs.  Don't be afraid to label them with your name because items like this can disappear.  Having bins of student scissors on hand will save you from losing your only pair of scissors on a daily basis.
19. Sharpies/Flair Pens: In my classroom we use Sharpies and Flair pens for writer's workshop and outlining.  While we publish much of our work using Chromebooks, with handwritten projects and assignments, nothing makes a finished product look more thoughtful and detailed than a black outline.
20. A Roll of White Paper: Anchor chart paper is insanely expensive, especially the self-stick kind.  I buy a few rolls of white paper from IKEA at the beginning of the school year and it is perfect for making anchor charts, KWL charts, and other assorted organizers to support my students' instruction. For $4.95 per roll, it is a steal.
21. Copy Paper: Drawings, flipbooks, minibooks, graphic organizers, etc.  so much of our work is still copied and completed.  Having extra copy paper on hand in case of an emergency paper outage in the copy room is essential.  I buy an extra ream each year at Staples when it is buy one/get one free.  I keep it in my classroom closet for those rare times when copier paper is no where to be found (perhaps on a weekend), but I have essential copies to make for my instruction.  I truly believe that a classroom teacher can never have too much paper!
22. Glue Sticks: I do not use bottles of glue in my classroom.  I am sure they serve a purpose in other classroom environments, but in mine, it is glue sticks for life! #GSFL Glue sticks allow for just the right amount of adhesive for our classroom work without a sticky, gloppy, wet mess.  I always stock up on glue sticks at the beginning of the school year for use with interactive notebooks, so that I have more than enough to carry my students through their entire school year.
23. Tape: I use masking tape to hang anchor charts, word wall words, student work, and other displays that I need to hang on concrete walls.  Masking tape is the only kind of tape that keeps these items in place.  I also find that student papers and books can get ripped and need repair.  Having some rolls of tape on hand for these mini-emergencies will save your sanity.
24. Timer: I use a variety of different timers during the course of my school day to display increments of time for my students to keep them on track with their learning.  I use an on-line timer and display a designated amount of time for student work time on the SMART board, I use a free standing digital timer for independent and small group work, and I use my phone timer when I am timing kids with fluency practice.
25. Emergency Sub Plans: Coming in sick is awful, but preparing to be out can seem even more daunting, some days.  Rather than be unprepared for these unfortunate circumstances, I always make sure to have an EMERGENCY SUB BINDER at the ready…Prior to the first day of the year, many school districts are asking to have an emergency lesson plan file on hand in the office, while other districts expect teachers to have a file folder or binder on hand that has everything a sub or guest teacher would need to teach in their absence. Here are the 10 items I make sure to have on hand in my Emergency Sub Plan file:
the daily schedule
current class lists for each class
current seating charts of each class
duties and responsibilities
a welcome note
the office # and helpful teammates names and #s
clear lesson plans for each class for the day
emergency procedures for fire drills, tornadoes, or lock downs
resources that are easy to implement for the sub/guest teacher and engaging for students
quick notes about students requiring services or accommodations
To make your life easier, grab my Emergency Sub Plan Bundle.
I would love to hear about any MUST-HAVES you can't live without in your classroom! Time is always of the essence, so anything I can utilize to make my classroom more efficient or positively impact student learning-count me in!