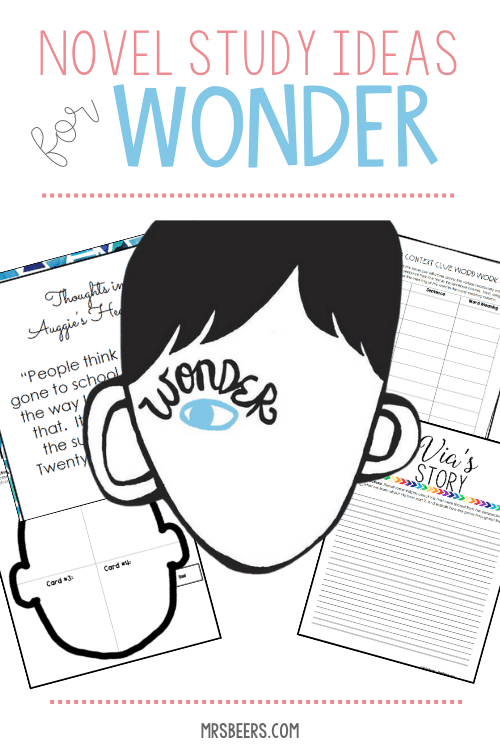 Looking for some engaging activities for your Wonder novel study unit? I've taught R.J. Palacio's book every year since it was published, and in this post, I'll share how I format my lesson plans. Hopefully, you will find some unique ideas to try with your class!
This is one of my favorite books to read in middle school because it always prompts important classroom discussions about empathy and perspective. Also, students connect quickly with the characters, making Wonder a great novel to go deeper into character analysis concepts.
Lesson Plan Basics
I use a fairly consistent lesson plan structure for all of the novels we read together in class. As you can see in the notes below, I lead off each day with a discussion around the assigned reading selection. For my favorite chapters, I highlight a couple pages to read aloud before beginning our discussion.
A couple of easy "ice-breakers" to begin each day include reviewing the setting of our reading selection and how the events within the selection relate to our students' personal experiences. These types of open-ended topics not only give you an assessment of comprehension, but they also help students hear how their peers interpret and connect to the story.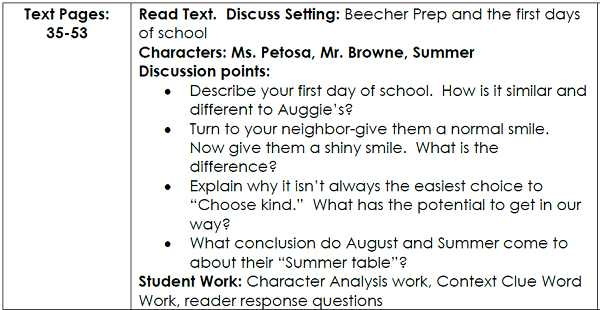 After covering our discussion points for the day, I give students time in class to work on their novel study worksheets. Depending on the chapter, they will have comprehension questions, word work, and journal prompts to complete before beginning the next reading assignment.
Context Clues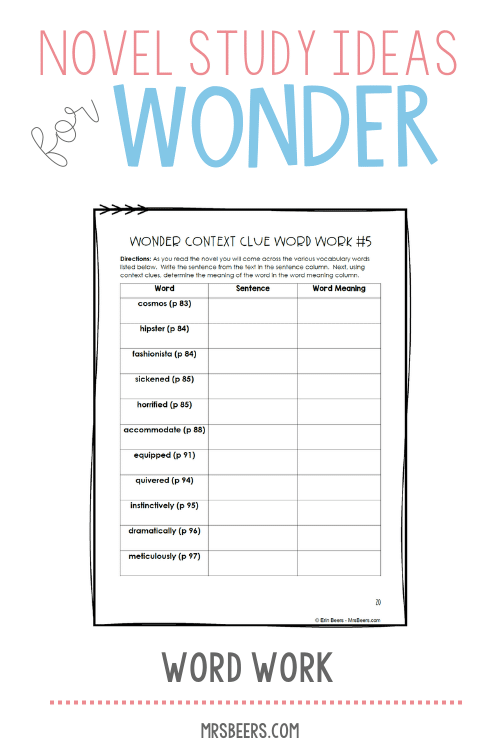 Wonder has an incredible array of figurative language and vocabulary words for students to explore. Instead of simply assigning a list of vocabulary words to memorize, I like to assign context clue worksheets that require them to go back into the text and try to discover what a word means. The ability to use context clues is an important skill that they need to practice for state testing. My Wonder novel unit includes 12 context clue worksheets with over 100 different words.
Character Perspective Writing Prompts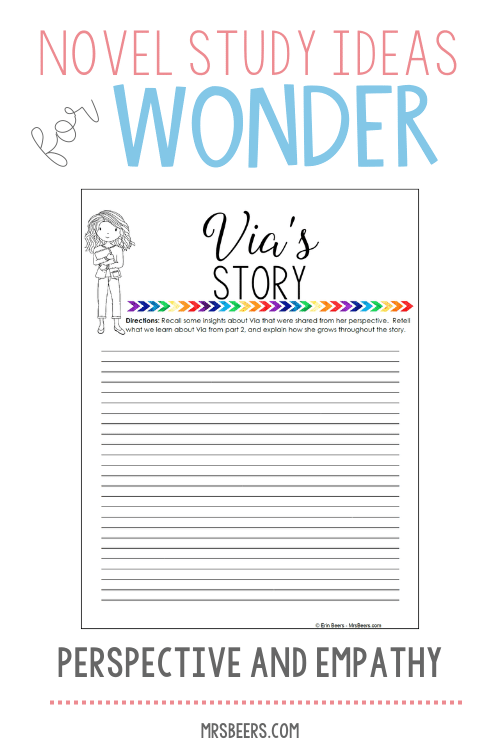 Because Wonder features several different narrators, it provides an excellent study of character perspectives. I use this unique teaching opportunity to have my students think about the vantage point each narrator comes from and how perspectives on the same events can be different for everyone.
The image above shows one of my character journal prompts. Here, I ask my students to think about the story from the perspective of the character Via. Additionally, I ask them to refer back to chapter/part 7 which reveals important details about this character.
These character writing prompts will also tie back to the theme of empathy. Throughout the book, each narrator shares thoughts about their relationship with Auggie. My students typically make this connection in their journal responses. From there, we dig deeper during our class discussions.
Character and Quote Analysis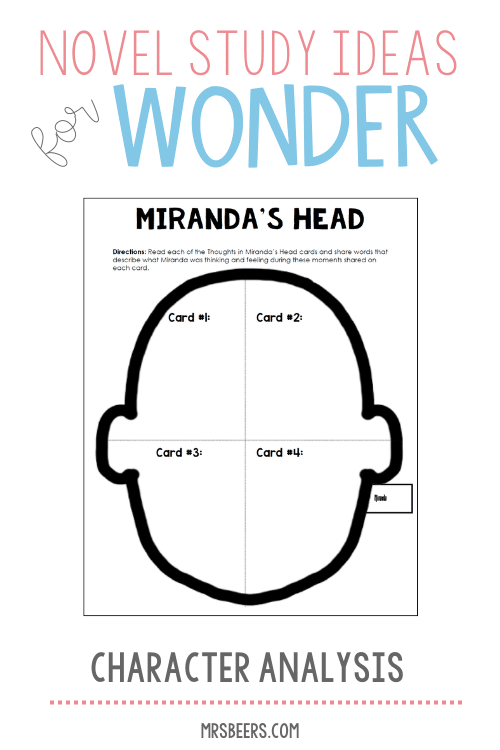 I created this simple character thought exercise to get my students thinking outside of themselves and reflecting on the character from the story. Each narrator has their own "head" and set of task cards with a notable quote they said.
For Miranda's worksheet (pictured above), one of the task cards shares this quote:
"I think I went for the role of Emily Gibbs because I knew Via was going to go for it, too. It never occurred to me that I'd beat her for the role."
The goal here is for students to really focus on the feelings behind these character quotes. Adolescents often don't think about how words and actions can both positively and negatively impact others. Wonder gives us dozens of quotes like this to help students see how a lack of awareness can hurt those around us.
My Wonder Novel Study Unit
I hope you found a few points of inspiration to add to your own Wonder novel study. It truly is a life-changing book with endless opportunities for teachers to ignite students' passion for reading and understanding of the human condition.
If you liked the Wonder teaching strategies I shared here and want to save hours of planning time, you can purchase my complete Wonder Novel Unit below. This PDF download features over 60 pages of daily lesson plans, reading comprehension questions, context clue worksheets, and journal prompts. You also get the character thoughts activity and some notable quote posters to display in your room.