I have been tutoring on Tuesday and Thursday nights in order to keep my teacher mind active and challenged. My focus with this 3rd grade student has been fluency work: timed fluency passages, chunking text, Big Bubble Breath boxes, and a bit of comprehension work with novels.
Here is a fun fluency tool discovered on TPT:
Bubble Breath Boxes to increase high frequency word fluency
I utilized leveled fluency passages with my 6th graders reading well-below grade level during 6-minute solution time. It was perfect because everyone could work on fluency from on-level readers to students reading at the first grade level.
The Bubble Boxes are a tool I just found. While I bought the package of all 300 FRY words, you can sample the first 25 and practice with students needing repeated practice with high frequency words independently, with a partner, or in a center setting. The idea is that the student takes a breath and has to read the whole box of words before running out of breath. Cool tool for stamina! My 2nd grade son loves the Bubble Boxes because it is a challenge-competition is something he loves.
Pictured below is my novel unit for Chocolate Fever. I have just taken some time to update this unit and make it aligned to CCSS. If you are looking for a fun book and middle grade unit about a boy with a "chocolate problem" that leads him on quite an adventure for a cure, this is a fun tool for you. A perfect book and unit to fit in between the Thanksgiving and Christmas break!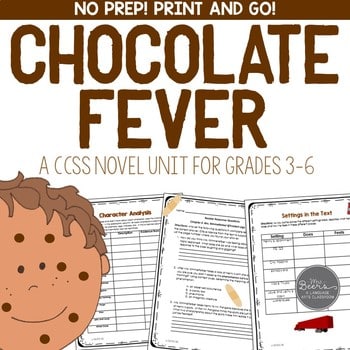 I would love to hear about the tools you utilize to improve fluency in your middle grade classrooms, as I am always looking for more items to use with my students. Leave a comment below!