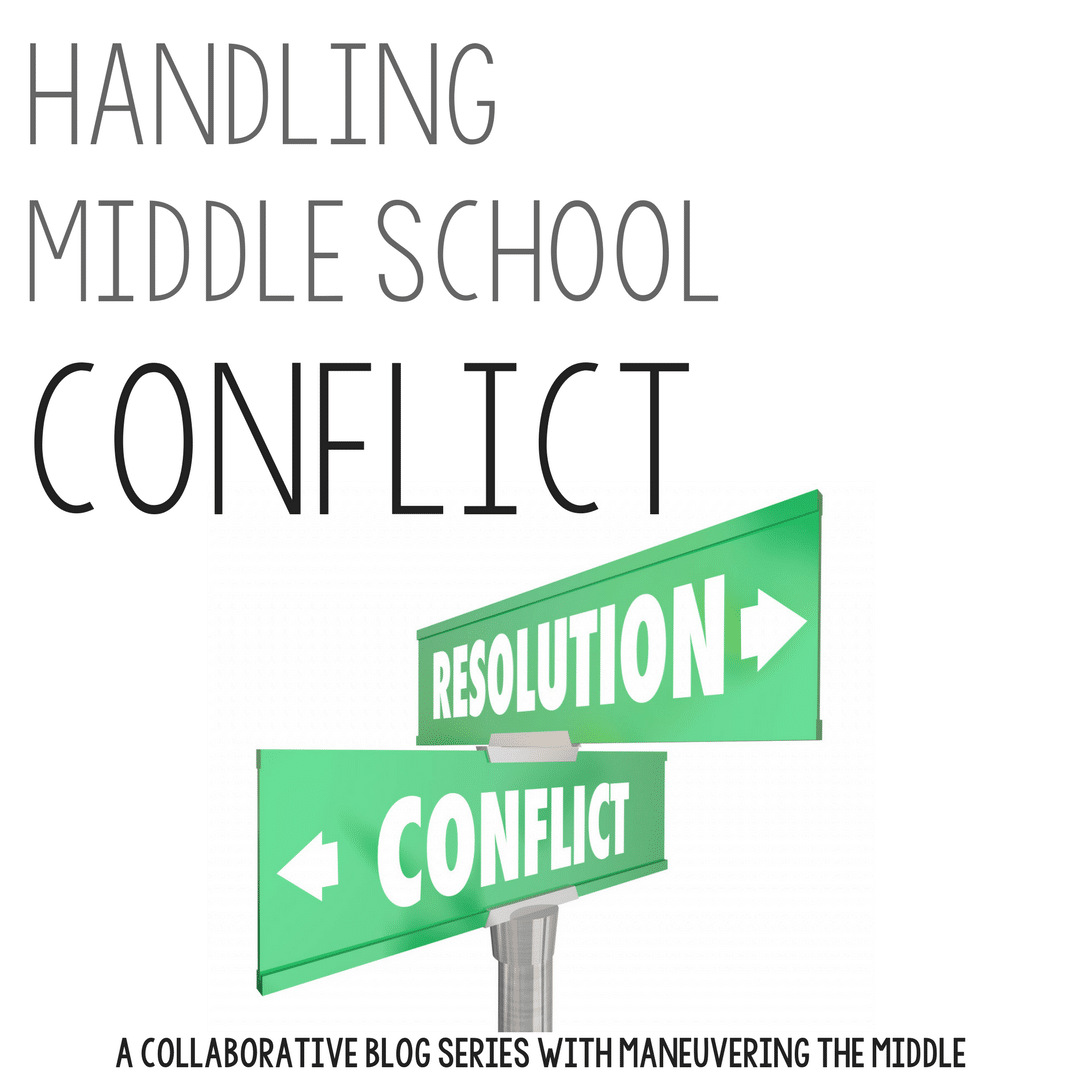 This is week four of my middle school blog series with Maneuvering the Middle.
Here is a quick recap of all of the posts:
This week Noelle is focusing on something that has the potential to take up an immense amount of time with middle school students…conflict management and resolution.
As teachers, we teach our students content. We teach them to find the common denominator, to find the percent of a number, to solve for a variable, and the list goes on and on. We teach them routines like how to enter our classroom, how to glue the right way, and how to trade and grade papers. One of the most important skills that we should be teaching them is conflict resolution.
How to Handle STUDENT Conflict Resolution
Disclaimer: It is always better to ask for help as a teacher. I used to worry about bothering the counselor, but then I realized that the counselor is skilled in this, and it is part of their job. Air on the side of caution. Also, I am not a trained counselor, so please consult your school administration and school policies.
Conflict will arise in your classroom. This could be directly linked to what is happening in your classroom: working in non functioning groups or pairs. More likely, conflict will arise in your classroom because of something happening somewhere else: lunchtime, social media, or the hallway.
Last school year, I had a student acting despondent. During the warm up, I checked in with her to see if anything was wrong. While she was explaining what happened in her previous class, her partner/friend interrupted by saying that she was lying. This caused a huge blowup between the two of them. It was a huge mess and I thought to myself, "What just happened!?" Their problems had come to a head despite the fact that it had nothing to do with what I had or hadn't done as their teacher. We acted fast to get the conflict resolved with the help of my awesome assistant principal, but it had me thinking about how students can have tiny conflicts turn into huge blowouts if they are not resolved quickly.  Has a scenario like this ever happened to you?
Head to Noelle's blog to find tips she shares for being proactive when it comes to conflict resolution with our middle school students.