As a veteran teacher I can share that I am still learning and refining my own practices based on the groups of students that I have the good fortune of working with each year. As you know, no year or group of students is ever the same! Therefore, we live, we learn, and we tirelessly work to create the most effective learning experiences possible for our students.
Literature Circles are an ideal practice that I love to implement in my classroom to enhance students love of reading. If you are looking for a practical way to connect students to books that they can't wait to read and don't want to put down, here is how I have found success…
Step #1: Book Selection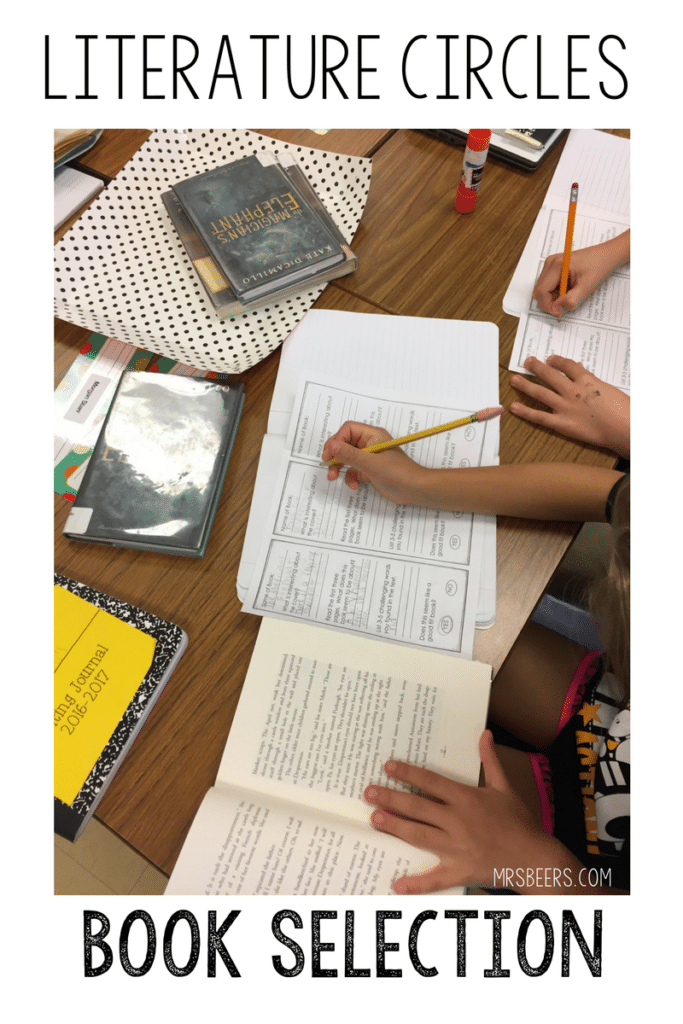 Allow students ownership of the books they choose. Provide options that grab your students' interest. I like to do a "Best Fit Book" lesson where students can have the opportunity to view the various book options (I try to have 3-4 titles for my students to choose from), look through each novel with a critical eye, and make a choice based on their own personal thoughts and interests.
While I have a ton of class sets of novels that are readily available, I utilize our public library teacher program to get multiple copies of newer titles to use with my students. I will determine the literature circle theme and choose the book options based on the interests and reading levels of my students. I order about 15 of each title, pick-up the books from the library, and we get to work.
I created this organizer to give my students ownership over the book selection process. It is a simple organizer that students are able to navigate as a guide to determining their personal best fit book out of each of the options available.
Grab this FREEBIE by clicking on the image.
Step #2: Grouping Students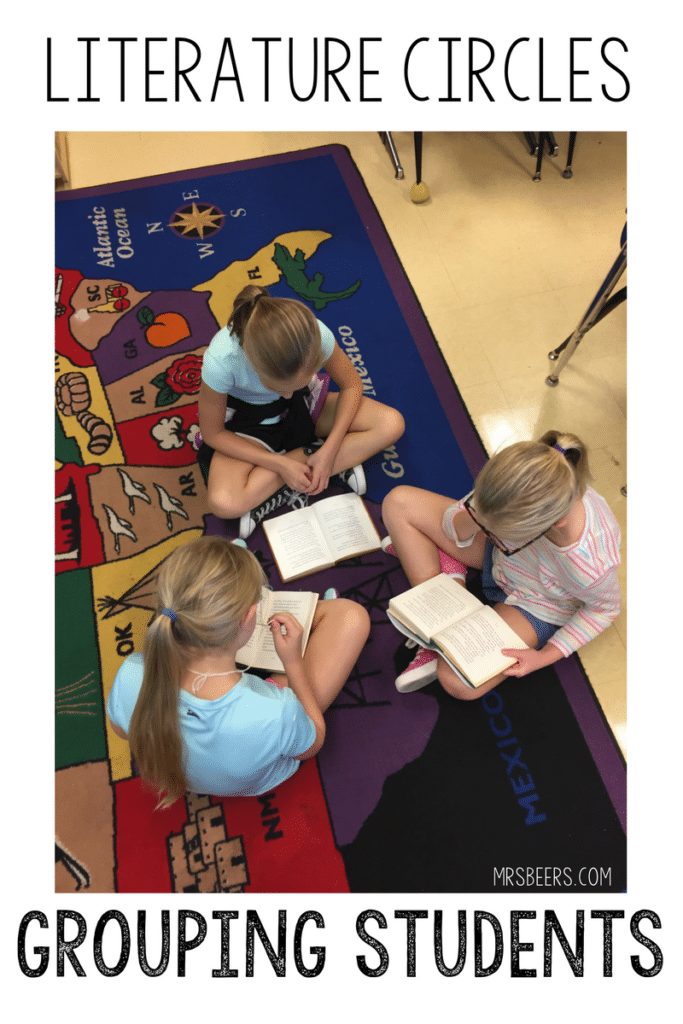 After students have determined their "Best Fit Book" choice, essential teacher work begins. Things we need to consider when grouping students:
Which book did each student select as their personal top choice?
How many students will be able to work successfully in each group?
What if a student really wants to read a book that I am concerned they will struggle through?
What are the reading levels of my students?
How can I strategically group students to get the most productivity from each group?
During our most recent Kate DiCamillo literature circles I learned a great deal about my students that will directly impact my literature circles for the rest of my teaching career…
No more than 3 students in a group.
I will group students with similar reading levels to avoid frustrations of "too fast" and "too slow" readers.
Step #3: Have a plan for each day.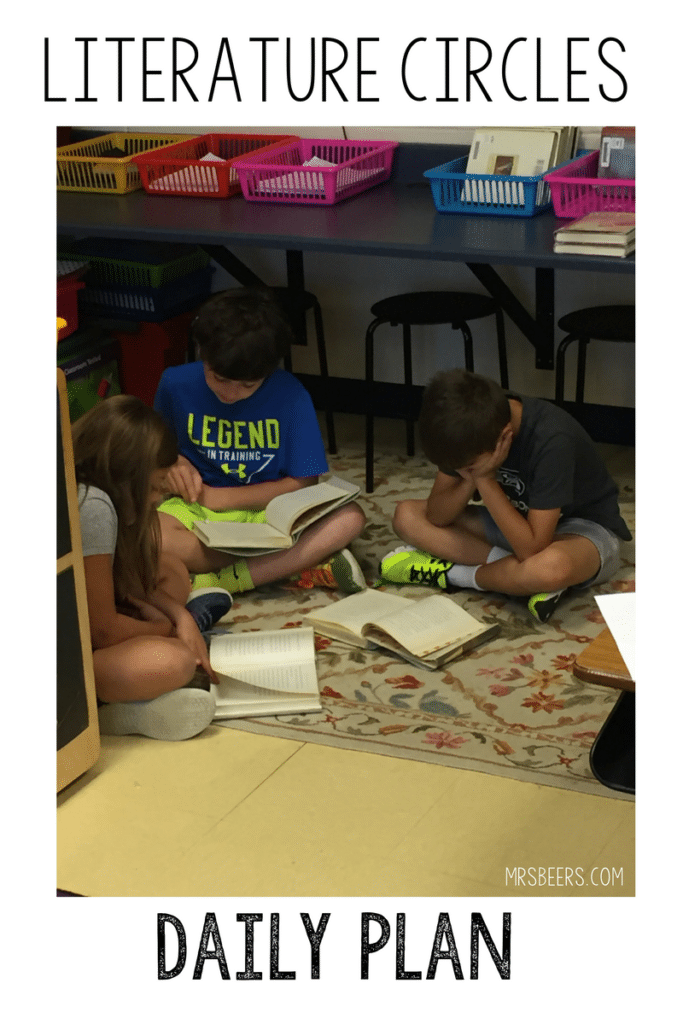 When you are preparing for literature circles during weekly planning consider what you want students to accomplish while working together during the course of the week.
How many pages do you expect students to read?
How many chapters should students navigate?
What ideas do you want students to discuss?
What novel study questions will students respond to in order to demonstrate their understanding of the novel?
How often will they read aloud as a group?
How often will they read silently and connect back for discussion?
It is essential to map out the books your students are reading, so you have a good idea of what you expect them to accomplish during each class period. If you expect the students to complete a book in 4 weeks, map out the book into four sections and share this expectation with your students. If students know exactly how many pages they are to read, they will work more efficiently. Be clear and assist them in their work. Be prepared to reassess daily.
Step #4: Group/Teacher Chat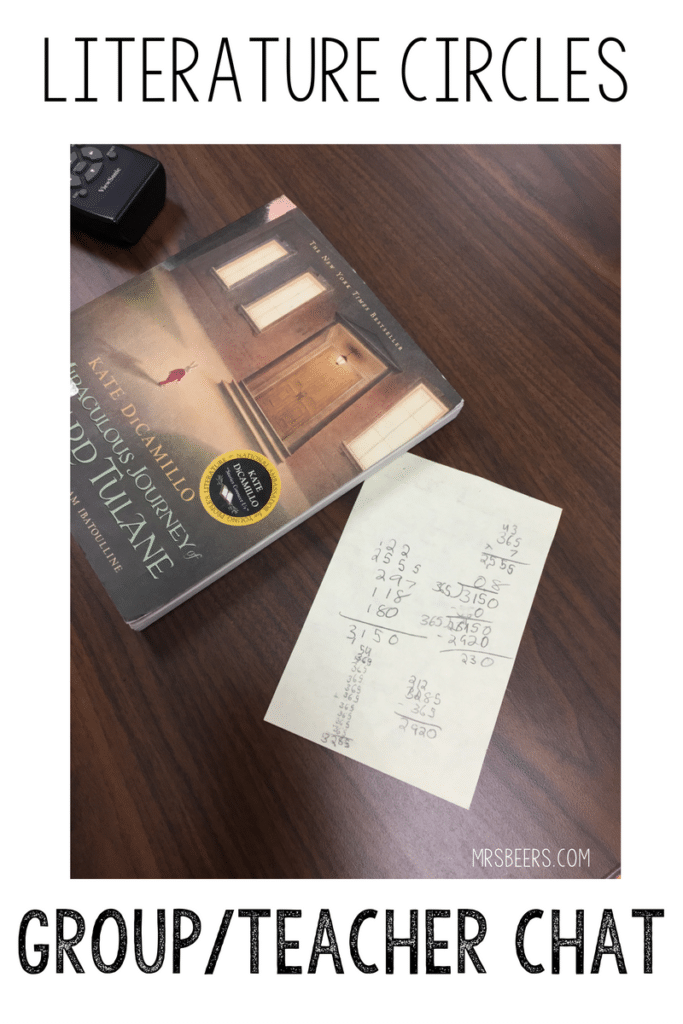 Determine how often you will meet with the various literature circle groups. Will you meet with your literature circle groups daily, every other day, once a week?
I do an informal check-in with each of my literature circle groups daily. I circulate around the classroom with a clipboard and each of the different novels in order to observe, listen, check for understanding/confusion, and I document thoughts for our group time together.
Our group/teacher chat time is skill based, so I will work on a specific skill with each group when we meet. This gives me the opportunity to tailor the skill to the book and the group that I am working with. Topics may include character analysis, comparing and contrasting characters, point of view, setting, and both literal and inferential questioning. I love this time with students to help them dive even deeper into their thinking about their novels.
I would love to hear how you have made literature circles and author studies work effectively in your classroom and any books that your students wished would never end.
Here are the next literature circle I can't wait to implement…
Theme: Adversity
Books: Wonder, Rules, Freak the Mighty
Happy Reading!