I enjoy winter in Ohio as much as I enjoy getting hit in the face with a snowball! Despite my feelings, I try not to complain a whole lot about it. I know that by April or May, I will be loving life again and enjoying the fact that I get to spend 90% of my time outside.
The winter quarter is can also be tough on students as well. They often are stuck inside for recess due to temperature restrictions and are antsy to get some fresh air and exercise. Watching videos, playing board games, and coloring are all great time-fillers for recess, but kids really just want to be outside.
While there is always an instructional calendar in place, my reading passages and novel study selections vary each year during these winter months. Some years I am perfectly fine with the colder weather, and other years all I can do to stay sane is dream of places like sunny Florida or dry and temperature-perfect, Arizona, while I am bundling up and racing around to stay warm.
BOOK IDEAS
If you are looking for a novel to share with your upper elementary students to help them escape the cold, check out Stargirl by Jerry Spinelli. The setting of the novel is sunny Arizona. While you navigate through this mystical, realistic fiction novel, it will feel like a mini-escape from the cold temps, at least for a little while.
The novel is about a girl who, after being home-schooled, enters high school at Mica Area High School where her uniqueness is not welcomed. Her non-conformity irks all the wrong people and she battles with the idea of staying true to herself or changing in order for people to like her. It is the perfect novel to share with students that are at this impressionable stage and heading to middle school. Click the image below for more details…
When I am really over all of the student complaints about cold, I love to share Woodsong by Gary Paulsen with my students. This is the ideal text to share with my students in the bitter cold January and February winter months because while we complain about the cold here in Cincinnati, it certainly isn't as cold here as it is in Minnesota or Alaska, for goodness sake! The novel is a memoir of what led Gary to train and run the Iditarod in Alaska. Your students will not even think about complaining of the cold when they read about Gary's experiences running a trapline through the Minnesota woods and the different stages of the unforgettable dogsled race. Here is my novel and unit to assist your instruction…
READER'S THEATER IDEA
And when you realize that you can't beat winter, so you just need to join it, there is this fun reader's theater for fluency, word work, comprehension, and writing fun. Your students will love reading this high interest realistic fiction passage about a snowy recess in which the assistant principal's silly action leads to a student getting carried away and injuring another. The lesson students will take away is that "Rules are made for a reason" and we as adults need to be reminded of that sometimes.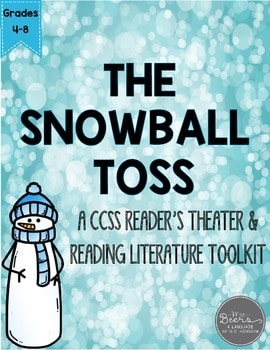 And finally, a FREEBIE…
Stay warm and keep working hard. Spring will be here soon!