St. Patrick's Day is the perfect time to reflect on the reasons why I am lucky…
I have an AMAZING FAMILY and I have had experiences in my life that have made me the not overly sensitive person I am! I feel lucky to be able to laugh about things, myself included, and not take myself or others so seriously!
For example…When I think of St. Patrick's Day I have a few memories of this LUCKY & GREEN day…
In elementary school it was a BIG deal to wear green.  I specifically remember in 5th and 6th grade, our teachers would walk around and observe all  of the green we were wearing.  The individual that wore the most green on this particular day always won some prize.  I never won, so I have no idea what the cool prize even was.  Green was NEVER my favorite color!  I believe the only green I ever wore was my Boston Celtics t-shirt.  As I think back, it makes me laugh!  As a 6th grade teacher today, I am just glad my students are dressed appropriately-any sort of seasonal or holiday spirit is a bonus, right?!
My second memory is the cleverness of "Erin Go Braugh!"  The meaning of this phrase is, "Ireland Forever!"  An extra special thanks to all of the thoughtful companies that made t-shirts and buttons with this spirited mantra.  For an elementary and middle schooler with the name Erin, there were so many creative phrases made-up by my kind peers with my name that had nothing to do with Ireland, but more to do with my wearing female undergarments!  AWESOME!
I hope your memories of this Irish holiday make you laugh a bit as well.  I have come around on the color green and I still giggle when I see "Erin Go Braugh!"
Onto my green-inspired FREEBIE!  Growing up in New England we were HUGE Boston Celtics fans.  The Celtics played four games a year at the Hartford Civic Center and we always had those 4-game season tickets.  I have always loved basketball and still think about the AMAZING basketball legends that I got to see in person competing for and against the Celtics: Larry Bird, Danny Ainge, Robert Parrish, Dennis Johnson, Kevin McHale, Charles Barkley, Spud Webb, Minute Boll, Carl Malone, John Stockton, Dominique Wilkins, etc.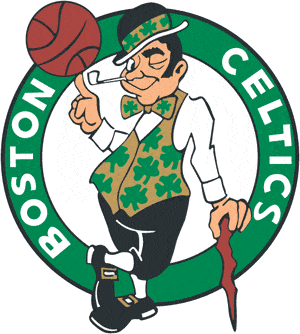 So with this GREEN holiday and MARCH MADNESS, I wrote a few CLOSE Reading passages for you to share with your upper elementary students.  My students LOVE to read about athletes, so I try to keep as many of these high-interest passages on hand for test prep, morning work, "I'm finished, now what?", etc.  Grab them below and use them how you see fit!  Happy St. Patrick's Day!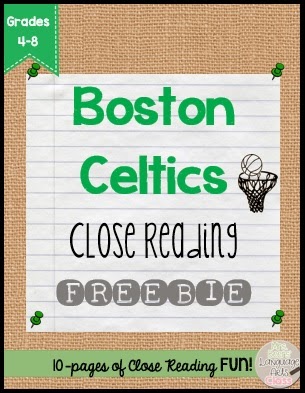 Preview more of my free resources for ELA teachers by clicking here!