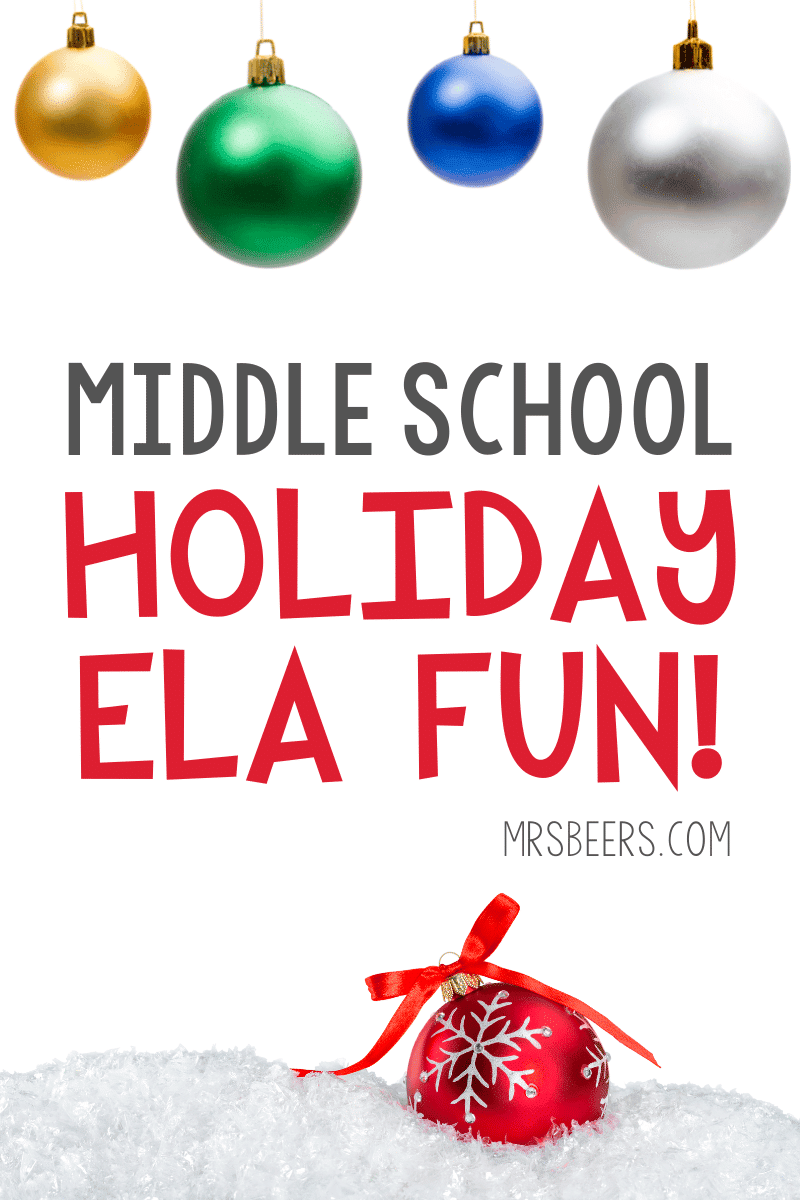 The days leading up to Christmas break can get a little crazy with all of the special events and shortened class periods, but they also offer a chance to try some of the language arts holiday activities we find on Pinterest. I've found the easiest way to boost productivity in December is to embrace the season and incorporate as many holiday themes as possible into lesson plans. Even small changes like adding Christmas lights and stocking up on candy canes can really boost engagement, even with middle school students.
While the days of classroom parties are usually over by middle school, there are plenty of creative ways you can incorporate the holidays into structured ELA activities. I've put together a list of my favorite ideas below, including a couple of free PDF printables you can download and try with your students.
St. Nick Night (Free PDF Printable)
The history of St. Nicholas Night, and how many of our Christmas traditions originated from it, has always been a favorite with my students. Years ago, I created this reader's theater script to help expand our class discussion around this holiday and incorporate a few reading and writing activities. You can download a free copy of my resource by clicking the image below.
This bundle touches on the history of St. Nicholas through another one of my reader's theater scripts. Most of my students could benefit from extra work with fluency, word work, and journal writing. All of these elements are covered here and your students will love the chance to "perform" for their peers.
Learning About Hanukkah Traditions
Another engaging lesson is learning about the history and traditions of Hanukkah. I typically set up stations and split the class into small groups to rotate through each station. Each station has a different Hanukkah focus. There are several topics of interest including the Menorah, Shamash, and how the candles are lit. I've also created stations with Hanukkah picture books, Hanukkah traditions, and Hanukkah history.
Of all the Hanukkah stations I've tried, learning how to play dreidel is always the most popular. You can purchase wooden dreidels at places like Party City, and the YouTube video below is helpful for explaining how to play…
In 56 seconds, the length of the video, your students will be hooked and begging to keep playing!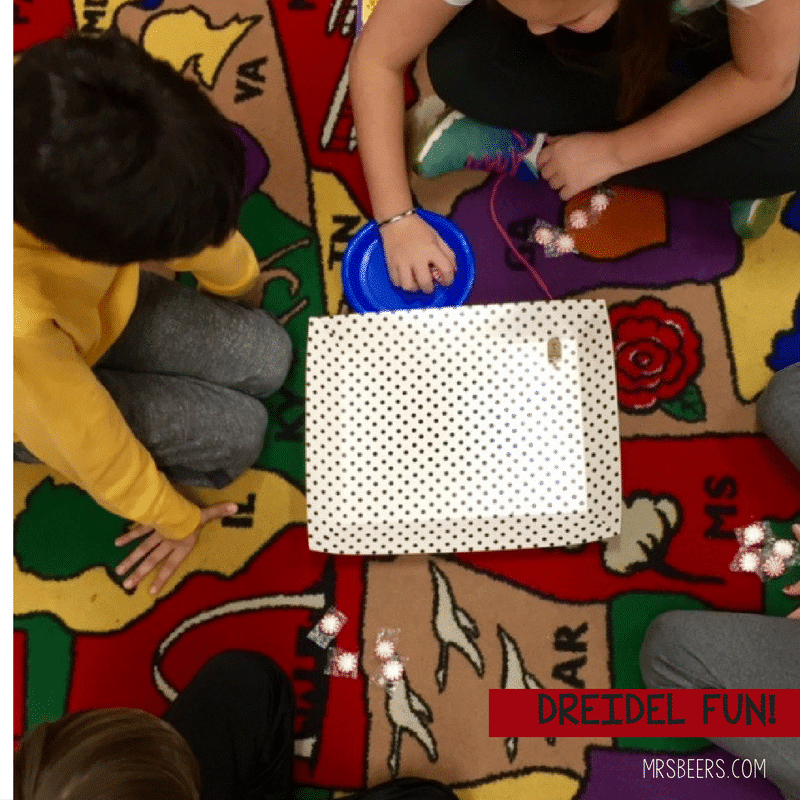 Descriptive Writing Fun!
I always make sure that I have plenty of "tricks" up my sleeve to get the very best out of my students from the beginning of December until they head out for the holiday break. One way I combine descriptive writing, real world skills, and Christmas fun is with this North Pole Job Application resource…
This Digital North Pole Job Application Toolkit is the perfect resource to tackle essential writing skills and keep students enthusiastic and thoughtful about their work. Use it in its digital form with Google Slides, or print it out. Your students will LOVE it either way.  This 4+day unit goes beyond traditional holiday writing exercises because it challenges students to write descriptively and navigate a job application that requires extended responses.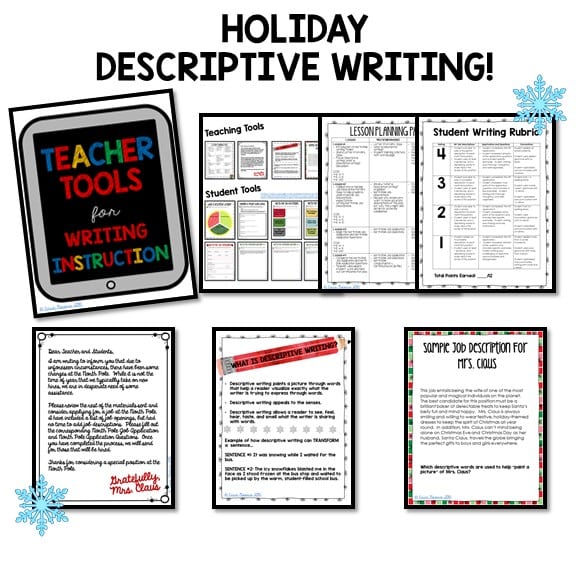 Small Group Discussions (Free PDF Printable)
I want to give my students time to interact with one another without always having to produce a written assignment. While written responses are an integral piece of language arts, verbal communication and small group discussion skills are crucial as well. This is the inspiration behind these Holiday Chit Chat Cards…
I use ELA task cards to reinforce a variety of learning concepts. The purpose of these Holiday Chit Chat Cards (conversation task cards) is to allow students to have the chance to share about their own holiday traditions and learn more about their peers. The task cards provide a focal point for students and encourage more thoughtful discussion.
Gingerbread Pirates Read Aloud
The Gingerbread Pirates by Kristin Kladstrup is a fun read aloud to add to your list for December. While it is was written for young children, there are a few intriguing concepts within the story. For starters, Santa is the "enemy" in this one, and that part alone always captures my middle schoolers attention!
If your class enjoys The Gingerbread Pirates as a read aloud, then they will have a blast with my reader's theater unit based on the story…
This reader's theater script includes comprehension worksheets to add rigor to the activity. My secondary students are always amazed at how seemingly simple stories like this one have many of the same story elements as our novel units. Reader's theater provides a great platform for practicing fluency while working on comprehension, summarizing, and context clue word work.
More Classroom Holiday Activties
I have celebrated MANY holidays with my different groups of students over the years. Holidays provide many instructional opportunities, but I often run out of time to sneak in all of my favorite ideas. Even though it is not difficult to add a seasonal twist or surprise to existing lesson plans, you need to plan ahead to make the most of the season with your current class!
If you are looking for more fun ideas, here are some I've enjoyed with the other age groups at different points in my teaching career…
Happy Holidays to you, your family, and your students! While this time of year can be stressful at times, remember to participate in the fun with all of the special people in your life!