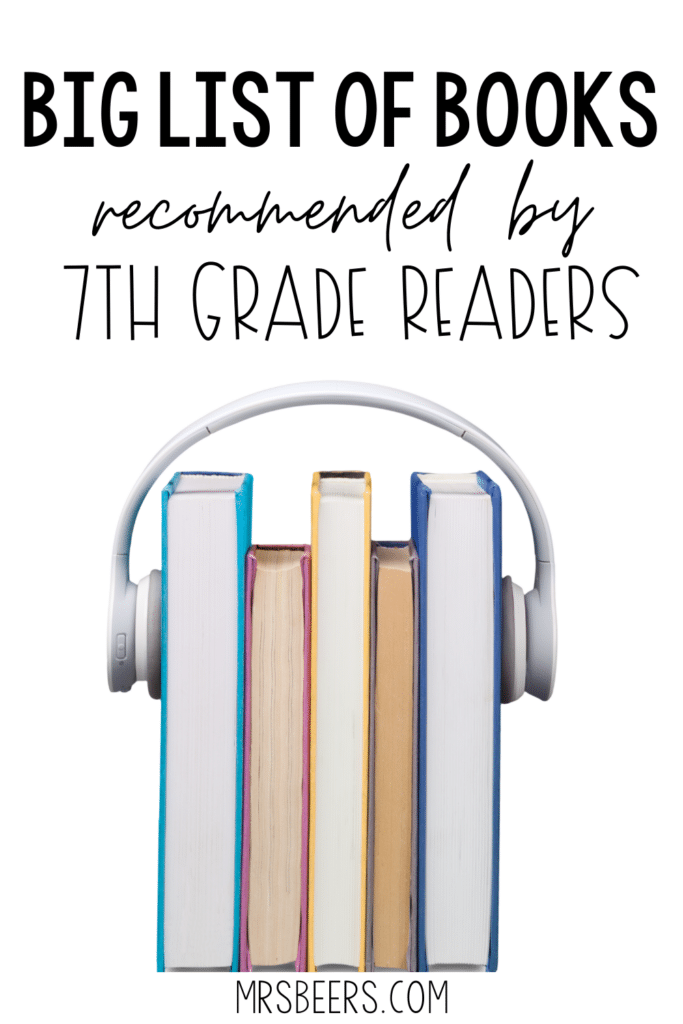 Spring Break has been a much needed time to take a break from the every day busyness within my household. With three kiddos all involved in a variety of activities, by choice, we have been burning the candle at both ends. For the past week, I was so excited to have some time to read, catch my breath, and hang with my dog.
A few awesome books I read this week are: we were liars by e. lockhart, The Night She Disappeared by Lisa Jewell, and The Glass Castle by Jeannette Walls. I am beginning The Silent Patient by Alex Michaelides tonight. I receive so many book recommendations from my students that I wanted to share this full list to help teachers and parents discover new titles!
While I teach 7th grade, as a former 7th grader, reading was not something I wanted to do, but something I knew I had to do. I would never pick up a book and read for pleasure; reading always felt like a forced effort. With my own personal history of not loving to read books, my goal as a 7th grade teacher is to give my 7th grade students a more enthusiastic and opportunistic outlook on reading. I read aloud to my students DAILY! I do what I can to expose them to books that I hope they will LOVE.
As 7th grade teachers, we want to expose our students to a variety of text. Each quarter we focus on a different genre–Quarter 1-Memoirs, Quarter 2-Informational Text, Quarter 3-Fiction, and Quarter 4-Choice. In addition, each quarter we walk to our local public library-rain or shine. Our local library librarians willingly gather books, give book talks, and provide any resource our students might want in order to contribute to their love of reading. Our local library is an invaluable resource that we are lucky to be within walking distance of. As we head into the final quarter and our final library walk of the school year, I wanted to share my 7th graders' favorite reads from this year…
Memoirs
Born a Crime by Trevor Noah (our quarter 1 read aloud)
The Year We Disappeared by Cylin and John Busby
My Family Divided by Diane Guerrero and Erica Moroz
Free Lunch by Rex Ogle
Almost American Girl by Robyn Ha
Just Mercy by Bryan Stevenson
Ugly by Robert Hoge
Reaching for the Moon by Katharine Johnson
Funny, You Don't Look Autistic by Michael McCreary
Hey, Kiddo by Jarrett J. Krosoczka
Becoming by Michelle Obama
InformationAl
Radium Girls by Kate Moore
Hamilton: The Revolution by Lin-Manuel Miranda and Jeremy McCarter
Girls Think of Everything by Catherine Thinnesh
George Washington's Secret Six by Brian Kilmeade and Don Yeager
Explore! America's National Parks by Hannah Bailey and Krista Langlois
Champions of Women's Soccer by Ann Killion
Her Story by Katherine Halligan
Code Girls by Liza Mundy
Coming Up Clutch by Matt Dodoen
Hello From 2030 by Jan Paul Schutten
Fiction
No Fixed Address by Susin Nielsin (our quarter 2 read aloud)
The Ballad of Songbirds and Snakes by Suzanne Collins
Finding Perfect by Elly Swartz
Eleven by Tom Rodgers
A Soft Place to Land by Janae Marks
Game Changer by Tommy Greenwald
Red Kayak by Priscilla Cummings
Internment by Samira Ahmed
I'm Not Dying with You Tonight by Gilly Segal and Kimberly Jones
Ground Zero by Alan Gratz
Prisoner B-3087 by Alan Gratz
Once by Morris Gleitzman
The Stars Beneath Our Feet by David Barclay Moore
The Scorch Trials by James Dashner
Tomorrow I begin our final read aloud, Freak the Mighty by Rodman Philbrick, and we will walk to the library for the final time this Friday. I am eager to see what choice books my students will select. I love when I hear my students chatting about books and recommending texts to one another. I am finding it very hard to believe that I only have a quarter left with this year's incredible crew of 7th grade students.
This is a bit of a special year for me as my daughter is in 7th grade. While I am not her daily ELA teacher, for special units, I have gotten to work with her. It is bittersweet that this year seems to be coming to an end so quickly. While I have been an ELA teacher and reading to her before she was born, our book talks are especially meaningful now. My hope is that she leaves 7th grade an enthusiastic, life-long reader.
More Best Book Lists:
50 Best Books for Middle School Readers
My All-Time Favorite Books for 6th Graders
Diverse Books for Middle School