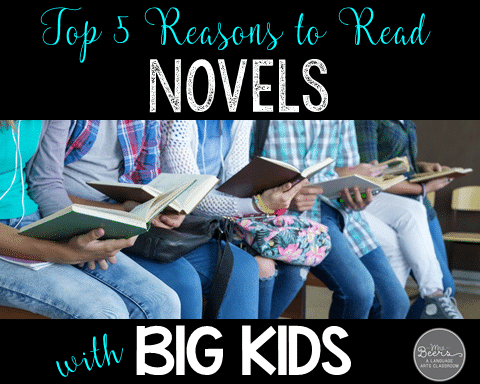 Novel units are a HUGE part of my ELA classroom. I use them for whole class instruction, in small groups, and for independent reading in order to gauge my students' understanding of a text, as well as encourage them to dig deeper into what the author is sharing through the characters, setting, and story elements. My goal is that my students have books in their hands and can't wait to read them from cover to cover. Sometimes that is easier said than done.
Here are the 5 Reasons I Read Novels in my ELA Classroom…
#1: Teaching and incorporating Reading Literature Standards through novels is SIMPLE!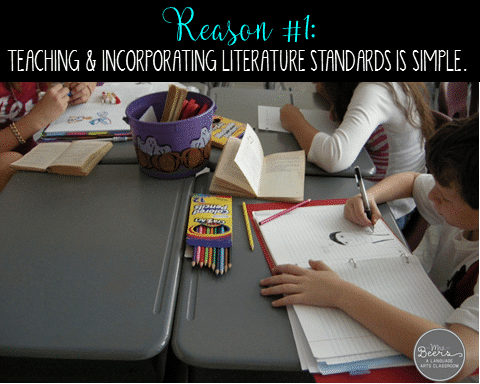 Through novel units, I am able to incorporate so many components that can't get fully taught with one page reading selections. Novels encourage rich discussion, context clue word work, and writing through written responses and student reflection. When tackling a novel, just one page or chapter has the potential to allow me to focus on character analysis, setting, the problem, and incorporate mood through imagery and figurative language. In addition, those literary components are likely to spiral throughout the story allowing for me to review those standards and ideas to make sure students are grasping them. So rather than teaching the standards in isolation, novels provide the opportunity for authentic and thorough instruction.
#2: Genres are EASILY introduced through novels!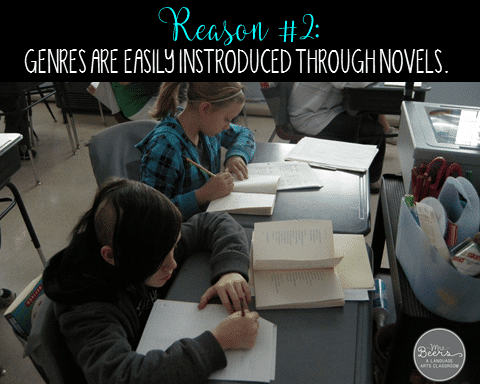 While realistic fiction is my own personal preference, I try to share as many different genres throughout our school year as possible. Through novel studies, I cover poetry, fantasy, realistic fiction, historical fiction, science fiction, mysteries, autobiographies, while helping students identify their own preferences as readers. By giving students the experience of reading various genres, they can form their own opinions about the novels they read. I want my students to have a say so about literature, specifically: What do they like best? What books will they gravitate towards when making personal selections in the library or classroom? What genres make them really excited to keep reading?
#3: Novels provide a sense of accomplishment!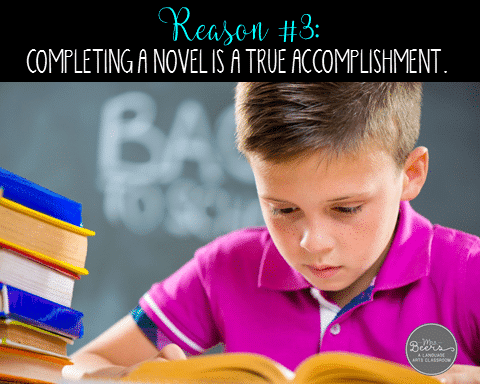 Completing a novel from start to finish is an incredible feeling. There is a sense of accomplishment that readers experience after spending a period of time navigating a text. When students realize they possess the ability to focus and engage with a text from the first to last page, that feeling of competence encourages a repeat process. Students can't wait to find that next best book! My goal as an ELA teacher is to create lifelong reading-learners. With the successful completion of a novel, students truly feel compelled to read more.
#4: Novels provide students with experiences to SHARE!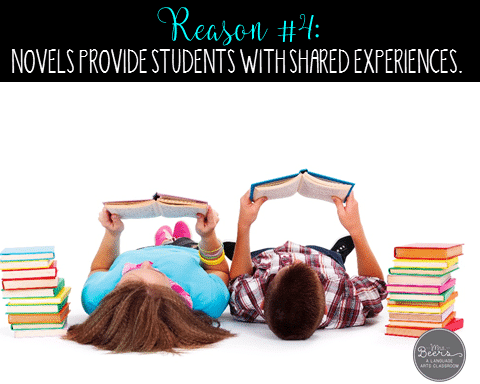 Reading gives us information. We can choose to keep that information to ourselves or we can share it with others. The characters and their experiences provide us with a new understanding and perspective that gives us something to consider and discuss with others. Novel discussions are some of my most memorable conversations with my students. In addition, I love when they recommend a book to a friend or parent that they have read in my class because they can't wait to discuss what has happened. Reading novels provides students with insights and knowledge that they can take away and examine with other readers.
#5: Novels provide a better understanding of the human condition.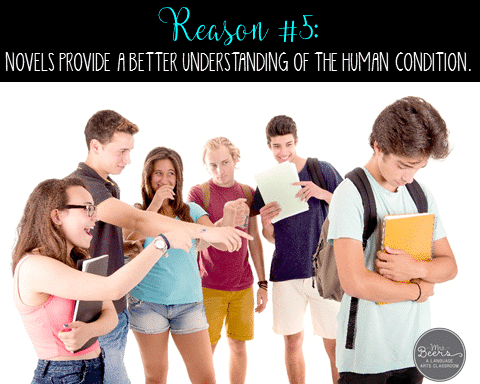 Middle school students believe they are the center of the universe! Yup, I said it! It is important to share stories that these self-focused students recognize can be true to life for those REAL people around them. Novels have the ability to share a plot and theme that resonates with students, in order to make them more understanding and empathetic toward others. I love when my students can say, "I feel so sorry for…" or "I was so excited for the narrator when…"
How I utilize novels in my classroom…
I create novel study units for the books I share with students in order to help them better navigate the novel. I print out all of the student pages (student pacing guide through the journal prompts) for each student tackling the text, I hole punch the packet, and then have students place it in their reading binder. We will utilize these novel unit packets daily until we complete the novel. I will collect them at different times throughout the novel in order to evaluate my students' work.
Different years bring different students, so while I may read a text as a whole class novel one year, it may not work with my next crew, and I may utilize it in small groups. I always have to modify based on the level of my current students. We may answer chunks of questions together, I may eliminate questions that my students have to answer, it all depends on my group. Please feel free to do that as well. You know your students better than anyone else, so adjust the unit to match your students' needs. If you feel that there are too many questions or too much vocabulary, modify them to meet the needs of your students. My goal with each resource I create is that it is jam-packed with everything I will need to teach the novel effectively and I can adjust for my students as needed.
Here are my top-rated novel units…
Crash by Jerry Spinelli
The Boxcar Children by Gertrude Chandler Warner
Tuck Everlasting by Natalie Babbitt
Maniac Magee by Jerry Spinelli
Best of luck as you tackle novel units with your middle school readers! They are the essential teaching tool in your ELA classroom!